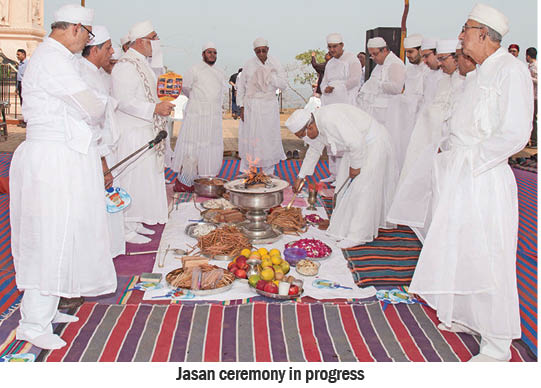 In commemoration of the holy place that housed our Iranshah Atash Padshah for fourteen long years, the by WZOT, in association with Vansda Parsi Zarthosti Anjuman (VPZA) organised a Jasan ceremony on the hill top of Ajmalgadh on 24th February, 2018.
Hundreds of devotees attended the Jasan ceremony in the Havan Geh, performed by sixteen priests and led by Vada Dasturji of Udvada, Khurshed Dastoor, right alongside the area next to the magnificent 'Stambh' erected in memory of honour of the journey our sacred Atash had taken. Sponsored by the World Zoroastrian Organization Trusts (WZOT), the event proceeded to felicitate Vada Dasturji Khurshed; Chairman of WZOT, Dinshaw Tamboly and wife, Bachi; Prince Himmat Bahadur Jitendra Singh Gaekwad of Baroda, Maharaja of Vansda and Presidents of various Anjumans present. Addressing the gathering Vada Dasturji Khurshed and Dinshaw Tamboly thanked and praised every Zarthusti who took time out to be present on this landmark occasion.
The event culminated with a gambhar organised at the Wadia Hall at Vansda, and catered by Jimmy Gadiwalla.
.
Latest posts by PT Reporter
(see all)