"As we step into a new dimension of spirituality, we need to understand that nothing happens without cause, except for divine interventions. All else needs a rationale. If everything ought to have a meaning, so does our existence. Have you found yours? Every soul's software is good, with a few par excellence in skills and talents. Find yours. Hone them. Culture them and then use them for the upliftment of mankind. As much as we keep taking from this world, we must also give back and add to its value. Perhaps that is our purpose. Currently man is falling… To rise, attend to your calling." – Dr. Mickey Mehta
.
  Just when you think you've finally been able to catch up on simply reading about what he's doing next and where next he's going to be, he's spotted in yet another continent, conducting yet another amazing wellness retreat or being awarded yet another global recognition! Meet Dr. Mickey Mehta – that is, if you can keep up with the inexhaustible energy of seemingly the busiest wellness exponent in the world! As impressive as his unending energy and charisma can be, it is his air-miles that get the rest of us envious! You'd think with his hectic schedule he could do with a few clones? But no, there can't be no Mickey clones – there can only be one Mickey, because only Mickey can Mickeymize the world, as he has been doing – one continent at a time!
Known for conducting over a hundred events across the globe in just one year and yet keen for more, Dr. Mickey Mehta has been inadvertently redefining the meaning of the word 'dynamic'! Late last year he debuted as an author with the fitness novel, 'The Shoonyam Quotient', which has been increasingly inching towards becoming a bestseller and has received rave reviews across the global media, with words of appreciation from the legend, Amitabh Bachchan. It is hardly any surprise then, that 'The Shoonyam Quotient', which has received extensive feedback from grateful readers, is being translated into numerous national and global languages to justify the demand for its reach.
A cursory peek into what his globe-trotting schedule has been like – either conducting seminars and workshops or picking up awards – since the start of the year, would include…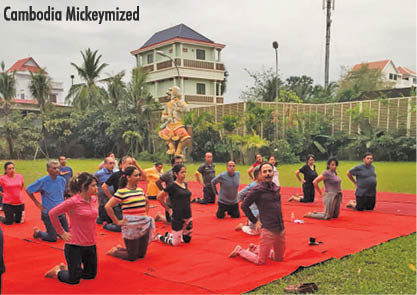 January 13th, 2018: Awarded the prestigious title of 'Economic Times Health and Wellness Icon of India'
February 14th, 2018: Awarded for being one of the 'Hundred Most Impactful Wellness Leaders of the World' by the World Wellness Congress, at the Taj Lands End.
March 6-9, 2018: Conducted the First Ever International Retreat of the prestigious Speaking Tree by Times Of India, held in Cambodia including the 'Focus To Lotus' workshop where he guides you into elevating yourself spiritually by moving on from one's individual desires to self-realisation and evolving further there on. In fact, Dr. Mickey Mehta received a standing ovation for his spiel on Women's Day (8th March), celebrating how women are more stronger physiologically, mentally, emotionally and spiritually because they know and practice the 'gift of giving' much more than men. "Women don't need to fight for equality because they're already a superior gender – they don't need to prove a thing! A woman's inner strength is way superior to a man's, that is why men need to show off and women are simply perceived! Going forward, I plan to do way more for women's health which takes a lot of beating as they bear the burden of the whole family – it's time women start saying, 'Me First'!" quipped Mickey, having the audience hanging on to every word!
March 10th, 2018: Conducted workshop for FICCI titled 'KICK WITH MICK' in association with QWEENS (Quirky Women's Enriching Empowering Network, which has over 60,000 women members globally) with 500 women at Phoenix Market City, Kurla. where he invited Hanshi Shihan Vispy Kapadia as the Chief Guest and facilitated a performance by his daughter, Vahishta Kapadia who assisted Mickey in demonstrating with great grace, precision and beauty, sure to do a great job of further her father's legacy of greatness in martial arts. Extension of the woman's day celebration.
March 11th, 2018: Opened the 'Neon Radio Mirchi Marathon' with a warm up and inspirational talk – typically Mickey infuses fun and motivation into fitness and just has a way of getting the crowds to pledge to fitness, increasingly leading India Inc. towards the evolution of the soul, the progress of the minds and liberation via collective consciousness.
March 13th, 2018: Army Training Camp at Mao (Indore) where Dr. Mickey will imbibe India's top Olympian shooters with concentration, focus through breath control and stability of mind, strengthening the core, improving reflexes and responses, and basically, hitting the bulls-eye in more ways than one!
Phew! One could go on, but you're getting the drift!
But that too is just the tip of the iceberg! Unable to contain his dynamism, Dr. Mickey Mehta has forayed into yet another avenue of holistic healing, in keeping with his promise of delivering a healthier India. To enhance this commitment, the new financial year of 2018 will see him getting into putting to good use his comprehensive knowledge of Ayurveda in the form of therapy, treatments, products and services which will be available online, along with assessments, evaluations and counselling supported by an app. Ayurveda was a natural progression for Mickey as he believes that it holds the answers/solutions to every problem of human health. Explains Dr. Mehta, "Ayurveda is the creative and productive science of life and longevity and leads to qualitative living and experiential wellbeing. It alters the course of the destiny of your health. It is not about pills – it's a way of life as was intended by the laws of nature like seasons or the earth's movement in conjunction with planetary harmony. It's about synching the geo-magnetic rhythm of the universe to your circadian rhythm for better living. My reason to enter the world of Ayurveda is to bring back the life force." There will be a whole team of qualified doctors and practitioners, a professional R&D set-up, affiliations with premium manufacturers and quality sourcing.
An extension of this wellness focus has further evolved into Dr. Mickey Mehta's 'SPECIAL RETREATS', providing wellness and spiritual havens for individuals, corporates and groups, at choice national and international locations, depending on the budgets. The retreats would typically stretch over 3-5 days and would include sessions including Productive Workouts, sessions on Laws of Astrology, Laws of Attraction, Vastushastra. Our specialised chefs will provide the most delicious and healthy meals comprising abundance of seasonal fruits, juices, local herbs – all blended to bring out the best of your health! Most importantly, one would return educated, mentored by the master himself, and what's more, Dr. Mickey would continue to mentor you as a friend, philosopher and guide even after the retreat has concluded! As clichéd as it sounds, you will come back cleansed – physically, mentally and spiritually – with your mental and physical systems regulated and fortified. "The aim is to take them heavy and bring them light, take them dull and bring them luminous, take them complacent and bring them fired with enthusiasm and drive!" in the words of Dr. Mehta.
.
.
If you are inclined to attend Dr. Mickey Mehta's 'SPECIAL RETREATS', connect with Dr. Mickey at (mickeymagicmiracle@gmail.com) and let's kick off the first 'Wellness Khata-Peeta Bawa Retreat'! In keeping with Mickey's penchant for spearheading community causes and social upliftment, the retreat will be highly affordable. The Special Retreat invites Individuals, Families, Private Groups and Corporates
Latest posts by PT Reporter
(see all)