On 18th March, 2018, the Malcolm Baug Zoroastrian Association held its dazzling annual musical night, 'Starlight' at the Baug-grounds, bringing to life an evening filled with great energy, fun and exceptional talent in our Community. With Media Partner Parsi Times, 'Starlight', in its third year in 2018, showcased a range of brilliant performers across all ages groups and musical genres, highlighting yet again, why this event is one that is eagerly awaited every year by fun-loving bawas and bawis all across Mumbai!
Organised proficiently by the dynamic MBZA Committee comprising President Mehernosh Kasad; Trustees – Faramroze Gotla, Minoo Siodia and Neviele Lacca; Committee members – Farokh Shaher, Aspi Davierwala and Ruzbeh Parbhoo and Hon. Secretary Sarosh Bala who takes the lead in making the glittering evening a huge success, the program commenced with the vivacious Hormuz Ragina hosting the event and calling upon the famous 'Ladies Choir' of Malcolm Baug, who regaled a packed audience comprising over 710 residents and guests, by singing a couple of traditional Gujarati songs followed by some fun ABBA renditions. Next came the tiny tots – the 'Jumping Kangaroo' Group – who won everyone's hearts, singing old-time classics like 'When The Saints Go Marching' and 'Iko Iko'. Rendering evergreen Hindi classics, Jamshed Kotwal come on next and sang 'Mere Sapno Ki Rani' followed by architecture student and violinist, Hormuz Katrak who impressed the audience with his flawless rendition of 'Les Miserables'.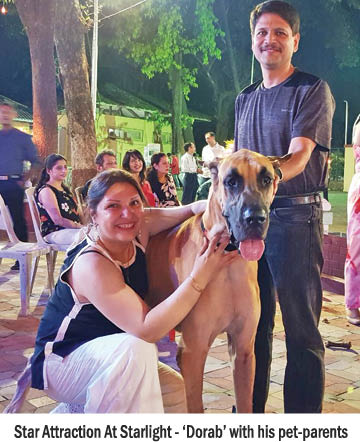 Next was the Prize Distribution ceremony – where students who scored well academically as also sponsors were felicitated by the MBZA Trustees (see box below). A little later in the evening, Sponsor and great supporter of 'Stalight', Sam Bulsara as well as the Editor of Media Partner, Parsi Times, Anahita Subedar were also felicitated and thanked for their unwavering support towards making 'Starlight' a great hit, year after year. Speaking to Parsi Times, Sarosh Bala shares, "I'm so glad that Starlight 3 was such a huge hit! The whole idea is to encourage youngsters in our community to showcase their talents on stage. This helps them in many ways – it provides them with motivation as well as instils a sense of confidence in them. I'm delighted that many of our participants who started out with Starlight, are today performing professionally, and have successfully developed their talent and hobbies into a venue to add to their financial stability. Even for our seniors, it provides the much-needed sense of purpose and something to look forward to. We are proud and inspired by our oldest member, 86-year-old Freny Mehta who never fails to impress with her talent and gusto!" It would be interesting to note that Malcolm Baug goes a step forward in ensuring a sense of inclusivity via for its residents as well as a few non-residents via its whatsapp group called 'Songsters' – in its fourth year now – which focuses exclusively on music and songs for its members.
Music teacher of Bai MN Gamadia High School and Avabai Petit High School, Viraf Daruwala rendering more Hindi classics and amazing everyone with his inimitable yodeling. What's music without dance? Pearl Barsiwala and Delrina Mohta took to the stage performing a contemporary dance segment, followed by well-known singing sensation, Cyrus Dubash, who sang Ed Sheeran hits and got the audience mesmerized by his velvet voice, as he had done last year. Next came the professional act with Walter Pereira and Saby Franco getting the audience on their feet and dancing away to numerous songs, even pairing up with guitarist and singer, Cyrus Bandrawala. Dr. Eric Mirza played the piano and sang old timers, followed by Naushad Buchia who sang two more, accompanied also with Nazneen Gamadia who won over the audience with her exceptional talent at playing the harmonica. The Hodywalla mother-daughter duo sang Harry Belafonte's songs, while Dilnaaz Mody, Roomi Maneckshaw, Cyrus Bandrawalla and Malcolm D'vitre performed a mix of classic and rock hits. Delnavaz Patel, Rushaad Dastur and troupe from the Param Jyoti choir, sang a couple of evergreen pop medleys. Famous singer Shazneen Arethna regaled the audience with popular tracks. And it was time once again for Walter and Saby to take charge of the stage and get the audience back on their feet!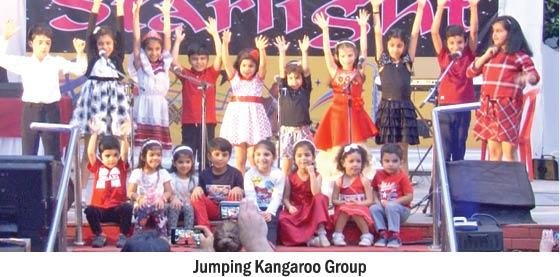 Charismatic and witty compere Hormuz Ragina, who had the audience chuckling away through the evening, also wowed all with a couple of classics. Accompanied by his lovely wife, Gulistaan Ragina and his parents, Hormuz said, "The warmth and hospitality shown by not only the organisers but also by the home crowd knows no bounds. It is an absolute pleasure to perform in front of an audience that is enthusiastic and overwhelmingly encouraging. Hosting the event was indeed nerve-wracking but at the end, seeing a big broad smile on everyone's face made it totally worthwhile! Kudos to Starlight 2018!"
The fab evening concluded with Sarosh Bala thanking all who had made the evening special and contributed towards its success, including the sponsors, performers, Trustees of MBZA, Welcoming Committee (Hutoxi Nickolson, the Thanewallas, Avan Cavina and Maheet Des); Yazad Karai for the technical support and sound system, Kaizad Chinoy for videography, music teachers – Shazneen Arethna and Jamshed Kotwal, dance teachers – Pearl Barsiwala and Delrina Mohta; caterer Nariman Dala for the lip-smacking dinner appreciated by all and Media Partner, Parsi Times.
Latest posts by PT Reporter
(see all)