In March 2018, a group of spirited, young Parsi and Iranian Zoroastrians, from different corners of the world came together under one roof – the Asha Center; with one aim – to collectively understand and address the issues plaguing the Zoroastrian community worldwide, and to take on active leadership positions to work towards resolving these – all under the aegis of the 'World Zoroastrian Young Leaders Forum' (WZYLF). Kicking off its very first chapter, the WZYLF was held in Gloucester, UK, from 16th to 25th March, 2018. Parsi Times is delighted to share with our readers the grand, successful outcome of this fabulous and much needed youth-initiative, which was spearheaded by the founder of the Asha Center, author extraordinaire and human rights campaigner – Zerbanoo Gifford; co-planned and perfectly coordinated by Sanaya Master, with inputs from WZYLF participant, Arashasp Shroff.
.
.
Founded on the Zoroastrian principles of environmental and social sustainability, The Asha Centre is a haven of serenity that aims at delivering transformative education "to bring about lasting inner, social and environmental change." In short, the perfect pedestal to host the nineteen excited participants who came in from India, Australia, Canada, Pakistan, the US, New Zealand and the UK, thanks to the gracious invitation from its founder, Zerbanoo Gifford, to engage in discussions and deliberate about Community issues like faith, religion and the role that the youth can play as the leaders of tomorrow. Organized excellently by New Zealand's Sanaya Master, the Forum was mentored by Zerbanoo Gifford, and led by instructors Mark Gifford – an Interfaith Minister who has closely and extensively studied Zoroastrianism; and Adrian Lochner – actor, director and specialist in conflict resolution.
The idea of the WZYLF was birthed during Zerbanoo Gifford and Farida Master's book tour in the summer of 2017 in United States. Young and dynamic youth leader, Sanaya Master, who was interning at the ASHA Centre, took up this project, facilitating the entire event. Speaking to Parsi Times, Zerbanoo Gifford said, "For years I had a dream of bringing together our gifted young people from all over the world at the ASHA centre in England to help energise and become leaders of our community. The planning took some years with the dedicated help of young, dynamic Sanaya Master from New Zealand. It has been worth all the hard work and dedication taken to make this Forum happen  – the results will unfold over the years and we will see a new leadership that is incorruptible, inclusive, open minded, generous and works together across the whole world to ensure that our faith flourishes and transforms lives for the better… as our prophet had wanted."
The Forum started with introductions and a tour of the splendid grounds of the ASHA centre, where everything is designed with a strong vision embracing Zoroastrian principles across all that is done. Participants were made to ponder over very key questions including, 'What are the strengths and weaknesses of the global Zoroastrian Community?'; 'How do we achieve unity and a sense of community purpose?'; 'How does a younger generation make a difference/get its hands on the levers of power?'; 'How can we achieve sustainable change?'  – all relating to the larger question, which is, 'How does Zoroastrianism help us solve these challenges?' Sessions would delve deep into the heart of issues and things relating to the individual issue. Participants spent a good time deliberating on issues plaguing the Zoroastrian Communities, and progressively narrowing down them down to a handful of major issues including 'Disenfranchised Youth'; 'Lack of Engagement within the Community'; 'Lack of Gender Inclusivity, Spirituality, Knowledge and Religious Leadership' as also 'Dwindling Population' and 'Not Living the Values'.
Each issue was then broken down into three part as under – 1. What is our aim, as motivated youth to help fix it?; 2. What can we do to help fix it? and 3. Projects everyone can implement into their local communities.
.
"Organising this Forum under the guidance and support of Zerbanoo Gifford has been an experience of a lifetime. None of this would have been possible without her relentless drive and determination. The 9-day Forum exceeded all my expectations. The biggest highlight for me was how this experience touched and ignited something in every single one of the young leaders present at the Forum. I feel so honoured and privileged to be part of a group of young, passionate Zoroastrians who refuse to let the fire of our faith die out!" shared an excited Sanaya Master with Parsi Times.
The participants also had a great time participating of fun-time sessions like 'Zoroastrian MasterChef Challenge', 'Zoros-Got-Talent Night with singers in daglis and saris, ringing in Navroz over a bonfire and karaoke, the opportunity to visit Oxford University and Wales. The Forum concluded with participants embarking on detailing a written document setting forth a mission, vision statement, and future initiatives. Needless to add, the WZYLF was a transformative experience for all the participants!
"We went from strangers to friends for life in a matter of days. These are the type of people you call in a crisis and they will answer the call. Looking back now, the Asha Centre was the perfect place for a summit like this, the forest, the ground, the centre itself, oozes positivity and  spirituality. Reconnecting with myself was probably the greatest thing to happen, besides meeting these incredible people and addressing the issues and coming up with a plan of action," said Arashasp Shroff.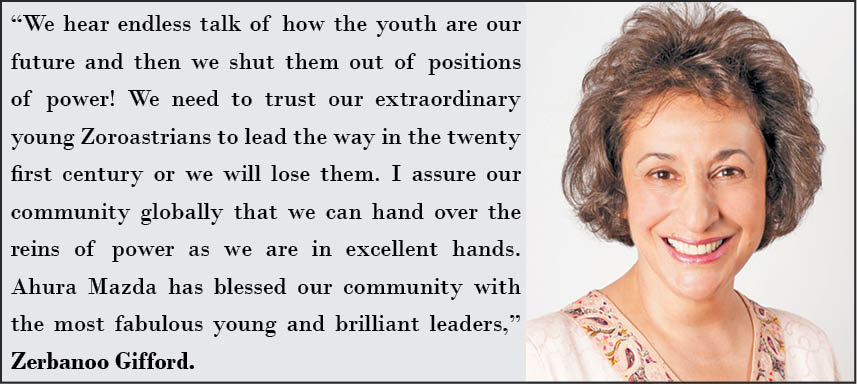 .
.
---
Pics Courtesy: Parsikhabar.com
Latest posts by PT Reporter
(see all)