Bombay plunged into grief on the 1st of May, 2018, on being informed about the passing away of Meheraboon (Meherwan) Gourabian nee Kohinoor, the much-loved owner of the iconic Britannia Restaurant. No sooner had Parsi Times broken this sad news on our FaceBook page, that the post was met with an unceasing deluge of reactions and comments… breaking records with the post hitting nearly two and a half lakh views across Mumbai, India and overseas, and garnering thousands of comments and shares. And that's just our FaceBook page… other social media platforms (even traditional media, like the Times of India, Hindustan Times and The FirstPost) too enriched their coverage from the information and innumerable experiences shared by our PT's FB patrons expressing just how much the grand old man, who embodied warmth and cheer and spiced up everyone's meals with his unmatched brand of quirky humour, will be missed! PT's Asst. Editor, Delaveen Tarapore, catches up with Dorothy Yazdegardi, the loving niece of Meherwanji, to share with you a tribute celebrating the life and times of the lovely Meherwanji.
.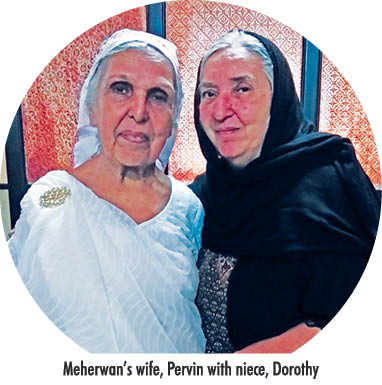 On 1st May, 2018, not just the Parsi community, but all of Mumbai, was heart-broken to know of the sad demise of the co-owner of one of our city's legendary Iranian eatery, Britannia And Co., – the always-smiling and warm Meheraboon Rashid Gourabian (Kohinoor). Popularly known as 'Meherwan' or 'Aapra Irani Uncle' at his globally popular café, the young-at-heart, 87-year-old, was known for his amiable outlook and an enthusiastic approach with all those who chose to dine at Britannia – suggesting dishes to them from the characteristically laid out Parsi menu, that would inevitably succeed in tantalising their taste buds… and spicing up the Berry Pulao even more! His bubbly personal and great sense of humour definitely added that extra zing to the meals, but there were even greater inspiring facets to his life, like his unflinching dedication and sincerity towards building the Britannia brand – with his brother, Boman – which put this eatery on the world-map.
Born on 18th November, 1931 in Chem village of Yazd, Iran, Meherwan was the sixth of nine siblings – Gaver, Banu, Boman, Modvereez, Khodamaradh, Askendar, Ferkhanda and Shireen. At the age of 21, Meherwan decided to come to India with his younger sister, Ferkhanda, who was 14 at the time, to join his father in his business in Mumbai.
Meherwan's older siblings landed in Bombay in the early 1900's, with the brothers choosing to help their father, Rashid in his small eatery established in 1927 and known for serving remarkable chai . Having studied a few classes in Persian language back in Irani, Meherwan joined his brothers in upgrading and modifying it into a restaurant, which quickly gained fame as, 'Britannia Restaurant'. With the passage of time, two of the four brothers, Khodamaradh and Askendar decided to make their own mark, with the former getting into a partnership with 'Sailor Restaurant', followed by Askendar who took on work at a bakery in Lalbaug.  Meherwan chose to stand by his elder brother Boman, and assisted in continuing the family legacy. During pre-Independent India, the restaurant only catered to British officials, comprising a purely continental menu. During World War II, it was taken over by the British to be used as an office, to be returned to them at the end of the war. Post-independence, the restaurant included Mughlai cuisine, but gradually turned it into a primarily Irani/Parsi cuisine café.
Boman's wife, Bacha was a talented chef and played a major role in charting the menu that Britannia boasts of today, comprising the world famous 'Berry Pulao' as also its popular 'Mutton Dhansak' and 'Salli Margi'.  However, based in Iran as a legal adviser, Bacha remained in Iran for a while even as her Boman managed the restaurant business in India. Her return to India gave her the leeway for greater participation and her valuable suggestions quickly catapulted her as the driving force behind Britannia's success as well as the signature dish – the 'Berry Pulao'.
Meherwan tied the knot with the lovely Pervin in 1964 at Mumbai's Cama Baug, and went on to enjoy marital bliss with two children – Kuresh and Farzana, who are currently settled in New Zealand and Dubai, respectively, and have a son each.
As their restaurant business with Britannia grew in popularity, Boman entered into a partnership to take over 'James Restaurant' (opposite Lion's Gate, Colaba), while Meherwan ventured into another six-member partnership to establish yet another iconic Irani café, Bastani (Opp. Metro Cinema, Dhobi Talao). Meherwan took up the entire working of the new café onto himself, nearly single-handedly. Being absolutely hands-on, Meherwan would personally pull up Bastani's shutters at 4:00 am sharp, take charge of purchasing the daily groceries and was extremely particular about his cakes, pudding and biscuits. He personally tasted all the goodies before it was let out for sale. Unfortunately the partners had a fall-out and, much to the grievance of numerous Bombayites, Bastani had to call it a day. And Meherwan resumed his routine at Britannia.
Meherwan's presence at Britannia grew into becoming one of its main attractions! Loved and respected as much by his approximately 15 staff members, as by his patrons, Meherwan would personally go over to all tables to take orders and strike amusing chit-chats which never failed to regale them. Meherwan personally supervised and baked cakes, as also the much favoured small 'maska kharis' and the delectable 'bread pudding' at the restaurant. He guided his staff into understanding and realising the true meaning of 'Customer Is King', often advising them to give in and accommodate customers' demands and temperaments.
Meherwan was a father figure not only to Kuresh and Farzana, but also to his extended family of nephews and nieces. His family will always miss and remember him as a very lively man – ever ready for a round of song and dance! "He was naturally gifted with the talents of singing and dancing. Our most fond memory is seeing him shake a leg at our navjotes and lagans," says his niece and Gaver's daughter, Dorothy Yazdegardi. An absolute extrovert who loved socialising, as is apparent in the enthusiastic interest he took to always reach out and talk to his customers, Meherwan was also very religious and a helpful soul who never turned away anyone that reached out to him in times of distress. "When I was 29-years-old, an unknown sickness overcame me due to which I lost my voice and developed warts on my fingers. Even after visits to numerous doctors, none were able to diagnose the ailment. That's when my mother asked Meherwan Mama to recite prayers for me. He obliged and prayed persistently for me for the next forty days. After that, doctors were finally able to get the right diagnosis and helped rid me of this issue. Throughout these days, my Mama stood by me like a rock, and, it is because of him that I have unflinching faith in the power of prayers," shares Dorothy.
Meherwan continued his work routine up until the very last week of his demise. He passed away in his sleep at around 4:45 am. The Community and all of Bombay and those who visited from far and near, shall fondly remember him as 'Britannia Uncle', even as his smile will continue to greet all who visit Britannia for a cup of Chai and plate of Berry Pulav!
.
.
Some Comments and Excerpts shared by all those he touched with his warmth and dynamism as on PT's FB Page.
(to read all, visit https://www.facebook.com/parsi.times):
"Merwan mama was always a kind, intensely loving and a caring soul. He was always calm and cool under all circumstances. It is not surprising that he was loved and revered by all that had the opportunity to meet him and know him. May his soul rest in peace. We will always miss you sorely."
– Rashid Khorshidchehr
"Fond memory: at a family lunch years ago, my Dad, a notorious bill-snatcher, and a Beloved Friend, even more notorious, were wrangling over the bill. She was a regular, Dad was not. Dad, seriously discomfited, realizing he was losing the battle, complained bitterly. "I'm OLDER than her. You should let ME pay."
Unfazed, Kohinoor answered "Well, I'm older than YOU, so you should accept what I say."
Dad was still muttering unhappily under his breath, and Kohinoor told him bracingly: "You can pay for her when you bring her for dinner."
"But you're closed at dinner time!"
"My point exactly!"
Dad burst out laughing, and Kohinoor patted him on the back. "Better luck next time, Beta." 'Better luck next time' has now become a catchword in our family."
– Gulserene Dastur 
"A Parsi/Irani food dynasty like no other. I sincerely hope the family continues with Britannia to keep feeding souls of thousands who truly cherish this food."
– Adil K Limbuwalla 
"His contribution to Mumbai food culture is commendable. Every visit to Britannia was incomplete without chatting with Mr. Meherwan. His presence will be cherished with every morsel we will continue to have at Britannia!"
– Kshitij V. Talekar
"Extremely saddened by this news… the restaurant has lost its soul!!!"
– Vinita Kaul
"On behalf Trustee of Parsee Anjuman of Jabalpur, I send heartfelt condolences to the family."
– Kerman Batliwalla
"I've been visiting Britannia & Co since 40 years… Meherwan was an institution. His friendly nature and the delicious food that he served so consistently will never be forgotten. Even Prince William gave him an audience! RIP!"
– Shireesh Nadkar
"I worrked at Ballard Estate and was always fascinated by his pet Rooster who sat on the counter!"
– Cynthia Reilly
"A legendary figure. Loved talking to the customers and guiding them on their selection of items. His favourite recommendation Berry Pulav and Caramel Custard."
– Freny Mehta
"I was searching for the washroom which is located far behind the kitchen area.
Uncle: "what you want?"
Me: "Uncle, washroom."
U: "Susu or potty?"
Frankly, nobody's asked me this question as far as I can remember, so I took a second more to answer…
Me: "Susu."
U: "Okay. Go straight."
Needless to say, there's just one washroom at Britannia, and I guess uncle had his kicks!"
– R George Panakal
"Your enthusiasm and spirt will be remembered forever. I met him last month and he said he will live past 100. Miss you Sir!"
– Amogh Deshmukh
"Mr. Meherwan was an integral part of the whole experience of dining at Britannia… The place isn't the same anymore."
– Neetul Mohanty
"A fresh lime soda sweet to beat the Bombay heat!" Thank you for the wonderful memories, Mr Kohinoor. Heartfelt condolences to the immediate as well as the extended family – the loyal staff of your legendary eatery."
– Roy Wadia
"Whenever I visited Britania I always used to ask him, when Bastani will reopen. Very soon would be the reply. Always smiling. RIP"
– Seby Cardozo
"RIP – to those meals from 1981 to 1984, during the worst recession in shipping, Britannia was our Adda."Suneel Subramanyam
"RIP uncle… Can never forget the warm fatherly treatment you gave me and our long chats we had every time I visited Bastani"
– Anaita Madon
"We have been going to his restaurant for almost a decade now. I can vividly recall that afternoon, a couple of years after Neetul and I got married, the old uncle came and sat with us for a brief chat. He: This is a very good girl you have dining with you. I: I know. Brittania would never be the same again."
– Animesh Dwivedi
Latest posts by Delaveen Tarapore (see all)