On 14th July, 2018, Delnaz Balsara Sharma was crowned the First Runner-Up in the national, prestigious 'MRS. INDIA SHE IS INDIA 2018' Pageant, held at 'The Umrao' in the country's capital. The pageant, recognised as the official pageant to send its respective winners for the 'MRS. UNIVERSE' and 'MRS. EARTH' international beauty pageants, was held from the 12th to 14th and saw over forty-five contestants from all over India vie for the coveted winning titles. Delnaz also clinched the 'MRS. BEAUTIFUL SKIN' Title in the Pageant. Parsi Times was thrilled to break the great news on our popular Facebook page (facebook.com/parsi.times) and is delighted to share with you an interview with the inspiring, multi-faceted, dynamic Delnaz who champions all her capacities – as a mother, wife, daughter, professional, and most importantly, as a woman who values herself and a woman who stands for a cause…
A Commerce graduate who worked hard to be recognised as part of the exclusive TOP 100 CX professionals List (2017-18, by Paul writer) and working with AB NBFC, with one of India's leading organisations, Delnaz describes herself as a fun-loving and expressive person who calls a spade a spade.
PT: Tell us about your family
Delnaz: "I was born to simple, loving parents in a middle class family, where the core values instilled in me were respect and integrity. My parents, Parvin and Parvez Balsara are the backbone of who I am today. My husband Amitabh is my pillar of strength and my gorgeous, 4-year-old Shanaya is the centre of my world and blessed with very supportive in-laws who have encouraged me every step of the way."
PT: How did your participation in the Pageant come about?
Delnaz: The pageant actually was a long lost dream – because of my height, MISS INDIA out of the question. But a few months ago on Facebook, when my 4-year-old daughter, Shanaya pointed out to a crown saying, "Mummy, you must also have a crown," something inside me triggered the old spark and I started researching. In India there are many Mrs. India pageants but the MRS. INDIA SHE IS INDIA Pageant is the only official pageant for Mrs. Universe. The cause that this pageant stands up against, 'Domestic Violence' resonated with my beliefs and I decided to participate. Once I got chosen, it got quite tough – work in the morning from 9:00 am to 6:00pm, then off to rehearsals 9:00 pm to midnight, and weekends would simply slip away in the search for the right clothes, accessories, shoots etc. I also hired the services of my dear friend, Sharmee Divan, an Intuitive and Assertiveness Coach and Motivational Trainer.
PT: What was the pageant experience like?
Delnaz: It was a once in a lifetime moment. Today, with pride, I can say I have a friend in virtually every state of India! The title winner was Lubna Khan from Rudrapur, followed by me from Mumbai and the second Runner-Up was Manish Sukale from Surat. I formed a special bond with Dr. Mrs. Neha Tyagi representing Delhi, who won the title, MRS. CHARITY, raising Rs. 2.79 lakhs for the foundation. In fact, all of us did fundraising for Rescue Foundation – an NGO for women and girls rescued from human trafficking – and in just fifteen days, we raised Rs. 9.89 lakhs!
PT: Tell us about your support system that helped you win inspite of a gruelling schedule.
Delnaz: My biggest support in this journey has been my husband, Amitabh – he stood by me like a rock, fulfilling the role of both parents for Shanaya, while I juggled between my work and pageant practice. Both sets of our parents were equally excited and supportive too. I'm so grateful to my Shanaya for being understanding about my absence and even offering to comfort me with her cuddles – my daughter was mothering me! I thank my coach, my inspiration and my bestie – Sharmee Divan and my friends Khushboo, Rajesh, Zenobia Khodaiji; my designer  Jesal Vora; and of course, my boss, Shahrukh Todiwala who motivated me alongside my colleagues who always rooted for me. And above all, I thank God for it all!
PT: You have been very vocal and passionate about the cause to 'Stop Domestic Violence'. What made you take up this cause?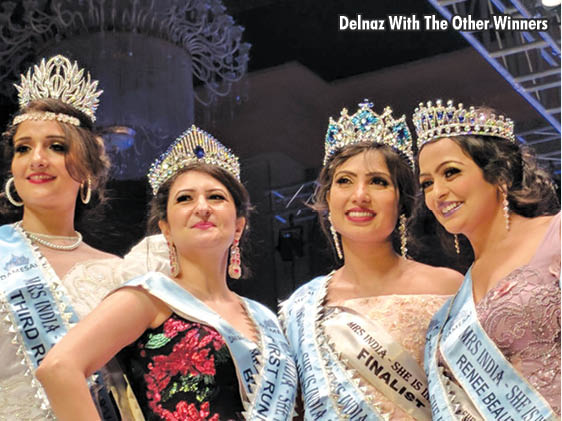 .
Delnaz: Domestic violence is not just a crime but a social stigma – it's a shame in the society we live in. I'm passionate about this cause because I believe that home and family is our most secure environment, our own little world inside this big world. If one isn't safe and protected amidst one's own people, how can one function normally outside of it!? Unfortunately, it's surprisingly rampant and happens to the best of us, across all sections of society – I've met survivors belonging to different social strata. And this even includes men, the elderly and children. Love, care and compassion should be the core values of any home and I felt that if I could advocate this and be the change-maker, I would feel I have honoured the life my parents gave me.
PT: What advice would you give to those who are victims or/and witnesses of domestic abuse?
Delnaz: DON'T BE A SURVIVOR. BE A WINNER. Witnessing domestic violence is as bad as undergoing it. Don't be a silent spectator – stand up against it and advocate. Victims do not need our sympathy, they need our SUPPORT.
PT: As a married and full-time working professional, could you share your thoughts on the importance of Work-Life Balance for women?
Delnaz: Women are natural multi-taskers. That's my belief. We can manage a number of tasks at one given point in time. But I'd like to emphasize on the importance of doing what you truly desire rather than being in the confines of what is expected. Self-love plays a crucial role – you've got to love yourself enough to give yourself the right to be you, just the way you are. Once you liberate yourself thus, the world will align itself around you!
PT: What message would you like to share with PT readers and our Community?
Delnaz: We are a community known for our great contributions to India, for our integrity and simplicity. We need to ensure that the oncoming generations are instilled with the same values. Respect and accept all, just like we were accepted by the Hindu king years ago when we arrived in India – rigidity and hatred will always be the beginning of the end. I'd like to tell our Parsi women – married or single – to pursue their dreams and while they responsibly live out multiple roles of a mother, daughter, wife, sister, professional, etc., don't lose your own self in these, hold on to who you are and live your truth with pride and grace!
Latest posts by PT Reporter
(see all)