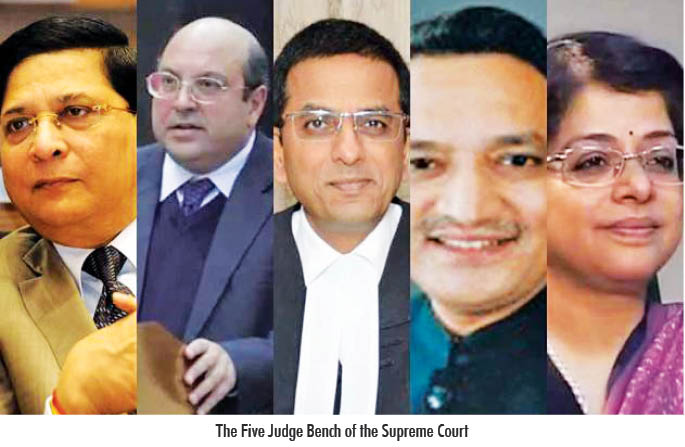 .
On 6th September, 2018, the Indian Supreme Court, in a landmark verdict, put an end to Section 377 that criminalises homosexuality in India. In a unanimous verdict, the five-judge bench of the Supreme Court  – headed by Chief Justice of India, Dipak Misra, along with legal luminaries Justices Rohinton F Nariman, A M Khanwilkar, D Y Chandrachud and Indu Malhotra – struck down Article 377 of the Indian Penal Code,  putting an end to the British-era law.
The Supreme Court in an official announcement said, "The constitution nurtures dissent as the safety valve of society, we can't change history but can pass way for better future… The primary objective of having a constitutional society is to transform the society progressively; Constitutional provisions should not be interpreted in the literal sense. The sexual orientation of an individual is natural and discrimination on the basis of sexual orientation is a violation of freedom of expression. The LGBT (Lesbian, Gay, Bisexual, Transgender) Community has the same rights as of any ordinary citizen. Respect for each other's rights and others are supreme humanity. Criminalising gay sex is irrational and indefensible."
While reading out the verdict on Section 377, Justice Rohinton Nariman pointed out that since the law came into force in 1861, less than 200 people have been prosecuted under Section 377. More importantly, he said that homosexuality cannot be regarded as a mental disorder and gays have the right to live with dignity.
Under the 1861 law, gay sex was punishable by up to 10 years in jail. Gay activists have time and again pointed that police used the law to harass and intimidate members of their community. The Chief Justice of India, Dipak Misra, said that LGBT community possesses rights like others and majoritarian views cannot dictate constitutional rights. "History owes the LGBT community an apology for their sufferings," said Justice Indu Malhotra, who was also part of the bench.
The Supreme Court verdict is being cheered by millions across the country, far beyond the gay community, which has fought for decades for the right to be treated equally.
.
The Colours in the Rainbow Flag of the LGBT Pride: Designed by gay artist Gilbert Baker in 1978, the LGBT Community's Rainbow flag initially had eight colours. In the current flag, Red represents life; Orange represents healing; Yellow stands for sunlight; Green represents nature; Blue represents art and Violet symbolises the human spirit.
Latest posts by PT Reporter
(see all)