The Nagpur Parsi Gymkhana hosted the 32nd edition of 'Jiji Irani Challenge Cup Parsi Cricket Tournament' from 3rd to 7th November, 2018, with five cities – Nagpur, Jamshedpur, Secunderabad, Kolkata and Surat participating in the tourney. The tournament commenced with ex-Managing Director of Tata Steel, Dr. Jamshed Irani lighting the divo and batting to nonagenarian Pesho Mehta's bowling, batted to mark the beginning of the tournament. Defending champions, Nagpur got off to an exciting start by winning their first match against Secunderabad,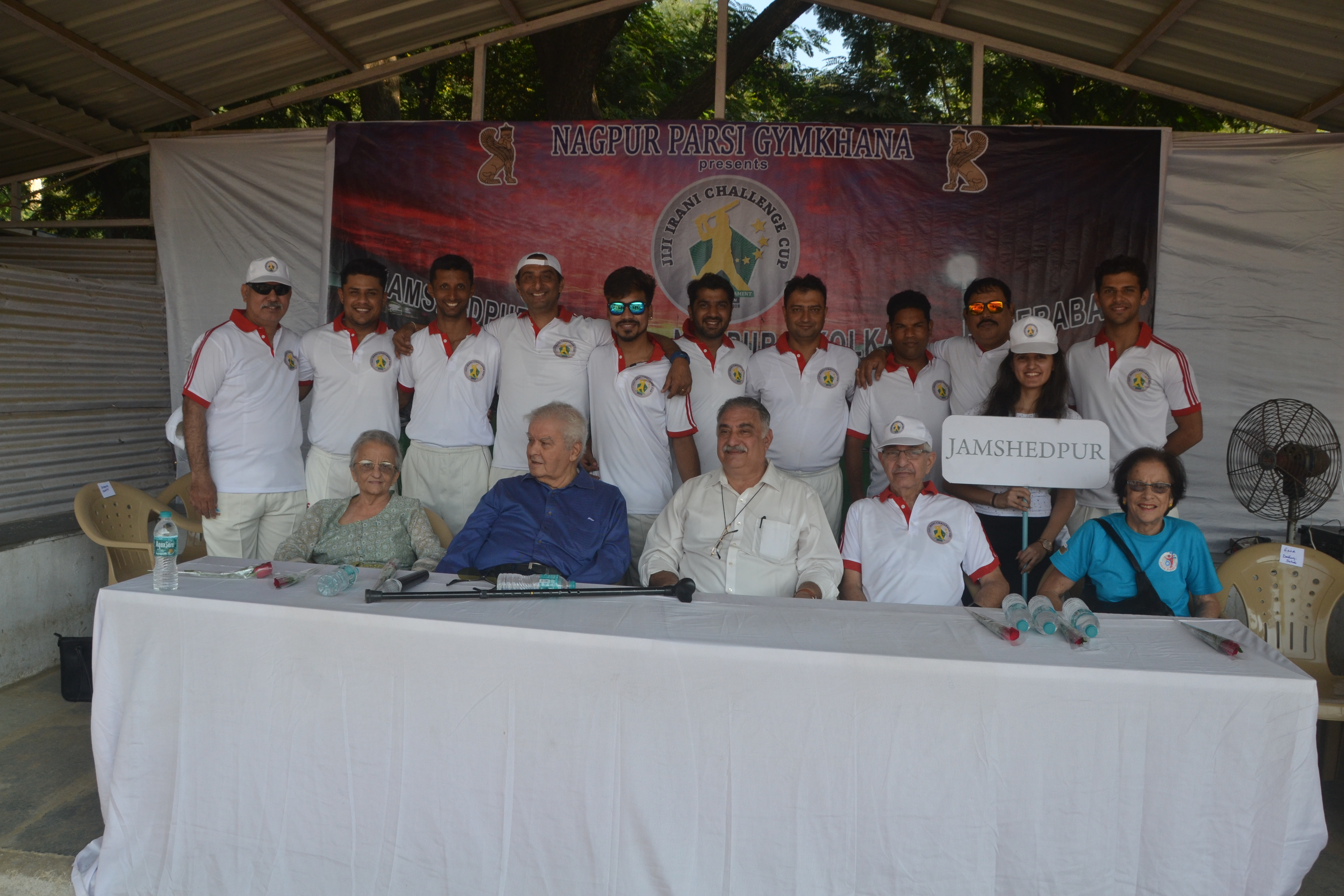 followed by consecutive wins against teams, Kolkata and Surat. However, Nagpur lost the finale against the formidable Jamshedpur team.
Post the match, entertainment programs were organised every evening. The tournament witnessed some brilliant catches, some huge sixes, and a couple of close nail-biting finishes, resulting in 'Jamshedpur' lifting the 'Irani Challenge Cup'. The finale witnessed President of the Nagpur Parsi Panchayet, Aspi Bapuna felicitating Guest of Honour, Advocate Shashank Manohar for his outstanding achievements in the world of cricket, both nationally and internationally. The evening also witnessed the felicitation of Vice Chancellor of Nagpur University, Late Jal P. Gimi posthumously conferred the Lifetime Achievement Award, 'Service Above Self' awards were given to philanthropist, Rhoda Patel; ex-Member of Parliament, Gev Awari; ex Dean Faculty of Law, Nagpur University, Dr. Thrity Patel; and Managing Director Dinshaw's, Jimmy Rana who runs a hospice for terminally ill cancer patients. The event witnessed the launch of a souvenir titled, 'Snapshots' that features photographs of past Jiji Cricket Tournaments.
Delivering the vote of thanks, Organising Secretary, Tauby Bhagwagar acknowledged the mammoth effort put in by the organising committee, Meheroo Watchmaker for catering sumptuous food for the whole week despite a personal tragedy, Naushad Bhagwagar, Dinshaw's and various donors and volunteers for standing by the Gymkhana. The event concluded with a community dinner hosted by the Bapuna family.
The Jiji Irani Challenge Cup 2018 was won by Jamshedpur with Nagpur as Runners-Up; Man of the Series – Jamsheed Hormusjee (Secunderabad); Best Batsman – Khushal Jilla (Sec'bad); Best Bowler – Xerxes Patrawala (Jam'pur); Best Wicket-Keeper – Ramin Balsara (Kolkata); Maximum Catches – Yohaan Doongaji (Nagpur); Most Promising Youngster – Vaspan Patel (Nagpur); Maximum Sixes – Danush Doongaji (Nagpur); Most Economical Bowler – Kaiwan Kasad (Jam'pur).
Latest posts by PT Reporter (see all)