The community's premier Sports and Cultural Festival – WINGS'18 – started amid overwhelming participation and thrilling activities, with 8th November, 2018 marking Day-1 of the 4-day extravaganza, taking place at the Rustom Baug Grounds, for the third consecutive year, with the Community's leading news weekly, Parsi Times, as its proud Media Partner.
The first day of WINGS'18 witnessed a footfall of over 500 people, with the group stage matches taking place. The following is the Sports Update:
Table Tennis: Sohrab Mehta and Srosh Shroff topped their respective groups to face each other in in the Quarterfinals.
Cricket: DPCG -A and CJ-B have qualified from their respective groups.
Indirect Volleyball: The Semi Finals held between Navroze Baug A and Shapur Baug saw the former going through to the Finals. The second Semi Final, held between CJ – A and Godrej Baug, saw CJ – A clinch the win to go through to the Finals.
1 v 1 Cage: This has proved to be a major hit – with several great clashes amongst some of the biggest football names in the community.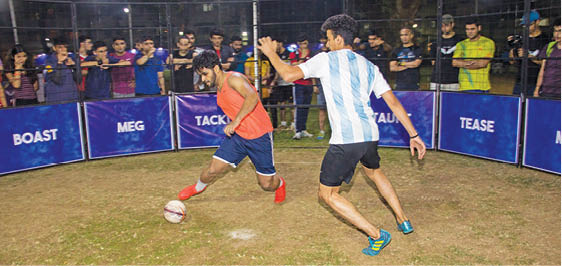 The Talent Contest will be held on Sunday, 11th November, 7:00 pm onwards at the Rustom Baug Grounds. The event will be hosted by Hormuz Ragina and will highlight some of the finest talents in the community, as they have an exhilarating face off to prove their talent prowess. One of the most looked forward to events of WINGS'18, the Talent Contest will be judged by Merzi Pestonjee, Parizad Zorabian and Shazneen Arethna.
The Talent Contest includes an Aerial Act, Bboyinig champ, a flame artist, a magician, a show jumper, a ballet dancer, an opera singer and other fab singers. The evening is one that you just cannot miss with several exciting performances and a clash of professionals of the highest level!
There are NO PASSES as ENTRY IS FREE FOR ALL. The event will begin at 7:00 pm and refreshments will be available in stalls, along with fun and games.
The winner of the last two consecutive Talent Contests has been Vishtasp Kothawala, who looks to defend his title for the third time! Roshani Jamadar who came second last year shall challenge for the title once again. With exciting new acts, the competition gets only tougher for the participants but more exciting and thrilling for the audience! So be sure not to miss the biggest cultural and entertainment fest of the year!!
For details, contact Jeyhaan @ 98204 51926
Latest posts by PT Reporter (see all)