SPICY MULLED WINE
Ingredients:
2 (750-mL) Bottles – Full-bodied Dry Red Wine (Zinfandel); ½ cup – Black Peppercorns; ⅓ cup Granulated Sugar; 4 (2-in.) – Orange Peel Strips (from 1 orange); 1 (1-in.) – Fresh Ginger, peeled and sliced; 1 – Cinnamon Stick, plus more for garnish; 1 – Whole Star Anise; Orange Slices.
Method:
Stir together wine, peppercorns, sugar, orange peel, ginger, cinnamon stick, and star anise in a large saucepan. Bring to a simmer over high. Remove from heat; cover and let stand 30 minutes. Strain and discard solids. Pour evenly into 8 glasses and garnish with orange slices and cinnamon sticks. Serve warm.
ONE-POT CREAMY GARLIC CHICKEN AND RICE
Ingredients:
2 Chicken Breast – chopped into chunks; 1 Tsp – Garlic Powder; ½ Tsp – Salt; ½ Tsp – Pepper; 1 tablespoon olive oil; 2 – Spring Onions chopped with tail; 1 – Green Capsicum cut in chunks; 1 Tbsp – Paprika; 3 – Cloves Garlic minced; ¾ Cup – Long Grain White Rice; 2½ Cups – Chicken Broth; 2 Cups – Baby Spinach; 2 Tbsp – Heavy Cream
Method:
Mix in garlic powder, salt, and pepper with chicken breast chunks. Heat olive oil in a 10-inch skillet over medium heat. Add chicken and cook until browned, stirring often, for about 3 minutes. Add garlic, spring onions, paprika and capsicum to skillet and cook for a minute more. Stir in rice and chicken broth. Bring to a boil, reduce to a simmer, and cover. Cook for 20 minutes, stirring occasionally. Remove pan from heat and place baby spinach on top of the rice. Cover and let sit for 5 minutes. Remove lid and stir well. Stir in cream and serve.
GOOEY CHOCOLATE CARAMEL TART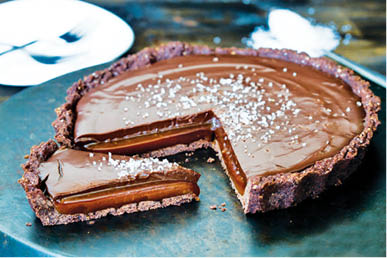 Ingredients For the Crust:
2 cups – Crushed Chocolate Wafer Biscuits; 6 tablespoons – Unsalted Butter, melted; ½ teaspoon – salt
Ingredients For the Filling:
1 cup -Heavy Cream; 4 tablespoons – Unsalted Butter; 1½ cup – Sugar; 2 tablespoons – Light Corn Syrup; ½ teaspoon – Ground Cinnamon; ½ teaspoon – salt; 2 ounces – Milk or Bittersweet Chocolate, melted
Method:
To prepare the Crust: In a medium bowl, combine the butter, cookie crumbs, and the salt. Press the crumbs into the bottom and sides of a 9-inch tart or flat pan, using a straight-sided dry measuring cup to help. Refrigerate the crust until firm.
To prepare the Filling: In a small pot or microwave-safe bowl, heat the cream and butter together until melted. In medium saucepan heat the sugar, syrup, and ¼ cup water over medium-high heat until the sugar turns deep amber, swirling the pan to caramelize the sugar evenly, 6 to 8 minutes. Working gently, remove the sugar from the heat and add the cream mixture.
Return the saucepan to the stove. Cook the sugar-cream mixture over medium-high heat until it forms a caramel that is thick and smooth, about 3 to 4 minutes. Whisk in the cinnamon and salt and pour the caramel into the prepared crust. Refrigerate the tart until firm, for 8 hours.
Remove tart from the refrigerator 10 minutes before serving and transfer it to a serving plate. Drizzle tart with melted chocolate. Immediately slice the tart into slices and transfer to plates. Let stand a few minutes at room temperature before serving.
Latest posts by PT Reporter
(see all)