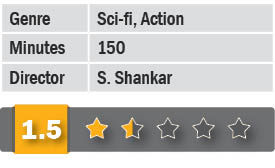 It requires an aged ornithologist, not a scientist – mind you, to address the problems of radiation caused by usage of mobile phones and towers. The ornithologist, appropriately named Pakshirajan (Akshay Kumar), theorises it thus – birds prey on worms and insects, the latter consume foliage, and the radiation destroy birds' eggs.
The film opens with the suicide of an old man. Very soon, mobiles of people vanish into thin air and disappear. Dr. Vaseegaran (Rajnikanth) suggests to the Home Minister that he be allowed to reassemble Chitti the robot (Rajnikanth again, obviously) to deal with the matter. After much persuasion, permission is granted. Chitti is accompanied by an attractive humanoid robot – Neela (Amy Jackson). That radiation causes birds to disappear is the first lesson one learns from this film. The second, and more important, is that the most expensive Indian film (Rs. 543 crores, reportedly) need not be the best, leave alone even a good one!!
2.0 relies almost entirely on VFX, and this is the only area where the film is passable, although in more than a few scenes they look gruesome. The cinematography by Nirav Shah is good, while A R Rehman's background score jars, while attempting to keep pace with the action. 2.0 was always meant to be Rajni's vehicle, with Akshay appearing just before the interval. The scenes where Pakshirajan relates his childhood are some of the better moments of the film.
Dialogues such as "Bhaag jaana mere software mein nahi hai" are sure to raise the decibel level of Rajnikanth's fans. And if the future of humans is headed towards extinction, so seems Indian cinema. Towards the end of the film, one hears the term 3.0 more than once – now would that be a threat or the warning of a sequel?

Latest posts by Hoshang K. Katrak (see all)