In November, 2018, Dr. Hozie Kapadia brought a great sense of pride to the Community on being appointed as the Indian Medical Association's Maharashtra State President, thus becoming the very first Parsi to be made the President of the largest State Medical Association in the country, chosen over 43,000 registered members. Dr. Kapadia was initiated as the President with a drum salute and the State President Medallion by the National President, Dr. Ravindra Wankhedkar, who praised Dr. Kapadia as "resourceful,
creative and dynamic, and a true gentleman, a rare kind in this day and age."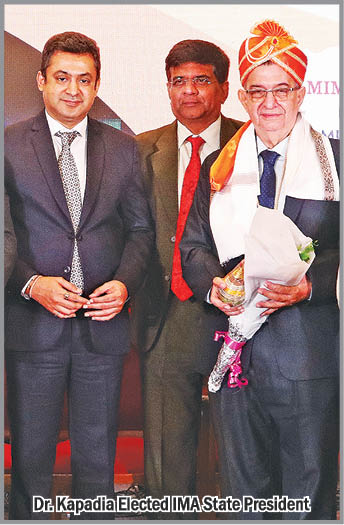 Practicing as a Family Physician in Mumbai for the past 46 years, Dr. Kapadia shares a special interest in Marine Medicine and graces the Panel of Doctors appointed by the Ministry of Shipping, GOI; and has also been a visiting medical faculty and lecturer at Mumbai's premiere Indian Maritime University. He has been the President of Indian Medical Association (IMA), Mumbai Branch, President of General Practitioners Association Greater Bombay (GPA, GB), Sr. Vice President, Federation of Family Physicians of India (FFPAI), Hon. State Secretary of IMA, Maharashtra State and now President of IMA, Maharashtra State.
Alongside his successful practice as a medical doctor, Dr. Hozie's talent for writing and editing had him dedicate ten years as the Editor of IMA, Mumbai Journal as well as the IMA, Maharashtra State Journal. Not surprisingly, Dr. Hozie has been the recipient of several prestigious National and State awards and recognitions – a few of which include the Lifetime Achievement Award, Doctors' Day Award, Best President Award, Best Secretary Award and Best Editor Award.
Speaking to Parsi Times, Dr. Kapadia shares, "My motto in life is to be humble, dedicated and serve the profession and the common man as much as possible. We arrange several medical camps to far flung areas and tribal schools. We have arranged camps for Shapoorji Pallonji maintained Charitable tribal schools. We carry free medicines, treat them and refer complicated cases to nearby District Hospitals or to Mumbai for specialty care. At time we even adopt poor Adivasi Village and conduct regular monthly camps, with follow-up by local doctors. We propagate Organ Donation, Blood Donation and 'Beti Bachao, Beti Padhao' programs as well as Family Welfare Schemes. We work closely with the government to alleviate the sufferings of the poor sick people. The government consults IMA on medical legislations and health policies – and if we find these policies anti-poor or anti-federal, we play a strong role in convincing the government to implement changes in the Act."
Dr. Hozie Kapadia's Words of Wisdom for a Happy New Year 2019:
Being healthy does not only mean the absence of disease, it means holistic well-being on a physical, mental, social and spiritual level.
Our religion teaches us Humata, Hukhta and Hvarshata – Good Words, Good Thoughts and Good Deeds – put these in practice in your everyday life.
Maintain a healthy and active life till you are physically able, with a nutritious diet and regular exercises.
Take care of your aged parents – they require your love and compassion. I have witnessed through my long practice, that even though parents are provided all the physical and material comforts by their children who are abroad, they become depressed and suffer from psychosomatic disorders as they are devoid of their children's love and care. One can never enough return the love and care showered by their parents.
Our great Parsi forefathers had entrepreneurial spirit, which is severely lacking today. Let us build strong ambitions in life to relive that glory.
Latest posts by PT Reporter (see all)