Known for its comprehensive and consistent philanthropic activities to help sustain the livelihood of the underprivileged of our community with dignity, the Zoroastrian Trust Funds of India (ZTFI) presents its 'Annual Fest '19' (Pg. 8) on the 26th of January, 2019, as its Fund-raiser, to boost and continue its numerous charitable ventures. The Annual Fest '19, which will be held at the Cama Baug (big Otla), will commence on the auspicious and noble note, with the performance of the Navjote ceremony of five under-privileged Zoroastrian children, undertaken by ZTFI. Parsi Times is proud and privileged to be the Exclusive Media Partner.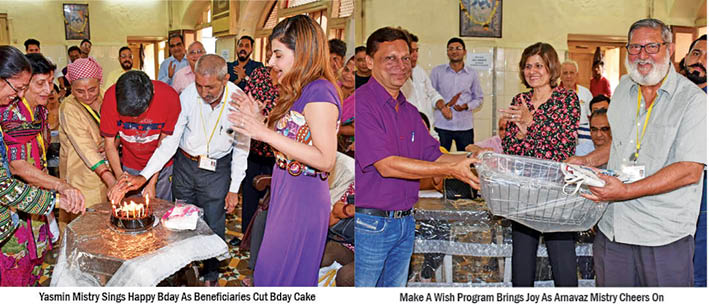 To ensure that all present participate and enjoy an eve filled with fun and entertainment – there's a live musical band, and there will also be a Lucky Draw, where one could win an LCD TV and numerous other spot prizes! But what will definitely mark the highlight of the Annual Fest is the 'ZTFI TEEN PRINCESS CONTEST', held for the very first time – inviting all our Community's vibrant girls, aged 13 to 19, to participate and go home with a Crown and cash prizes… and what's more, it will be judged by none other than the current 'MRS. ASIA UNIVERSE', the stunning and glamorous Delnaz Balsara Sharma, who will also be felicitated for her brilliant achievement for representing India and Asia at the prestigious Mrs. Universe pageant. And the final cherry on the cake is the lip-smacking dinner, which will be catered by the uncontested Queen of Caterers, Tanaz Godiwala.
Donor passes are available at Rs. 500/- for all Community members and Rs. 250/- for ZTFI members and beneficiaries. All donations and proceeds collected from the passes will be channelized towards the numerous charities and programs undertaken by ZTFI towards community welfare. Community members are requested to partake of this noble and entertaining event, and can also purchase passes for over 300 ZTFI beneficiaries to attend the event.
Spearheaded by dynamic Founder Trustee – Yasmin Mistry, ZTFI has been making a huge difference in the lives of disadvantaged Community members. Its popular monthly 'Feed-A-Family' program provides basic but necessary provisions to over 450 under-privileged Parsi/Irani individuals, to support and sustain their daily requirements of a monthly ration, including food supplies like rice, pulses, sugar, tea, as well as items for daily use like washing powder, soap, beddings and also cash. ZTFI also caters to numerous other causes including providing and paying for Medical requirements for financially-strapped community members; as well as numerous programs for our seniors and the youth of our Community.
Living up to its motto, 'Community First', ZTFI and its team of dedicated people is successfully breaking all barriers to scale new heights of success – which they measure in the smiles and blessings they receive from an ever-increasing number of the beneficiaries. Here's your chance to become a part of this noble cause of distributing joy, smiles and love!
For Passes, kindly call ZTFI Trustee Arnavaz Jal Mistry at 98210 09289

.
.
.
Latest posts by PT Reporter
(see all)