Dr. Muffazal Lakdawala, Founder of Digestive Health Institute (DHI), is the President of the prestigious 'International Federation for Surgery of Obesity and Metabolic Disorders (Asia Pacific Chapter)' and has performed over 10,000 successful bariatric surgeries in his 15+ years of practice. He ranks as India's Number One Authority in the field of Bariatric Surgery and is sought after nationally and globally for his expertise.
.
"Obesity has been associated as the host of diseases – it is today the number one cause for numerous illnesses. It is associated with diseases including intracranial hypertension in the brain, thyroid, respiratory issues like sleep apnea and restrictive lung disease, and heart failure – even sudden cardiac death. Obesity also results in the most severe form of metabolic syndrome leading to dyslipidemia of cholesterol, triglycerides malfunction, Type 2 Diabetes, hypertension, hypoglycemia, fatty liver disease which could eventually even lead to cirrhosis. It is associated also with infertility in both males and females and one of the main causes or cystic ovarian disease or syndrome; as also with different forms of arthritis; and recently, 13 different types of cancers have been directly linked to obesity.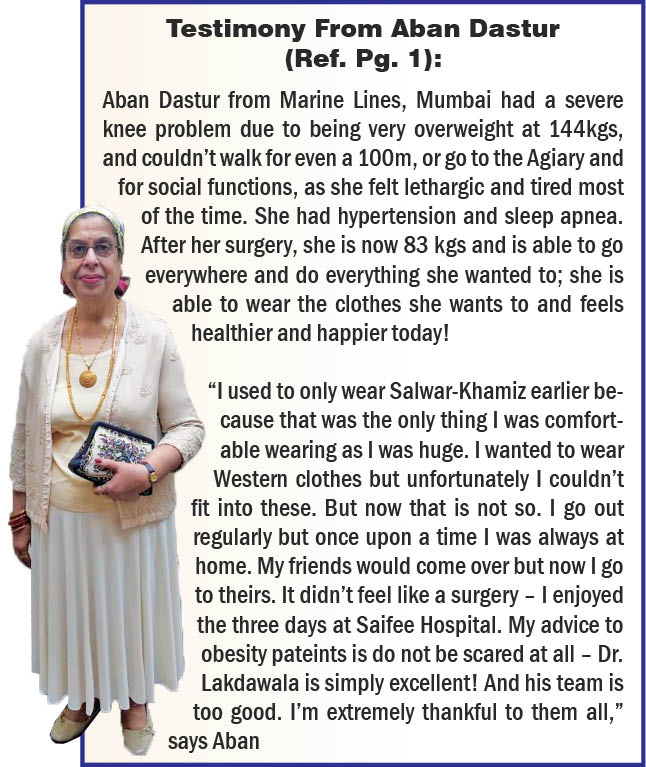 The problem with obesity is that it's a chronic lifelong disease. If your BMI (Body Mass Index) is slightly off, non-surgical options such as diet and exercise really seem to work. However, when you are over 20-25 kgs overweight, or need to lose more than 25% of your body weight, then you do need to consider bariatric surgery from a health perspective.
Most drugs can at best help you lose 5% to 10% of your total body weight. It is only bariatric surgery which can provide up to around 70% retention rate for Type 2 Diabetes, 65% to 70% retention rate with hypertension and 80% attrition rate with sleep apnea and dyslipidemia. In at least 50% of individuals, the weight loss seems to maintain at around 25% to 30% of your total body weight. That's the difference between bariatric surgery and other options. The surgery not only prevents you from taking insulin injections and various medications for diabetes, but also protects you from the micro and macro vascular complications of diabetic medications that could lead to undergoing dialysis later in life; as also protect your eyesight by preventing diabetic retinopathy; and decrease mortality.
Studies have shown it becomes a bonus by adding more benefits to an individual's health and quality of life."
Myth: Bariatric surgery is an extremely risky procedure.

Fact: Any surgical procedure has some potential risks and complications associated with it. But with recent technological and medical advancements in the field of obesity surgery, various bariatric surgery side effects have been minimized. Bariatric surgery done by an accredited surgeon/centre reduces the risk drastically.
Myth: Weight loss is the sole benefit of surgery.

Fact: Even though bariatric surgery plays a significant role in reducing weight, it also helps in improving other health conditions faced by obese patients, including diabetes, sleep apnea, dyslipidemia acid reflux, etc. In fact, a huge number of surgeries are done for remission of Diabetes. Bariatric surgery that is done primarily to treat diseases such diabetes, dyslipidemia or sleep apnea is called Metabolic Surgery.
Myth: Weight loss surgery is listed under cosmetic surgery and hence, is does not have Insurance Cover.

Fact: This is a myth that does not hold true in the present, as many insurance companies cover surgical weight loss procedures. You should have a detailed discussion with your insurance provider and your surgeon to determine what aspect of the procedure can be covered under insurance.
Myth: Undergoing surgery is useless as you can regain the weight in the future.

Fact: Bariatric surgery is not a miracle procedure to lose weight. You must strictly adhere to the diet and exercise regime as instructed by your surgeon to maintain your reduced weight in the long run. Weight regain also largely depends on the procedure – so it's important to discuss in detail with your surgeon the type of procedure that is best suited for you as an individual, as no one procedure fits all .
Myth: You need to undergo plastic surgery after bariatric surgery.
Fact: Not all patients that undergo Bariatric Surgery require plastic/cosmetic surgery. Extremely obese patients who lose 40 -50 kgs or more may require plastic surgery for loose skin. However, even this is considered 2 years after bariatric surgery once weight loss stabilizes. Most patients that indulge in regular physical activity after surgery rarely require any cosmetic/plastic surgery. In terms of scarring post bariatric surgery, these days, most bariatric surgeries are minimally invasive done via 4-5 tiny incisions. Bariatric surgery can also be done scarless (via the belly button) leaving no scars at all.
Myth: Bariatric surgery prevents pregnancy.

Fact: All women who undergo bariatric surgery are advised to wait for a year after surgery to conceive/plan a pregnancy only because it could interfere with their weight loss agenda and affect the overall nutritional status of mother and child. Post 1 year of surgery, pregnancy is absolutely normal with no side effects. The surgery will not affect the ability to conceive or to carry the baby or even during childbirth. On the contrary, it is obesity that leads to infertility in men and women.
Myth: Weight loss surgery entails a long recovery time.

Fact: With the inclusion of laparoscopic technology in bariatric surgery, patients need to stay in the hospital only for a night or two and they can even resume solid diet after 4 weeks of the surgery.
Bariatric surgery is a solution to not only help obese individuals combat weight gain issues, but to also reduce the risks of several life-threatening conditions, including heart diseases, high blood pressure, diabetes, etc. It is a procedure not just to reduce weight but to instill the habit of a healthier lifestyle.
Latest posts by PT Reporter
(see all)