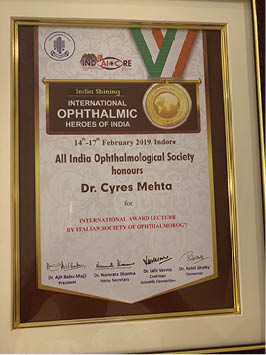 On 15th February, 2019, India's leading eye-surgeon and one of the world's most recognized Ophthalmologists, our Community's eye-prodigy, Dr. Cyres Mehta was awarded the 'International Hero Of Indian Ophthalmology' by the All-India Ophthalmologists Society (AIOS), at Indore, at their annual meeting function.
The Award was given to Dr. Cyres Mehta by Prof Bruce Spivey, Founder and CEO of the American Academy of Ophthalmology; along with President of AIOS, Professor Ajit Majji and Secretary of AIOS, Professor N Sharma. This would be the second time in three years that Dr. Cyres Mehta has been felicitated with this prestigious national honour. The Award honors those Indian eye surgeons who have done stellar work abroad and have won international awards and accolades for India.
Known to set unmatched records in being honoured nationally and globally, for his unparalleled expertise, last year, Dr. Cyres Mehta was awarded the most prestigious 'International Medal Lecture Award' by Società Oftalmologica Italiana (SOI), in Rome, and was invited to conduct and speak at five niche instruction courses in Vienna.
Esteemed globally for his path-breaking research and for constantly setting new standards and breakthroughs worldwide in eye care, Dr. Cyres Mehta is at the forefront of new advances in robotic cataract surgery, non-invasive laser vision correction (SMILE) and non-invasive laser treatment of glaucoma. Over the years, the dynamic Dr. Cyres Mehta has been furthering his winning streak of prestigious national and global awards and accolades, standing out as one of the tallest feathers in our Community's cap.
Latest posts by PT Reporter
(see all)