The dynamic and committed Empowering Mobeds team held its first ever offsite Mobed Training Seminar last weekend (16-17 February, 2019) in Sanjan, Gujarat. Empowering Mobeds is a joint initiative of the Athornan Mandal and WZO Trust Funds, to better the connect between our priests and community members, as well as to equip our priests with eclectic skills and resources, to lead a more fulfilling and holistic life. Having successfully conducted excellent workshops and sessions throughout last year, our enthusiastic Mobeds had registered in advance for this Seminar, which proved to be an equally effective feat. The weekend was an exciting one, with WZOT's Dinshaw Tamboly present to actively support and participate alongside the Mobeds in the sessions, which were ably handled by Delphi Wadia, Kashmira Kakalia and Binaifer Sahukar. Ervad Sheherazad Pavri shares a charming narrative and informative report.
.
Young Binaifer is in a deep dilemma – her first heartbreak has left her shattered and made her completely averse to the idea of love. As she steps into the Agiary on Saturday morning, she prays to the Holy Atash, wondering who would help her get rid of this heartache. Could the solution to such problems, and many more, be given by our Mobeds? Why not! With that in mind, the Empowering Mobeds Programme conducted its First Ever Off-Site Training Programme at the beautiful and verdant Bai Maneckbai P B Jeejebhoy Sanatorium in Sanjan. The goal was simple – to impart basic counselling skills to our young priests in order to facilitate the development a stronger connect with the laity.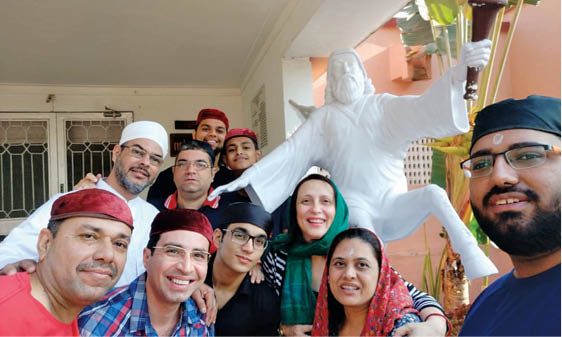 Day 1 kickstarted with a sumptuous lunch of Chicken curry rice and fried Boi fish – courtesy the Tavadia family, which efficiently runs the lovely sanatorium. A quick introduction about Empowering Mobeds and its objectives was done by Er. Sheherazad Pavri. Kashmira Kakalia took over next, splitting the group into pairs with for a session on 'Narrative Therapy', which helped the Mobeds understand the significance of listening and asking the right questions. Giving a patient hearing to people is becoming outdated in today's fast paced world, where people live their lives on social media, much to the demise of the 'Art of Healthy Conversation'!
A quick tea-break later, an intense and interesting discussion, conducted ably by Er. Hormuz Dadachanji, was help, which emphasized on how Mobeds could practice greater professionalism to diligently serve the Holy Fire, and how pursuing this noblest of professions, would lead to prosperity and contentment knocking at your door. Food for mind was followed by food for the tummy! Thereafter, Dinshaw Tamboly shared a short yet inspiring talk on what it takes to be successful. The Mobed participants were encouraged to give their best in every walk of life, to be open to keep learning throughout their lives and to lead by example. The group dispersed for the night amid chatter, forging bonds as they got better acquainted with each other better, in the cool Sanjan breeze.
What better way to begin Day 2 than visiting the Agiary next door! After offering prayers in the serene atmosphere and a quick photo-stop at the majestic Sanjan Stumbh, we were treated to an indulgent and delicious breakfast spread. With the famous 'doodh-puffs' filled to the top with extra servings of love and care by the Tavadias, the Sanatorium is easily a foodie's haven… though surely a no-no for the 'faint-calorie-hearted'!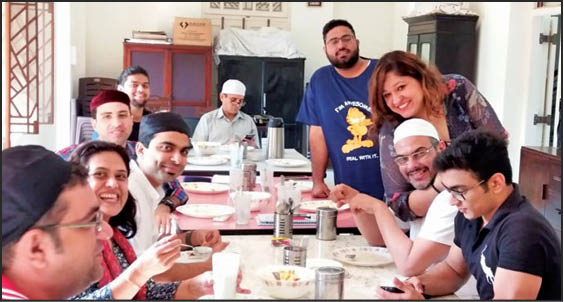 The morning session on Self-awareness and Basic Psychotherapy was initiated by Binaifer Sahukar where she spoke on common cognitive distortions, and received active inputs from the participants. Concepts explored included Importance of Mind Over Matter and Understanding Other's Perceptions through Avid Listening and Quality Questions. A fluid recitation of the famous poem 'Invictus', by Er. Firdaus Pavri proved inspirational to the Mobeds encouraging them to take action and be the makers of their own destiny.
Another lip-smacking lunch later, the final session on 'Understanding Mindsets and Personalities' was conducted by Delphi Wadia, with the aim of facilitating a healthy workplace environment for the Mobeds, where they deal with people from all walks of life. Individual results of a priorly conducted MBTI Personality Test were shared to enlist various Personality Types and had the participants sharing their own personality type in good humour. Based on this, an interesting activity involving brainstorming to Revive Crumbling Agiares was carried out. It was heartening to see active participation from the youngest to the most senior participants, from 17 to 50 plus years of age, hurriedly scribbling and charting out ideas, born out of love and concern for the community. As more such ideas continue flowing, we encourage our community members to also contribute to this cause.
And thus, was a 'Young White Army' trained at Sanjan over the weekend, which returned equipped with life changing skills. As glorious and beautiful as our religion may be, it will amount to nothing without our Mobeds – the 'Keepers of the Flame'. So, the next time you are stressed or in a dilemma based on the challenges life throws at you, think of sharing your woes with your 'Friendly Neighborhood Mobed' – he could help solve your issues, being from the 'Young White Army', and if he isn't, encourage him to sign up!
Speaking to Parsi Times, the vivacious Delphi Wadia, part of the Empowering Mobeds core team, said, "We brainstorm and come up with ideas to address topics that will help our 'Men In White' perform their tasks better. I head Learning and Development globally for an agrochemical firm and I have realized that human behavior concepts can be applied to people who have stressful corporate jobs or even when they need to handle prayers for the dead – it's all equally stressful and has to be handled with care. Story-telling, public speaking, listening and even counseling are some of the skills we have started to Empower our Mobeds with. I personally love working with them, coz they have a great sense of humor and are so knowledgeable. Every interaction with a Mobed helps me learn something new!"
Latest posts by PT Reporter
(see all)