Ever since Parsi Times was able to coax/coerce/convince the One-Man-Laughter-Army, aapro Cyrus Broacha, to start the exclusive, hilarious, super-hit column, 'Cyrus The (Not So) Great' with us, we have been inundated with mails from readers across India and even PT patrons from the world over for 'more!'… in the words of one of our readers, "Yeh dil maange more of Aapro Broacho!" Looks like we just can't get enough of the Brand Ambassador of Humour, and with good reason – us Bawajis are always up for a good laugh! With Happiness and Positivity as the theme of our Jamshedi Navroze Special issue, this turned out to be the perfect platform to share a hilarious interview with our Comedy King, Cyrus Broacha!
PT: Share a few memories about your childhood…
Cyrus Broacha: It's difficult to remember when I was born, but it was a Saturday, which explains why I always prefer weekends to weekdays. As far as education goes, I tried to skip it. Primarily because our teachers wouldn't let me lie down in class. Like most people, I have 2 parents, one is a mother, and one is a father. Both, rightfully prefer my sister, Giselle. My parents have made a golden rule, which I religiously follow – 'Always stop the car to let doggies cross the road'. In the case of humans, stopping or accelerating was entirely up to you.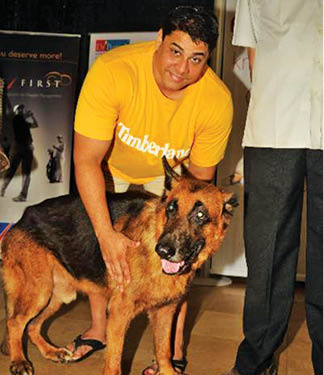 PT: Tell us a little about your journey as a showman, actor, comedian…
Cyrus Broacha: My first acting job was in the second standard. It turned out to be prophetic. I played a swindler in the 'Emperor's New Clothes'. From there, it was Radio, when FM was born. English theatre with 'Brighton Beach Memoirs', where Aapro Hosi Vasunia, decided to pay back the Parsi Community by putting 14-year-old me on stage. Pearl Padamsee and Hosi were my theatre mother and father. True to form, they left me nothing in their Wills. Then, after accidentally landing a job at MTV, I got stuck with this excuse for a career.
(PT Disclosure for Aapro Broacho: for the sake of our readers who aren't as well versed about Aapro Broacho, the man is a multi-dynamic personality! He's a TV anchor, theatre and stage personality, Bollywood actor, comedian, political satirist, columnist, podcaster, author and columnist. But what he is most, is a prankster with the funniest and wittiest sense of humour! He had us laughing away with his super-hit show, 'Bakra' on MTV and his current show on CNN News 18, 'The Week That Wasn't' has one of the highest ratings as well! Let's hope this disclosure saves his job and his career!)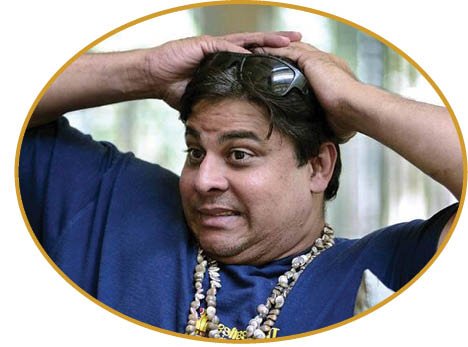 PT: Were you always as witty and naughty? What kind of trouble did you cause as a kiddo?
Cyrus Broacha: I don't know if I was naughty, but I did make it a point to wear my underwear over my pants. I don't know about trouble, but an element of drama usually seemed to follow me everywhere I went… like when I challenged my pal, Porusp Marshall, to jump into an open manhole. Mind you, we were nine year olds then. Porusp has just resumed talking with me again last year, aged 46.
PT: Which capacity, as a man, do you resonate with the most?
Cyrus Broacha: Son is the best job. Living at home with your parents – a la Bawaji style! The only work you have, is to decide whether to throw your t-shirt into the laundry basket with your right hand or your left hand. The Father role is tough. Husband role is tougher. Brother role is bearable. In the case of Actor/Comic, the concerns are not from my side, rather from the bewildered audience. Friends, I have tried my best to eradicate, and I'm looking for a home for a very close one – Shree Kunal Vijayakar, who is by all accounts, a true blue, honorary 'Bawaji'!
PT: Tell us more about your family – how would they describe you in a few words?
Cyrus Broacha: My father uses the word 'Mistake'. My mother may say I'm 'Elvis'. My children prefer the term, 'Avoidable' – in relation to their father. My friends usually respond with a 'Not Available' tag… and these are my supporters! As for my wife, she doesn't actually call me – she simply snaps her fingers. I'm told this is a tradition amongst many 'happy' couples…
PT: What values do you hold close to your heart and which one would you never compromise on, no matter what?
Cyrus Broacha: I will always 'scratch', in public or private. Scratching is my birth right. Cruelty to Animals is where I draw the line. Why do young kids on the road mock stray dogs by barking at them??
PT: Give Us '5-FUN-FACTS', which not too many people know, about Aapro Cyrus Broacha.
Cyrus Broacha: Fact V – I wear the same shorts for 3 months at a time.
Fact IV – On a good day, I can bench press 380 pounds without a spot.
Fact III – I bite my pals. On the brighter side, I've stopped biting other people's nails.
Fact II – I have to hand-write, as I can't type properly.
Fact I – I sweat even in 14° C temperature! And I have never worn a sweater. I don't have the 'cold' gene!
PT: Who inspires you and why?
Cyrus Broacha: People who can carry off wearing really tight pants in public. Also, people who don't work, and are still very happy and self-contained – Dave Barry, Woody Allen, Ricky Gervais. Or better still, the out-of-work Ricky Gervais, in very, very, tight pants!
PT: Who/What makes you most happy?
Cyrus Broacha: Puppies! I love puppies!! I feel very happy when I connect with a stray dog, cats or in the times we live in, even stray cattle!
PT: What message would you like to share with the Community on Navroze?
Cyrus Broacha: Continue to set the bar high for the rest of India. You don't have to introspect all the time, sometimes just pat yourself on the back. Also remember a good Parsi, (which is all Parsis) must teach actual parallel-parking to his or her Non-Parsi pals! Jamshedi Navroze Mubarak to all!!
Latest posts by PT Reporter
(see all)