There is little likelihood of the regular Indian movie buff having watched a 2016 Spanish film, whose English translation was 'The Invisible Guest'. Sujoy Ghosh (director of the Kahaani films and producer of Te3n), known for his penchant for mystery and thriller films, has adapted Oriol Paulo's Spanish film, but with a gender role reversal.
Amitabh Bachchan is Badla, oops, Badal Gupta, a high profile criminal lawyer who specialises in defending clients by producing witnesses out of nowhere and moreover, hasn't lost a case in his 40 years of practice. He's been hired by junior advocate Jimmy (Manav Kaul), a college friend of Naina Sethi (Taapsee Pannu), who's in imminent danger of being held as an accused for the murder of Arjun (Tony Luke), with whom the married Naina was in a relationship.
Apart from the fact that Rani Kaul's (Amrita Singh) son goes missing around the same time — thriller mysteries need no more of a synopsis or a storyline.
It's a casting coup, with Amitabh Bachchan and Taapsee Pannu reuniting after the critical success of Pink (2016). After a few chess moves are played in which Naina changes her stance more than once — fifteen minutes into the film, Badal warns her for the umpteenth time, "And I implore you – don't hide anything from me." This only goes to show the fast pace of the two-hour film, with crisp editing by Monisha Baldawa (Mom, Neerja).
Most of the action takes place indoors (and that's where the film is liable to lose a bit of its sheen) between Amitabh and Tapsee amidst some sharp captivating dialogues written by Ghosh and Raj Vasant. Twists and turns, permutations and combinations are doled out in no mean measure. The outdoor wintry locales of Scotland are beautifully captured by Avik Mukhopadhyay (October, Pink).
The frequent analogies to Mahabharata characters, though contextual, may prove to be a diversion for some. It's as much Amitabh's film as much as Taapsee's, with both of them giving outstanding performances while Amrita Singh shows why she should be more prolific in commercial cinema.
While Sujoy Ghosh has remained faithful to the original – – – well, almost – – – a large part of the credit ought to go to writer/director Oriol Paulo, who maintained the suspense till the final frame.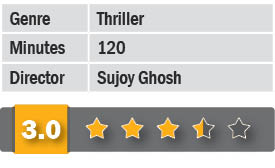 Latest posts by Hoshang K. Katrak
(see all)