Your first recall when you hear 'Nargol' is serenity – a clean, lush beach, gorgeous trees, a small lazy town and relaxation. There is a sense of familiarity and warmth about Nargol, a quaint village in South Gujarat, caressing the Maharashtra border. Home to a number of early Zoroastrian settlers or Parsis in India, many have now migrated to the cities of Gujarat and Mumbai in search of a better, more modern life. Many believe that the fleeing Persians first landed on the shores of Nargol before spreading south to Sanjan and north to Udvada.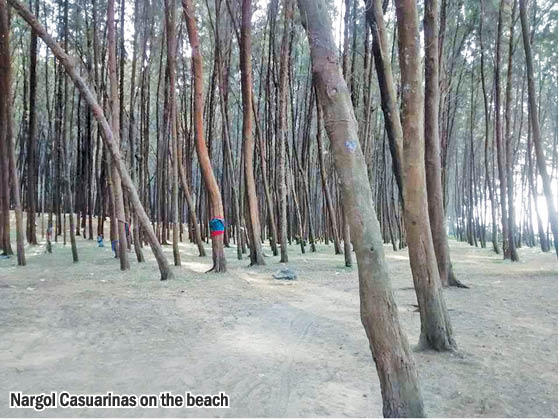 There's clusters of white-washed walls enclosing gorgeous heritage houses and farm-houses, maintained mostly by maalis. Most of us have at some point or another visited Nargol – either for a short break or as an en-route stop-over. 4 kms of virgin, white beach, dotted with endless casuarina trees speak of the glory of a bygone era. A mix of old and new structures inhabit the narrow by-lanes of Nargol town. The tranquility is pure bliss.
Few of us would know that our quaint, little Nargol has sprouted many a stalwart to make our Community proud! Parsi Times reader and Nargol's very own Shapur S. Khandhadia enlightens our readers about the noble Nargolias of Nargol:
Rustom P.J. Taleyarkhan: Was acknowledged as the 'Father of Nargol'. He established the 'N M  Wadia (Tata Wadia) High School' in 1908.
Maneckji F. Havewalla: Was the very first Sarpanch of Nargol. He established 'New High School' in 1943, which today goes by the name of Jalaram High School.
Dadi R. Havewalla: Was the first Cricketer to score 5.15 runs in 1935. His batting was witnessed by the famous England Cricketer Jack Hobbs and had appreciated it thoroughly.
Cooverji D. Bhesadia: Was the First Parsi Assistant Police Commissioner of Mumbai.
Navajbai J. Havasars: Was the one and only freedom fighter of Nargol and was also jailed in 1931
 Adi R. Havesars: The brother of cricketer Dadi Haversars, Adi was a famous cyclist who went to Zurich in 1942 and London in 1946 to participate in the Olympics Cycle event.
 Behram J. Govadri: Played for Mumbai in Ranji Trophy tournament.
 Marzban S. Khandesar: Was the first cricket captain of Nargol in 1948, played in the 'Herring And Kent Cricket Tournament'. He studied in Anandibai Poddar High School in Mumbai, with classmate Harjivanda – the father of former superstar actress, Asha Parekh.
Kudos to our Nargolias and Jamshedi Navroz Mubarak!!!
Latest posts by PT Reporter
(see all)