Parsi Times Reporter Binaisha M. Surti catches up with Padma Shree awardee, legendary theatre actor, writer, director, producer and film personality – Dinyar Contractor – the ageless celebrity – full of high octane energy… charming, witty, expressive, charismatic with an inexhaustible zest for acting, one of the greatest personalities of the entertainment world. This young-at-heart 77-year old stalwart's work commands increasing attention even today… as he brings to life every character he plays and sets the stage on fire. As a founder members of the Indian National Theatre, he joined hands with fellow theatre legends – Burjor Patel and Padma Shree Adi Marazban – delivering innumerable hits and keeping the entire Community and nation under his entertaining spell. He won Best Actor Award for his Gujarati Serial 'Pappa Ni Parliament' by Transmedia in 2004.  He has toured globally enthralling audiences across the world, portraying innumerable roles flawlessly. Binaisha interviews the great Dinyar Contractor at his beautiful home in Mumbai's Rustom Baug, as he shares an interesting account of his life with our readers.
.
.
 PT: Tell us about your love for acting and theatre and how did it all begin?
Dinyar Contractor: From the very beginning I loved acting and wanted to do plays. As a school boy, the demand for my presence on stage was high – at one stage, I worked in two school plays simultaneously – 'Sherlock Holmes – the Case of the Missing Register' and 'Andher Nagri Chaupat Raja'. When my father saw me perform, he told my mother, "ai aapro dikro, kai sikhse-bhanse nahi!" To prove him wrong, I worked hard to stand first amongst all the Parsis in Rustom Baug and won the Sir Ness Wadia Memorial Gold Medal. I intended to become a doctor and did very well in studying at KC College, where I entered the Pharma industry securing a job at 'Rallis India Limited', where I served for nineteen years. But I continued acting on the side, balance it with my work. Back then we would perform only on Sundays. Once a year, we would take leave for a month and perform for 30 days, back-to-back in Gujarat… it's from here where it all really started. I started out being paid Rs. 35 per show – it would be a big thing on Sunday, when I performed two shows, to get Rs. 70!  Those days money had a lot more value! Further on, I decided to wear the producer's hat as well. We had a fun team and enjoyed a lot as a unit.
PT: What were the first thoughts that crossed your mind when you learnt that you have been awarded with the prestigious Padma Shree?
Dinyar Contractor: I really thought that someone was playing a prank on me! When I got the call, I was sitting with my sister – I even told her that someone was playing the fool. But when Vada Dasturji Khurshed Dastoor called to congratulate me, I realized that the call was genuine. At that time I was in terrible pain, recovering from a spinal infection. As happy and honoured as I felt, I was wondering how I would make it to Delhi.
PT: But you did, despite your health conditions – was it very challenging to make the journey to receive the Award?
Dinyar Contractor: I got several calls and letters from Delhi requesting me to be present for the ceremony, which was initially informed to me to be held around March-April, but later was pushed to May. I was happy as I would be able to travel by then. But then, I received a message stating I should attend the function at the Rashtrapati Bhavan in Delhi on 16th March, 2019. It looked really difficult to travel at that point and expressed my inability to come due to health issues, so I was told I would then receive it in Mumbai. Then, on 15th March, I received a phone call yet again to come to Delhi as I was the only Parsi on the Government of India's Honours list! So, I finally made up my mind to go to Delhi, along with my sister, my right hand – Vistasp Gotla, my physiotherapist and my ward boy. On reaching Delhi, there was chaos after landing at the airport. Getting into the Innova (car) awaiting us, made matters worse, due to my spinal condition. But with help, I somehow managed. With time running out, we quickly freshened up and managed to reach Rashtrapati Bhavan in the nick of time, as the National Anthem had just started playing and the doors were shut. Had we reached a minute later, I would have missed out on the most prestigious moment of my life! It was an honour, as President Ram Nath Kovind came down from the dais and bestowed on me the Padma Shree. I was very touched when he inquired about my health. To top that, even Prime Minister Narendra Modi came up to me and said in Gujarati that he has watched my plays! He said to me, "Bawa Dinyar…hasvanu chalu rakhvanu che, chodta nahi!" All awardees are invited to attend the Independence Day function at the Rashtrapati Bhavan on 15th August, 2019 and I will surely go back again!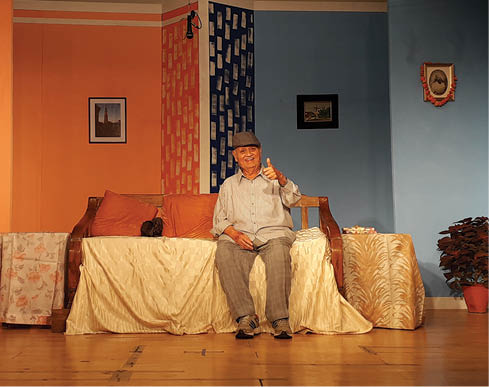 PT: Theatre, TV, Bollywood and Advertisements – which is the most demanding genre?
Dinyar Contractor: The most difficult genre would be theatre – to perform on stage.. you need to know your lines by heart. Unlike films, theatre gives you just one take – with the audience in front of you; you cannot stop the performance in between for any reason. I really love performing on stage because my efficiency increases with every show – ultimately, the audience makes you the actor you are! If they keep on laughing during comedy scenes, that encourages me to perform even better. As a showman, I know the pulse of my audience, so my plays become a hit.
PT: Share some glimpses about your more popular plays, advertisements and movies.
Dinyar Contractor: One of my most popular plays, 'Aadoshi V/s Padoshi' (2013) was performed 168 times in 210 days due to the crazy demand! This play was performed across various auditoriums and was always house full – I'd have to do three shows in a day – the morning show would be booked by the Mahila Mandal, followed by the couples show in the afternoon and the evening show would be for the general public. My most popular advertisement was for the brand, 'Rasna' – even today people recognise me from that Ad! When we were rehearse for the hit Bollywood murder mystery, '36 China Town', we weren't told the ending plot until the last two days. We all kept wondering who the actual murderer was… and we all were told yes, you are the murderer! It was great working with Abbas-Mustan – they are absolute gems and I had a blast on the set!
Latest posts by Binaisha M. Surti
(see all)