On 21st March, 2019, The Jamshedi Navroz Fund Committee, Parsee Pragati Mandal (PPM) and Zoroastrian Women's Association, Surat, brought together Surat's Parsi Community to celebrate Jamshedi Navroze and pay homage to the martyrs of Pulwama attack (17 March, 2019). Much more than just verbal homage, a talent competition with a patriotic theme was held for participants up to the age of thirty. The Chief Guest was the pride of the Community and Surti, DRDO scientist, Kekobad Kapadia – the Project Director of MPATGM, which recently carried out successful missile tests in Pokhran for the 'Man Portable Anti-Tank Guided Missile', recognized by the government. Currently a Hyderabad-resident, Kapadia has worked alongside 'Missile Man of India', the Late President, Abdul Kalam. The function was graced by Trustee of Surat Parsee Panchayat and Jamshedi Navroz Fund Committee – Yezdi Karanjia, Rukshad Master and Cyrus Dotiwala.
The function started with a Humbandagi. As a mark of respect to the Pulwama martyrs, the audience stood with lit candles as Dilnaz Besania and Shahzad Karanjia sang a touching, patriotic song, which mesmerized all with their flaless rendition. Vira Karanjia recited a poem on patriotism and Aanoash Chichgar delivered a shayari reinforcing the patriotic spirit. Jimmy Kharadi, Program Committee Chairperson, PPM, welcomed the gathering, reminiscing the sacrifices and services of the Parsis to India, and encouraged the youth to further the legacy.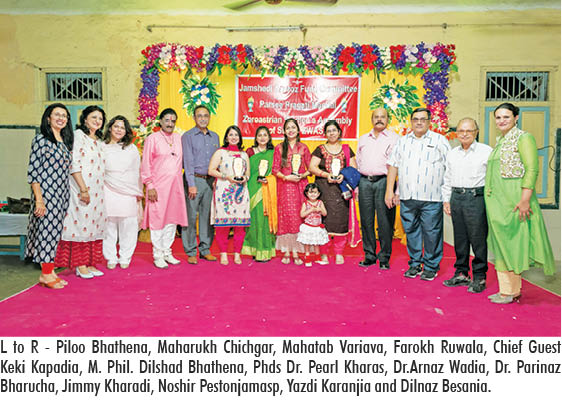 Kainaz Variava, Mahazarin Variava, Daisy Patel and Nilufer Bavaadam felicitated Dr. Parinaz Bharucha, Dr. Arnaz Wadia, Dr. Pearl Kharas for being awarded Doctorates, as also Dilshad Bhathena for completing her M.Phil. The mood then switched to entertainment with a fab display by toddlers and youngsters in the Talent Competition based on the patriotic theme, and ably judged by TV and stage personality – Dhwani Trivedi and Dhun Kharas. The winners, across various age categories were Yazaan Jehan Variava and Sizan Ambapardiwala (3 years and under); Zaina Variava and Anaisha Bhagwagar (4-7 years); Marzee Kolah (8-10 years); Palash Bhathena and Paakzad Karanjia (11-15 years); and Zinobia Patel (16 years and above).
Pearl Khandadia explained Navroze celebrations and the tradition of laying the Navroze table, while the vote of thanks was proposed by Afrin Patrawala. The event was efficiently compered by Program Committee Chairperson of ZWAS, Benaiffer Engineer, and ended with sumptuous dinner by Nozer and Freny Daruwala (A-1 Parsee Food). The function was executed by Trustee of ZWAS, Jamshedi Navroz Fund Committee and Vice President of Parsee Pragati Mandal – Maharukh Chichgar, ZWAS Trustee – Piloo Bhathena, President – Mahatab Variava, Secretary – Dilanz Besania, and members – Tanaz Coachman, Afrin Patrawala and Mahazarin Variava.
Latest posts by PT Reporter
(see all)