The inauguration function of the 33rd Holiday Programme for Youth (HPY) was held on 28th April, 2019 at JB Vachha Girls' High School, Dadar. 160 participants from Mumbai and various other parts of the country were all set to enjoy, learn, adapt and make the most of the memorable month. The Organising Committee comprising Huzan Forbes, Kaizeen Jehangir, Zaara Dastur, Farad Daruwalla, Delna Mehta, Jeyhaan Carnac, Sanaya Mehta, Karl Malao, Pashang Dadyburjor, Merzad Patel, Danush Dumasia and Genevive Irani (with valuable inputs from Khushnuma Daruvalla) put in tremendous effort to ensure a successful Holiday Programme for India's Zarthosti Youth.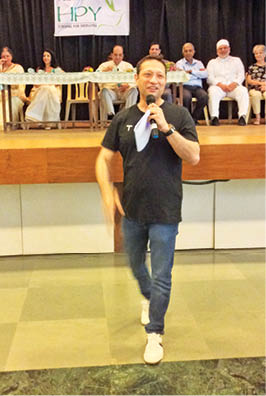 The dignitaries who graced the occasion included Chief Guest – Dr. Keki Mistry; Guest of Honour – Anjalee Tarapore; Vada Dasturji Khurshed Dastoor, Er. Rohinton Pavri; BPP Chairman – Yazdi Desai; BPP Trustees – Kersi Randeria, Armaity Tirandaz and Zarir Bhathena, along with BPP CEO – Cawas Panthaki; BPP's Deputy CEO – Shahnaz Khambatta and former BPP Trustee – Jimmy Mistry. The event was hosted very well by Sanaya Mehta. The function commenced with a short prayer by Er. Rohinton Pavri, invoking the blessings of Ahura Mazda. He urged everyone to keep alive the fire in their hearts and minds, which in turn would protect and help them succeed in life. In her welcome address, HPY mentor, Diana Marfatia praised the BPP for their support through the years. She thanked them for providing 16 outstation youngsters with accommodation and transport for the entire duration of the programme. She shared how HPY had come a long way and had benefitted innumerable Parsi/Irani youth through its numerous programs offering career guidance, leadership training, personality development, social service, music, dance, sports and fashion designing with participants also working with senior citizen homes and NGOs. This year, HPY will hold a 'T-shirt and Shirt Collection Drive' which would be donated to NGOs. She thanked Banoo Makujina, Principal of JB Vachha High School, the Chairman, Trustees and members of the Managing Committee who generously given their school premises for the sixth year in succession to conduct the HPY. Tokens of appreciation were also presented to eminent personalities by the members of the organizing committee.
Participant of HPY 2018 – Jasmine Chaina shared her wonderful experiences, reminiscing the daily excitement it offered and cherishing the life-long friendships forged. Diana Marfatia and the organizing committee sang the HPY song written by Raika Guzder with music composed by Hormuz Ragina and Peshotan Kapadia. Next, the ever dynamic Jimmy Mistry held a fun and interactive session with the young guns of HPY 2019. Sharing words of wisdom, he enthralled the audience and specified that it was absolutely alright, if at this stage in life, youngsters felt confused about choosing their career paths. He stressed on the importance of self-belief and to endeavour to keep evolving and having fun, but more importantly moving out of one's comfort zone and adapting to new ways of life. He introduced Guest of Honour, Anjalee Tarapore, as the Joint General Manager of HDFC Limited and a part of HPY's 1990 batch, who continues to be an active volunteer.
Addressing the audience Anjalee said, "The summer of 2019 is going to be the start of something incredible in each one's life. HPY in itself has an electrifying atmosphere where today's generation get to meet so many different personalities who have done well in their individual field. HPY holds a special place in everyone's heart, as so many everlasting friendships are made. HPY has gotten stronger, smarter and grander, all thanks to Diana's efforts in nurturing the youth."
  Jimmy Mistry then introduced Chief Guest – Dr. Keki Mistry, an eminent and successful Orthodontist, who emphasised the importance of starting one's day with a prayer. He urged the youth to enjoy the HPY programme and do well in life. The vote of thanks was given by organiser Genevive Irani, on behalf of HPY. The event concluded with the Parsi anthem – 'Chhaiye Hame Zarthosthi' and the nation's National Anthem.
HPY is the brainchild of Late Dr. Mehroo Bengalee, which has been kept going strong by Diana Marfatia, who has been a constant support, guide and friend to all participants through the years, and pushed them to reach for excellence in all they chose to become in life.
Latest posts by Binaisha M. Surti
(see all)