Greatly Benefit Community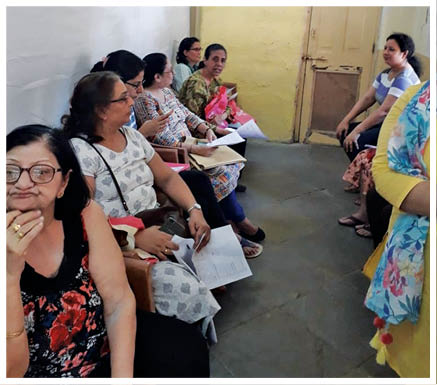 WAPIZ conducted its second much-needed, Free Breast Cancer Detection Camp, on 19th May, 2019, at Navroze Baug. This marks the second camp, in a long series of such camps to be conducted across the Baugs in Mumbai, over the next few months. WAPIZ has undertaken this venture in order to provide free and noble service to safeguard the Community's ladies from an ailment which seems to be on the rise. With the very successful first camp held at Godrej Baug, just over a week ago, through these camps, WAPIZ aims at offering the cover of prevention as well as correction of this deadly disease.
Like the previous camp, Navroze Baug too witnessed an overwhelming response, with seventy-six women benefitting from this camp, spearheaded by WAPIZ CEO and Trustee, noted community-worker, Anahita Desai. Unfortunately, some of the ladies could not be examined due to time constraints, but they will be making up for the same by showing up at WAPIZ's next Free Breast Cancer Detection Camp scheduled for 26th May, 2019 at Bharucha Baug, starting from 9:30 am.
While Rukshana Chhor, the first woman to be screened from the Godrej Baug camp said, "The screening was done by professional technicians and everyone was polite and sensitive. It took only 15 minutes!"; Armine Mehta who benefitted from the Navroze Baug Camp said, "The procedure was absolutely painless. I was very impressed with the arrangements. I urge all our Community's women to avail of this extremely useful and potentially life-saving facility provided by WAPIZ, free of charge."
Bahadur Sanjana and other residents of Navroze Baug felicitated the Trustees of the N K Dhabhar Cancer Foundation as well as Anahita Desai. A special note of thanks is extended to Rukshana and to Nozer Sutaria for volunteering their services for the Camp. Kudos to Anahita Desai for her efforts in yet again providing the Community a service which could very well save their lives, as also to Karyesh and Sherry Patel for playing a valued role in conceiving, organizing and managing this noble community venture.
The free screening, which is conducted by the N K Dhabhar Cancer Foundation, is conducted by professional technicians and doctors. The procedure lasts for 10-15 minutes and is painless. Speaking to Parsi Times, Anahita Desai said, "Our community owes a debt of gratitude to the Trustees of the N K Dhabhar Cancer Foundation for their medical assistance and their follow ups on cases which need further investigations and all this totally free of cost."
Latest posts by PT Reporter
(see all)