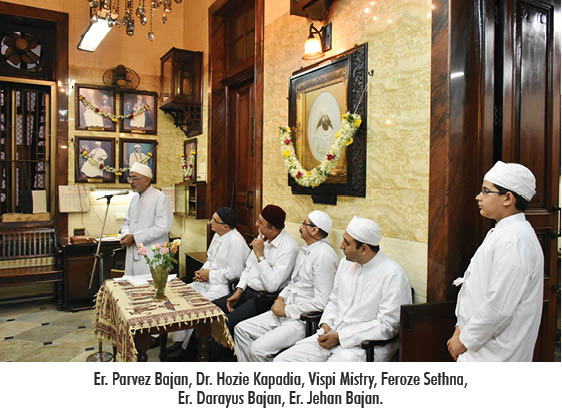 Seth B M Mevawala Agiary (Byculla, Mumbai) celebrated its 145th Salgreh on 30th April, 2019, resplendent with flowers, lighting and rangoli. A Machi was offered in the Havan Gah to the Padshah Saheb. At 9:00 am the Salgreh Jashan, on behalf of the Trustees, was performed by the Panthaky Saheb Er. Parvez Bajan, along with other Mobed Sahebs. The evening Jashan, held at 5:00 pm on behalf of the well-wishers and residents of Byculla, was led by Er. Darayus Bajan.
The religious function began at 6:30 pm under the Chairmanship of Agiary Trustee, Vispi Noshir Mistry. Dr. Hozie Kapadia graced the occasion as the Chief Guest with wife Kerban. Er. (Dr.) Parvez Bajan introduced the two newly inducted Trustees – Vispi Mistry and Feroze Sethna, as also Dr. Hozie Kapadia as a successful practitioner for over 47 years, who was recently elected President of the Indian Medical Association (IMA), Maharashtra State and has been the recipient of numerous prestigious awards.
Er. Parvez Bajan gave an overview of Zoroastrian worship of fire, and the preservation and protection of various established Fire Temples in Mumbai and India. "Fire, being the spiritual energy of Ahura Mazda – guards the creation of the material world and represents as the Son of Ahura Mazda. Hence it is imperative for all who enter the fire temple to maintain certain decorum in dress code," he said. He exhorted all to devote time for prayers and explore understanding the religion and prayers as the community can progress when one lives the life of a true Parsi Zarathosthi. "Our religion is not a badge to be tied on the sleeve, but a way of life by practicing the virtues mentioned in our scriptures. Only one link binds all in the community – the Zarathosti Religion," he added.
Dr. Hozie Kapadia encouraged the youth to pursue the noble medical profession and serve humanity. Thereafter, Er. Jamshed Kotwal and Marzban Wadia presented Monajats and the newly inducted Trustees motivated the youth to focus and excel in their careers. Dr. Hutoxi Zaroliwalla spoke hearteningly of the Sassanian Religious Text – Handarz – of Dastur Aderbad Marespand.
Er. Bajan graciously presented the vote of thanks to all the eminent invitees and helpers, felicitating them with shawls and garlands. He thanked senior community member, Burjor Mistry, for his keen interest in the up-keep of the Agiary-well, as also Marzban Wadia, Er. Jamshed Kotwal, Prochi Badha for the beautiful Rangoli, Farokh Mojia for photography and Parsi Times and the Parsi Press for their continued support. The function ended with the Parsi Anthem, 'Chhaiye Hame Zarathosti' and refreshments.
Latest posts by PT Reporter
(see all)