Jamie Dominates; Danesh, Hoshmand, Diana Impress With Podiums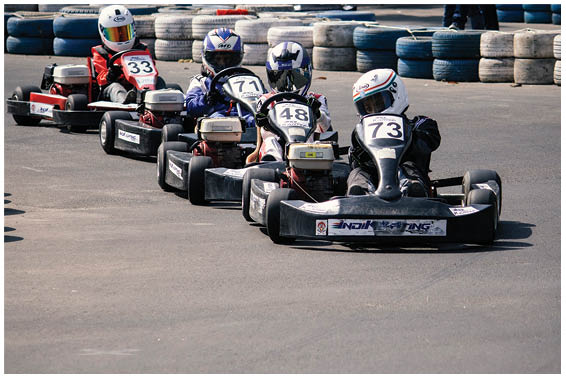 Young Parsi racers dominated numerous categories at the Ajmera IndiKarting Clash of Go-Karts event, held in Mumbai recently. Over 500 entries translated into 177 participants battling for top honours, at Ajmera IndiKarting, Mumbai's only racing circuit. The FMSCI approved event attracted participants from Kashmir, Kerala, Vijayawada, Gujarat, Haryana and other parts of the country.
Dadar Parsi Colony's Jamie Shaw was the star of the Amateur category, dominantly displaying his skills to win comfortably. In a league of his own, he also claimed victory in the Inter-College category, representing Jai Hind College. "I was disappointed after the earlier race in December. But I worked even harder and practiced consistently in the build-up to the race this time and I'm really happy to have won two categories. I thank my dad for all his support," said an ecstatic Jamie after the podium.
11-year-old Hoshmand Elavia from Godrej Baug bravely stepped-up into the Pro Junior category, a year ahead of schedule. Having been the Vice National Champion in the Pro Cadet category, the big jump into Pro Junior wasn't going to be easy, but Rayo Racing's Hoshmand had a good start in Race 1 of the Pro Junior. Though the first few laps saw him put the internationally experienced Shaurya Kapani under pressure, Hoshmand settled for the runner up position. Hoshmand continued to handle his jump to the Junior category impressively, bagging two more podiums with third in both, Race 2 and Race 3.
Danesh Banajee from Bandra also dominated across multiple categories, starting on Pole (First) for Race 2 and cruising to victory. He climbed the podium again in Race 3, finishing as runner up. He decimated the competition in the Veteran category to win well ahead, but was unfortunately penalised 10 seconds for a jump start, which dropped him down to second. Danesh finished as runner up in the Open Category.
Pune's Diana Pundole started on Pole and opened a massive lead in the Women's category. Unfortunately, a back-marker in her way caused Diana to spin and drop down to second. Though this was Diana's very first race, she exceeded all expectations to cover up the distance she had lost and was soon challenging for the lead, but ran out of time to finish a proud second.
IndiKarting is India's largest Karting Series and was founded in 2016 by 8-Time Champion, Rayomand Banajee. Speaking to Parsi Times, Banajee said, "We created IndiKarting with the intention of growing grassroots motorsport in India. It is a pleasure to see a completely new generation of racers grow thanks to this."
Latest posts by PT Reporter
(see all)