The first week of May 2019, from the 1st to the 5th, marked the unique coinciding of three major Zoroastrian events in Orlando (Florida, USA) – as the Central Florida Zoroastrian Community hosted the multi-day World Zoroastrian Chamber of Commerce (WZCC) Global AGM; followed by the Federation of Zoroastrian Associations of North America (FEZANA) AGM and the periodic meeting of the Global Working Group (GWG) – a coordinating body of the Zoroastrian diaspora.
On 1st May, 2019, over 125 Zarathushtis collected in Orlando, in the lobby of the Wingate by Wyndham Hotel, owned by Dinyar Mehta, to attend the WZCC AGM. Post lunch, the WZCC AGM commenced with Er. Soli Dastur leading the benediction. Afsaan Kermani, the host Chapter Chair, welcomed all and global President, Edul Daver, gave a state of the WZCC Union, world over. Updates from every chapter were provided and Global Treasurer, Katayun Kapadia, presented the fiscal report. New International directors were appointed and the winners of the WZCC Awards were announced.
A two-day program of panels and speakers included the first panel on 'Zoroastrian Entrepreneurship' moderated by Xerxes Dastur, WZCC India Director and BPP Trustee with eminent panelists – Dr. Zubin Sethna (UK); Er. Arda Minocherhomjee; Dr. Daryush Mehta; Anne Khademian – discussing the challenges of entrepreneurship in general, with a focus on Zoroastrian teachings and philosophy; evening speaker -lecturer, author and political analyst – Dr. Rashna Writer spoke on the topic, 'Predicting the Zarathushti Entrepreneurship Future by Creating It'. The day concluded with an entertainment program and dinner.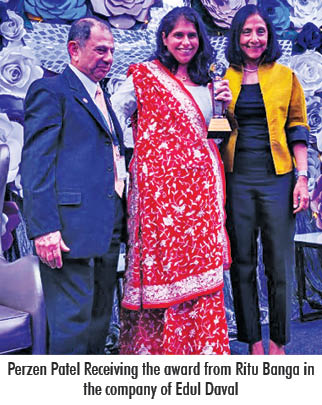 Next day, a series of talks by eminent speakers included Hong Kong based business coach, Danny Khursigara, elaborating on the methods of pursuing all kinds of success; Dr. Zubin Sethna, Associate Professor, Regents University, London, speaking of 'Daena: The Psychology Behind Entrepreneurial Marketing'; Dr. Chuchi Arevalo, Founder of the Spark Academy, spoke of imbibing entrepreneurship in kids as young as five. A second panel discussion moderated by FEZANA's Dr. Behram Pastakia comprised panelists Dustyn Shroff; Dr. Jennifer Silva; Dr. Jeannie Kenkare and Khush Italia, who discussed youth engagement initiatives to employ across local, regional and global levels. Next, Professor Mahzarin Banaji, Professor of Social Ethics, Harvard University, spoke on 'An Emerging Science of Good and Bad – A participatory session to reveal mental Blind Spots that impact our decision making'; followed by FEZANA Co-Chair, Afreed Mistry's talk on Artificial Intelligence, Blockchain Technology and Smart Contracts.
May 04, 2019 marked the glittering occasion for presenting the much awaited WZCC Gala Awards, attended by Ajay Banga, CEO, Mastercard and Dinyar Devitre, retd CFO, Altria Group. Zarine Commissariat introduced the awardees who were awarded by Guest of Honour, Ritu Banga. Perzen Patel aka Bawi Bride of Mumbai, was felicitated with the 'Outstanding Young Entrepreneur of the Year' Award; Jennifer Avari Silva (USA) received the 'Outstanding Entrepreneur of the Year Award'; Spenta Kandawalla (Pakistan) was awarded 'Outstanding Professional of the Year'; Roshan Bharucha (Pakistan) received 'Outstanding Social Entrepreneur of the Year'; and Dinyar Devitre was bestowed the Honoray WZCC Member Award. An entertainment program followed by an elaborately catered dinner and dancing brought the WZCC AGM to a close – with much kudos to the leadership and vision of Edul Daver, WZCC Global President.
Speaking to Parsi Times on receiving WZCC's 'Outstanding Young Entrepreneur of the Year' Award, Perzen Patel said, "I'm honored that my tiny attempt at preserving our Parsi food heritage through my website, Bawi Bride, has been recognized on the esteemed WZCC platform. When I started Bawi Bride, all I knew about Parsi food was Dhansak! That has evolved, over the past five years, into showcasing that there is more to us Parsis than this one dish, and digging out as many lost Parsi food stories as possible! It is this encouragement from our community that helps me continually improve and has helped me launch my new podcast, 'Not Just Dhansak'. A big thank you to my family and my readers and clients for their support over these years!"
The next WZCC Global AGM will be held next year in Lonavala, Mumbai, in the first week of January.
Latest posts by PT Reporter
(see all)