Over 180 children participated in the week-long XYZ summer camp, across its centers in Colaba, Byculla, Dadar and Andheri. Day-1 kicked off the camp with a Humbandagi (a lovely practice marking the start of each day), and parents and children 'twinning' it up for the day in terms of dressing, playing fun games and bonding over dhansaak. A 'Scavenger Hunt' formed the highlight of Day-2 with some centres solving a puzzle search and others colony-mapping; other centers enjoyed a human size snakes and ladders game designed by one of the groups, followed by 'spin a wheel'. Post lunch, centres conducted the Gujarati Pictionary! More yummy snacks later, the teams broke out discussions for 'Spin a Yarn' – a play which the kids would be putting up together on the last day.
Day-3 began with a visit to the four Atash Behrams in Mumbai – with Dadar group visiting Wadiaji; Colaba group visiting Anjuman; Byculla group visiting Dadyseth and Andheri group visiting Banaji Atash Behram. Accompanied by Mobeds, in association with the Empowering Mobeds initiative, the children were educated about fire temple etiquette. Next, a heritage walk and bus ride across South Mumbai spotting the prime locations built by Parsis, followed by all groups converging at Albless Baug for delicious lunch. Drawing competitions, discussion on the play and some workshops completed the evening.
Next day was spirited with Zumba / Dance Out at all centres, with kids dancing to famous Hindi and English songs. Post lunch, an Entrepreneurship and Team Building session was conducted by WZCC to imbibe entrepreneurship in children from an early age. Day-5 spelt sports for all, with Crickball (a fun Cricket and Baseball combo) at Cusrow Baug, as 16 teams played each other with 2 teams of Colaba winning the 1st and 2nd place. A hearty lunch later, the kids returned to their centres to participate in Entrepreneurship workshops, games and learning origami.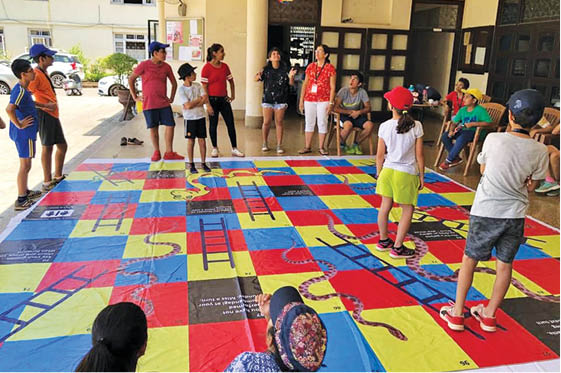 Day 6 saw teams competing in outdoor games like dodgeball and saakli. The remaining part of the day was spent preparing for the play. Each group presented a performance with parents and grandparents cheering them on. Children were awarded for various achievements and the winning team went home with the trophies, while everyone got their XYZ Tiffin boxes. Excellent, positive feedback from children and parents was very motivating for the XYZ volunteers, who worked hard all through the week, ensuring the children have the time of their lives!
The last day of the summer camp was a fun trip to Nandanvan Resort and Water Park (Vasai) where all 4 centers travelled by bus and were soon splashing and diving into the pool and water slides, feasting on yummy snacks! Lunch concluded the fun camp, as everyone boarded buses to return home, marking the end of an exciting and fun-filled XYZ Summer Camp.
Latest posts by PT Reporter
(see all)