Hat-trick of Podiums moves Jehan to 2nd in Championship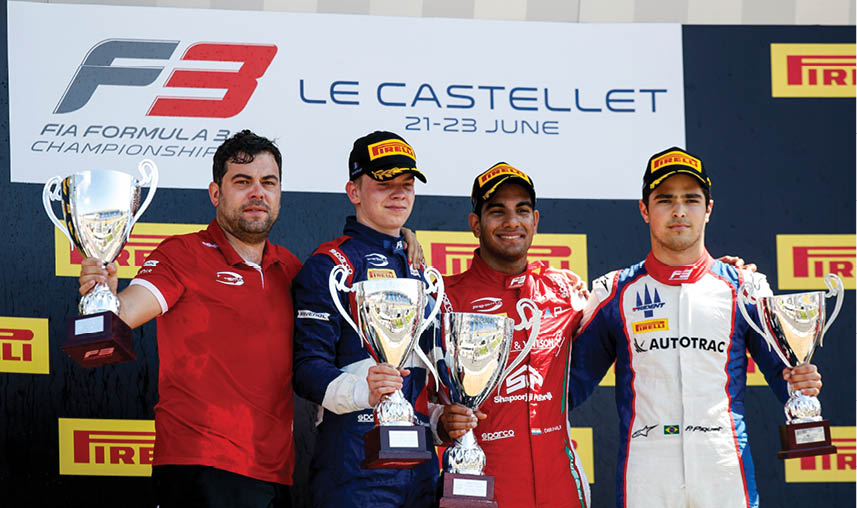 Indian racing sensation, Jehan Daruvala, continues braking barriers for Indian Motorsport and doing the nation and the Parsi Community very proud! At the Formula 1 French Grand Prix's support races held over last weekend in Le Castellet, France, Jehan was in action yet again, representing India in the FIA F3 Championship. The Dadar Parsi Colony resident was in fine form, throughout the weekend. In qualifying, Jehan was on provisional pole (first place) almost throughout the entire session, but during the final moments, British racer – Jake Hughes, sped quicker by a mere eight hundredths of a second, relegating Jehan to second place.
Jehan was unable to make a good start from the front row of the grid, as the lights went out and fell down to third on the grid. Brazilian Pedro Piquet, son of Formula 1 Champion Nelson Piquet, took advantage taking second place from Jehan. But, in a matter of a few laps, Jehan made amends and soon got past the Brazilian. However, in the meantime, pole sitter – Jake Hughes, managed to open a gap of over 2 seconds over Jehan. Our champ put in some blistering laps and soon made a brilliant move down the inside of the Briton from four car lengths behind. He worked hard to keep Hughes behind him, as they exited from the corner, and successfully managed to keep him at bay.  Jehan was consistently quicker thereafter and cruised to victory with a 2.8 seconds margin over Robert Shwartzman (Russia), who also managed to gain a position, finishing second, ahead of Piquet.
Since FIA F3 regulations dictate that the top eight finishers from the first race, get reversed for the start of the second race, Jehan had to start down from eighth, for race two, on Sunday. After a decent start, Jehan played it cautiously in the mid-pack of the highly competitive grid of 29 cars, as a result losing two places on lap 1. But he soon made amends to start overtaking racers over numerous quick laps to move up into fifth place, after which he had a sizeable gap to the cars ahead. Jehan closed this gap, making an excellent move to get to second place, en route to claiming the win. But by then, his tyres had started to degrade causing loss of pace and Piquet passed him by. Jehan held on to third place, thus bagging a hat-trick of podiums in the FIA F3 Championship!
This marked the first ever instance in history, where the Indian National Anthem rang out at a Formula 1 weekend, for the second consecutive time!
"It's been a good weekend for the team and for me as well. This race was fun! At the start, I was a bit surprised by how quick the lights went out and then I was a bit too safe. When I got up to P6 the leading group of five cars was quite a long way ahead, and maybe my mistake at that stage was to push too hard to catch them instead of just chipping away. I caught and passed all of them except Robert. My main goal was to win the race and I was pushing a lot, but Robert was doing the same and I started to struggle with the tires. Pedro did well, he stayed with me using the DRS, and when I started to struggle, he passed me for second place," shared Jehan, after his hat-trick of podiums.
Jehan's ongoing, extremely impressive performances, in front of the Formula 1 teams at the Formula 1 support races, ensures that he continues to lie second in the Championship with 58 points. His next race will be at the RedBull Ring Circuit in Spielberg along with the oncoming Austrian Grand Prix.
Latest posts by PT Reporter
(see all)