On 18th June, 2019, the Chairman and Trustees of the Bombay Parsi Puchayet (BPP) called for a condolence meeting to pay tribute to the memory of two of our Community's most cherished and respected High Priests – Vada Dasturji Dr. Kaikhusroo Minocherji JamaspAsa, the High Priest of Anjuman Atashbehram, Mumbai; and Vada Dasturji Kaikhusroo Navroz Dastoor Meherjirana, the High Priest of Navsari's Bhagarsath Anjuman Atash Behram.
 BPP Chairman Yazdi Desai, wife Anahita Desai, and all BPP Trustees – Armaity Tirandaz, Kersi Randeria, Noshir Dadrawala, Zarir Bhathena, Xerxes Dastoor and Viraf Mehta – along with numerous Dasturjis, Mobeds, Boiwallas and approximately sixty community members gathered for the Hama Anjuman Jashan held at Banaji Atash Behram at 4:30 pm. Eleven priests, headed by Er. Asphandiar Dadachandji, Head Priest of Mody Sorabji Vatcha Gandhi Agiary, along with nine other mobeds, performed the Jashan prayers in the Seth Cowasji Behramji Banaji Atash Behram Hall.
The BPP Trustees offered condolences to the members of the JamaspAsa family – Shirin (wife of late Vada Dasturji), Vada Dasturji Kaikhusroo JamaspAsa (son) and Bakhtawar (daughter); as also attendees of Er. Kaikhushru Cowasji Ravji's family. Post the Jashan, the attendees prayed for the departed souls to attain Garothman Behest and then proceeded to the Banaji Atash Behram Annexe Hall for the condolence meet that started at 6:00 pm. The speakers who graced the podium included BPP Chariman Yazdi Desai, Vada Dastoorji Kaikashru JamaspAsa, Vada Dasturji Er. Kaikhushru Ravji, Vada Dasturji Khurshed Dastoor, Er. Ramyar Karanjia, Solicitor Burjor Antia, Er. Aspandiar Dadachanji, Firoze Andhyarujna, Er. Pervez Bajan and Er. Bahadur Sanjana.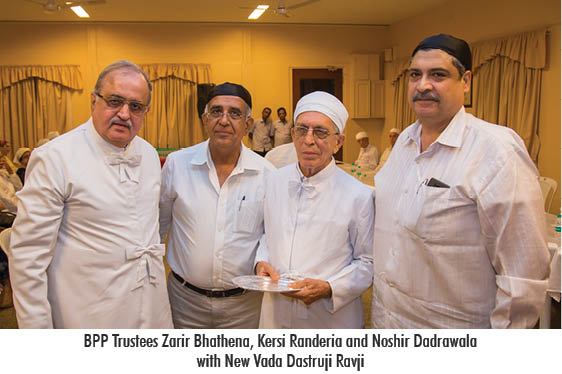 At the outset, there was an invocation performed by Vada Dasturji Khurshed Dastur Kaikobad Dastur, High Priest of Iranshah, Udvada, who had, from time to time, participated with his senior Vada Dasturjis in discourses on religious and socio-cultural topics of our community. He said, "Since the inception of Spentamainyu and Angremainyu, life and death continue. We are all travellers in this world, leaving our footprints in the path of our lives, enlightening the life of others. When we die, our souls go to Behest Garothman. What we leave behind is our guidance. Hope the souls of our community stalwarts travel far beyond and that we follow their guidance forever." He shared memories praising the caring nature of the late Vada Dasturji JamaspAsa, who treated him as a son. He extolled the late Vada Dasturji Meherjina as a humble and noble person.
Er. Dr. Ramiyar Karanjia, Principal of the Dadar Athornan Institute, shared instances of the close contacts of the Late Vada Dasturjis with the Madressa. Er. Karanjia explained how both were orthodox but always open to new learnings. Solicitor Burjor Antia reminisced his memorable interactions with late Vada Dasturji JamspAsa when he was secretary of the managing committee of Anjuman Atash Behram. He shared how late Dasturji JamaspAsa was always focused on and prioritized the community's welfare above all else. He also praised late Vada Dasturji Meherjirana who was head of the Legal Department of Bank of India for several years and even post retirement he continued to stay deeply involved in the affairs of our community. He wrote several classic books including 'Divine Science of Navjot and Sadreh Kusti'; 'What is Ilm-e-Kshnoom and Why'; 'The Zarthoshti Code of Day-To-Day Conduct'; and 'Zarathushtra, The Yazata'. He was upright and straightforward in his dealings and provided free services to Zarathustis all over the world, and led an exemplary life as a Dastur.
Er. Aspandiar Dadachanji shared how late Dasturji JamaspAsa never accepted money from poor humdins, and how late Dasturji Meherjirana received 'Kudrati' help. Solicitor Firoze Andhyarujina said that Dasturji JamaspAsa's actions always spelt louder than words, and that late Dasturji Meherjirana and he were closely associated in numerous legal cases which they successfully fought together.
Er. Parvez Bajan, Head Priest of the Bomanji Merwanji Mevawalla Agiary reverently acknowledged the mentoring he received from both the late Dasturjis. He mentioned how late Dasturji JamaspAsa lived with dignity and decorum and was one of the longest serving priests; while praising the great oratory skills of late Dasturji Meherjirana. Ervad Bahadur Sanjana, President of the Ilm-e-Kshnoom Felavnari Committee emphasised how Late Dasturji Meherjirana was an ardent protagonist and exponent of the Ilm-e-Kshnoom movement
Godrej N. Dotivala, former BPP PRO, read out the Condolence Resolution of Vada Dasturji Dr. Kaikhusroo JamaspAsa who had the unique distinction of being the High Priest of the Zarthosti Anjuman Atash Behram for sixty-three glorious years, leaving behind wife Bakhtawar, son Jamasp and daughter Shirin – all three medical practitioners. His son, Vada Dasturji Kaikhusroo JamaspAsa who recently took over his father's Gadi was next called upon to address the gathering. He thanked all the previous speakers for their eloquent tributes to his father and assured the audience that he would diligently follow in his father's illustrious footsteps. He prayed father's guidance and God given help would always be with him.
The Condolence Resolution of Vada Dasturji Kaikhusroo Meherjirana was read out next, by Godrej N Dotivala.  Dasturji had a multifaceted personality– advocate, professor, banking executive, author, journalist, orator, lover of classical Indian music, an expert flute player, and above all a religious leader. His newly installed successor, Vada Dasturji Keki Ervad Cavasji Ravji Meherjirana, was called upon to speak. He spoke highly of the 17th Meherjirana, saying how he would always be watching over the mobeds and the boiwalas despite his various achievements and interests. He pointed out that the first Meherjirana (1510-1590) was anointed as Head Priest in the late 16th century and was invited to the court of Moghul Emperor Akbar the Great who was greatly impressed by his scholarship and erudition and as a token of recognition presented him with 200 acres of land at Gelkhari village, near Surat.
Thereafter, BPP Chairman Yazdi Desai and Trustees Armaity Tirandaz, Kersi Randeria, Noshir Dadrawala, Zarir Bhathena, Viraf Mehta and Xerxes Dastur presented the newly initiated High Priests with silver salvers as mementoes and copies of the Condolence Resolutions. Parsi Poet Marzban Wadia recited, in his inimitable style, the couplets he had composed for the two worthies who had passed away.
In his concluding remarks Chairman Yazdi Desai revealed that the first time when he came in contact with Dasturji JamaspAsa was in his youth, when at the behest of his father, the High Priest had performed his wedding ceremony with Anahita. Subsequently, he had met Dasturji to discuss various religious and socio-cultural issues both on behalf of BPP and WAPIZ. He recounted how Dasturji Saheb was strongly orthodox during the cremate ni bungli issue and other controversies. Yazdi Desai concluded by saying that our greatest tribute to Dasturji JamaspAsa's memory would be to follow his guidance, saying, "As part of our religious duty we should follow the Zoroastrian path of Truth and Righteous living, visit our fire temples regularly, wear the sudreh and kusti, perform our religious rituals, marry within the fold, and maintain the system of dokhmenashini."
In his Vote of Thanks, Dotivala expressed appreciation of the eminent speakers for their presentations and sincere gratitude to the audience without whom this meeting could not have been possible and finally the Trustees, Officers and Staff of the BPP for their unstinted help and co-operation.
Latest posts by PT Reporter
(see all)