Last week, PT shared with our readers the oncoming launch of Jiyo Parsi's (JP) latest initiative – the 'Parsi ShaadiApp' – yet another brilliant endeavor which received very welcoming and appreciative feedback from our Community, as the 'need-of-the-hour measure'. Since 2013, Jiyo Parsi, under the vibrant leadership of Dr. Shernaz Cama (Director, PARZOR) and a few other like visionaries from our Community, has been successfully spearheading numerous initiatives and campaigns, which endeavor to arrest the falling statistics of our dwindling population and have effectively assisted in boosting it – so far adding 191 precious Parsi babies to our Community count!
A Government of India undertaking, JP's successful journey has been marked by well thought out strategies, effective planning and great execution – evolving, from an organization offering counselling and medical treatment for married Parsi couples, into a more holistic platform – to come out on top as a true solutions provider to the very real threat of our Community's survival. In its latest initiative – the launch of the 'Parsi ShaadiApp' which takes place on 6th July, 2019 – JP has harnessed the proficiency of technology to further its noble cause, partnering with India's leading marital portal, Shaadi.com, to facilitate Parsi marriages.
Continuing our coverage on JP's success and the launch of the 'Parsi ShaadiApp', Parsi Times catches up with Jiyo Parsi stalwarts – Sam Balsara, the much celebrated Founder, Chairman and Managing Director of Madison World and Madison Communications – the creative genius behind the assertive and fruitful advertising campaigns which have popularized Jiyo Parsi's projects across the nation and beyond; as also Dr. Pervin Dadachanji, M D (Psychological Medicine), who has been a valuable part of the Jiyo Parsi team right from the start; with inputs from psychotherapist Dr. Shazneen Limjerwala (nee Commissariat), a JN Tata scholar and PhD from Lancaster University, who has worked closely with the Parsi Community for years, conducting several workshops for Parsi youth and senior citizens, including the more recent and matrimonial seminar – 'ME in Matrimony' – in Ahmedabad.
Speaking to Parsi Times about the remarkable JP journey and sharing his take on the oncoming launch of the Parsi ShaadiApp, Sam Balsara said, "The Jiyo Parsi journey has been an extremely satisfying one that has produced tangible results in a short while. It has demonstrated what just a few capable and right minded Parsis can achieve, if they put their minds to it. Having started with a program that merely provides subsidy for IVF treatment, to addressing the four root causes of low population, to providing a facilitating environment for couples/parents to opt for having children with the all-round financial and moral support available in terms of counselling, and now, a dedicated Parsi Marriage App on India's largest marriage site – Shaadi.com… i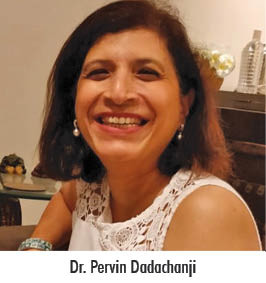 s indeed a long and fulfilling journey undertaken in a few years!
JP's tying up with Shaadi.com for a dedicated Parsi matrimonial service is a step in the right direction. Shaadi.com is an established, highly successful service – it's the modern way to get young people together and will supplement the efforts of the hundreds of those individual efforts. This service should work especially well for Parsis who are spread thinly throughout the world because Shaadi.com can be accessed from everywhere. No Parsi can now say I want to get married but don't know where to look or start. START right now by putting your profile up on Shaadi.com!"
Dr. Pervin Dadachanji reminisces, "I remember being approached many years ago, by the Parsi Punchayet, to do counselling for couples who were unable to conceive. Then, Dr. Anahita Pandole started sending in patients, marking the start of the process – some cases were easy, some not so easy, while some seemed very challenging. Then, Jiyo Parsi took over, and the rest, as they say, is history!" Speaking about the latest App launch, she says, "I think the Parsi ShaadiApp is perfect for the gadget-happy generation! Also, today's youth would rather find their own companion through a dating/marriage site/app, than get mom's 'Perin aunty' to matchmake! The App will give more autonomy to our singles to choose and date as per their choice. Also, with daily life so busy and consumed in one's career, lack of time makes it tough to find and date a fellow Parsi. The App will help ease that challenge for sure."
"I feel, as a community, perhaps because of our inclination towards education and greater self-awareness, we tend to put things in boxes… 'First, I will finish my education, then I will work, then I will get married and then, after being married for a few years, I will think of having children.' Why does each phase have to be mutually exclusive? You can study after you're married too! You can have kids and work too – reach out to family to help you look after your kids. Most grandparents are happy to be there to help! Changing our mindsets may help," surmises Dr. Dadachanji.
Sharing insights into why the Parsi youth don't prefer early marriages, Dr. Shazneen Limjerwala says, "There is greater focus on professional advancement than working towards marriage. I use the word working towards marriage, because if one hasn't found someone in the natural course of social interaction, then finding a life partner can be a lot of work. It involves searching on the relevant websites, trying to get some common contacts to 'verify' the person's details (something that used to be done earlier by common friends, contacts or family members) and  working on building a relationship (meeting regularly, staying connected and keeping the communication going via the phone, etc.) By the time, our singles begin looking for a partner, they are usually in their mid-to-late twenties or early thirties. The process of finding someone through these relatively 'artificial means' (going to a marriage bureau) may not sit well with their outlook on marriage. The feelings of rejection (linked with looking for a partner and having someone say NO) as one ages, become more deep seated. So, after a point, it's more challenging to go through the process repeatedly. Also, as one's parents age, one feels more responsible to be geographically closer to them. This limits one's choices. Of course, sometimes there are more complex issues as well."
Here's looking forward to yet another successful venture undertaken by Jiyo Parsi! And kudos to the fabulous Jiyo Parsi Team for working untiringly towards nurturing the existence of our blessed and glorious Community! Parsi Times will share the details of the much awaited launch, which takes place next Saturday, the 6th of July, 2019, in its oncoming issues.
Latest posts by PT Reporter
(see all)