WINNING ENTRY 1:
By Parisa Hanosh Santok
I want you to know,
you mean the world to me,
Only a heart as big as yours
Would give so selflessly!
All the things you've done,
All the times you were there,
Helps me know deep down inside
How much you truly care.
Even though I might not say
How I appreciate all that you do,
Super blessed and happy I feel
Having a bawaji father like you!

WINNING ENTRY 2: From a Daughter's Heart
By Dinaz Yezaad Surti nee Driver
There are many unsung heroes, who's achievements stay unknown.
They stand behind the scenes, shed tears, never known.
They are famously known as their 'Daughter's first love',
They will do anything for family, even defy the one above!
You held me through the gates of Girton High School.
Among all the other mothers, you were known as 'Daddy Cool'!
I remember those days, when you took us for drives,
Even after a tiring day's work, you'd delight us without a sigh.
I remember those nights, where just you and me
Would sing good old songs, say dialogues of 'Rocky'.
As we grew up with our share of ups and downs,
Our daddy-daughter bond never ever caused frowns.
You'd take it all in your stride, go that extra round,
Teaching us how to get back up when life knocks us down.
You gave it your all to be where you're at today,
I guess I'm trying to draw up the courage to say:
I know I've done you wrong in the past few years,
I think about it often and always shed tears.
You've been there for me every step of the way,
Even when I chose to just push you away.
I hope you know I'm grateful, and in my heart I'm glad
That today and every single day, I have you as my dad.
Maybe you deserved a 'better daughter' after all we've been through,
But trust me when I say this – no one will love you more than I do.
(Oh, and Mom – that includes you too!!)
So here's a big thank you for believing in me, sticking by my side.
For being there through it all, through every bumpy ride.
[With love from your 5 Gems – Dinaz, Yezaad, Dilnaz, Farzad and Marley!]

WINNING ENTRY 3: By Zeshan – Painting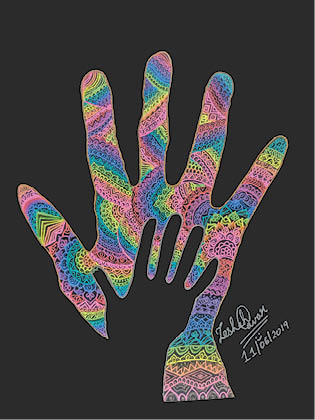 SPECIAL MENTIONS:
 By Zaran Daruwalla
I wish to make Father's Day a day to remember,
By penning a few words of gratitude for the Best Father of the Year.
Our Father who art in Heaven – is the father of the Universe,
And you, my father performs silently on Earth, all your duties diverse.
You've given me a mother who is so dedicated,
A sister and a brother – as friends consolidated.
You're the bread-earner for our family,
Toiling day and night, so we can live comfortably.
Whilst the sacrifices of mother are unlimited,
Your selfless efforts are always appreciated.
If my mother's hands have rocked the cradle,
Your hands have made life's boat paddle.
I am proud to bear your name with mine in all walks of life,
In life's long journey, through joys and strife.
Daddy you are the Bestest Daddy in the whole world,
And I promise to keep the Family Flag always unfurled!
.
By Kayan and Merzina Irani
Hey Dad, though you seldom show
The love you have for us, we know.
It's worth a thousand words,
In your care – we know it does.
You leave for work 110 kms away,
Return to see our happy faces each day.
You work endlessly without a fuss,
Only just to comfort us.
Even in your anger we see,
The love that wants to be free.
You have taught us to be bold and tough,
O Dad! You taught us well enough!
You also cook our favorite tart,
You're our heartbeat, if Mom is our heart!!

Latest posts by PT Reporter (see all)