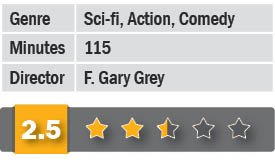 Undoubtedly for commercial reasons, Hollywood's obsession with milking its successful franchises dry is well-known. And this is precisely what MIB:I is – a done-and-dusted plot laced with dry humour. To begin with, the title would seem to be a misnomer: 'Man and Lady in Black' would be more appropriate. The film begins with a very young Molly reading Stephen Hawking's, 'A Brief History of Time', at bedtime! And since she's always been fascinated with MIB's exploits, the now grownup Molly (Tessa Thompson) applies for, and is recruited by the departmental head Agent O (Emma Thompson). She's now Agent M, assigned to work in tandem with Agent H (Chris Hemsworth), who prefers to play by his own rules.
Her first job is to unearth the mole in the MIB organisation – a dignitary is assassinated by the alien force – The Hive. Assisting H&M is the small green alien Pawny (voiced by Kumail Nanjiani).
MIB:I plods its way through its runtime of 115 minutes, which, even then, is the longest of the four MIB films till now. The chemistry of Will Smith and Tommy Lee Jones and their comedy timing in the earlier films is clearly missing; as is the chemistry between Hemsworth and Tessa Thompson who did a fairly decent job in 'Thor: Ragnarok' (2017). Their London boss is High T (an almost familiar portrayal by Liam Neeson).
Some uninspired writing by Matt Holloway and Art Marcum have given director F. Gary Gray (The Italian Job, 2003) little to work on. But watch out for the tribute Lowell Cunningham, who's written the characters, pays to The Godfather, by naming one of the characters Luca Brasi.

Latest posts by Hoshang K. Katrak
(see all)