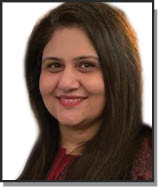 So Much To Be Thankful For!
Dear Readers,
Our Maximum City finally got some reprieve from the blistering heat with a few showers which cooled and quenched the much-scorched Mumbai, with temperatures reaching staggering highs over the past month, nation-wide. Hopefully, this marks the onset of the sorely needed monsoons, though these rains were temporarily triggered by 'Vayu' – 'The Cyclone That (thankfully) Wasn't'! A potentially massive natural calamity was averted – there's much to be thankful for!'
We all heaved a sigh of relief when Gujarat was spared, as Vayu did a 'U', and had the nation's innumerable camera crew return – wet, wasted and bummed – to their news stations, without any tragedy to telecast. It also robbed our politicians of the mud-slinging opportunity that such catastrophes usually present! Like I said, there's much to be thankful for!
As relief often gives way to humour, here's the take of brilliant celebrity stand-up, Kajol Srinivasan, who tweeted, "Cyclone Vayu is named after a guy, so it's probably going to try hard to get our attention for two days, set a date, and then pretend it's busy!" Men never have it easy when it comes to dealing with emotions – or so is the belief – but the worst hit, under-valued and underrated of them all, are Fathers! Which is why Parsi Times is delighted to dedicate this Special issue celebrating Father's Day (16th June) with an array of fabulous reads, including the all-time favourite and inimitable Cyrus Broacha with 'Why Fathers Deserve Their Own Day' (Pg.20); Delightful features (Pg.7 & 9); Quiz for Dads (Pg.8); A Unique Dedication (Pg.12); Father's Day Word Search (Pg.17) and the pièce de résistance – PT's Father's Day Contest Winners (Pg.10). The ever-increasing participation and overwhelming show of support and talent by our readers is heartening! Congratulations to all who shared beautiful expressions of love for your fathers, as also to our winning entries. Truly, thank you!
And last, but in no way the least, a big thank you to all our Fathers and Father-figures – for all that you bring to our life… and for life itself! Happy Father's Day!!
Have a lovely weekend!
– Anahita
Latest posts by Anahita Subedar
(see all)