On 10th July, 2019, Mumbai's Masina Hospital inaugurated its upgraded 'Physiotherapy and Rehab Department', in partnership with ReLiva Physiotherapy and Rehab. The facility has been set up to compliment and support Orthopaedics, Cardiac and Neurosciences specialities in the Hospital. It was inaugurated in the presence of Dr. Aashish Contractor, MBBS, MED (US), Center for Rehabilitation Medicine and Sports Medicine, Sir H. N. Reliance Foundation Hospital. The Rehab department will be a cardiac rehabilitation center, part of customized outpatient program focused on exercise and education.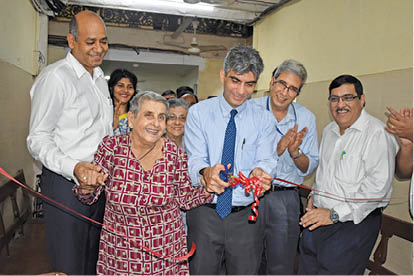 Speaking at the launch, the eminent Dr. Vispi Jokhi, CEO of Masina Hospital, said, "The Centre is equipped with the specialised equipment to undertake rehabilitation for all conditions. The facility is operated by a team of highly skilled therapists working under ReLiva. After various illnesses, trauma or injury, it is important for patients to undergo the rehabilitation to ensure complete recovery. Such a center provides such rehabilitation facility to patients, which is both convenient and comprehensive"
The goal of this program is to establish an individualized plan to help patients regain strength after a surgery and reduce the risk of heart failure. The cardiac rehab unit is equipped with Telemetry system and exercise equipment. The cardiac rehab program is a well-balanced, monitored exercise and conditioning program which leads to better health of patient, improved quality of life of patients and enhances the outcome of cardiac procedures.
"ReLiva Physiotherapy believes in a holistic approach and we accordingly customize the treatment plan for our patients. The clinic will offer an effective and integrated service with state-of-the-art equipment complimented by highly skilled doctors and physiotherapists," said Dr. Karishma Daswani, Head of the Physiotherapy Center
Based in Byculla in Mumbai, Masina Hospital Trust is the first and oldest healthcare setup in Mumbai with an illustrious history and goodwill spanning generations providing health solutions since 1902, offering primary, secondary and tertiary care solutions. (For details, log on to: masinahospital.com). ReLiva is a physiotherapy specialist and a leading chain of physiotherapy and rehabilitation clinics dedicated to improving quality of life for people by providing high quality and affordable physiotherapy care. ReLiva is ISO 9001:2008 certified and believes in recovery via empowering patients.
Latest posts by PT Reporter
(see all)