Parsee Gymkhana (PG), the top-class team in Mumbai's Club Cricket arena, held its Annual Pre-Season Function on 29th July, 2019. Vice President and Cricket Secretary, Khodadad Yazdegardi left no stone unturned, as always, year after year ensuring the best from the industry are available to share their thoughts, views, ideas and impart knowledge to Team PG. Greats of the game including Nari Contractor, Lalchand Rajput, Paras Mhambrey, Sairaj Bahutule, Chandrakant Pandit, Abhishek Nayar and Sahil Kukreja have shared their wonderful experiences and motivated the team in the past, thus leaving an everlasting impression in the minds of all cricketers.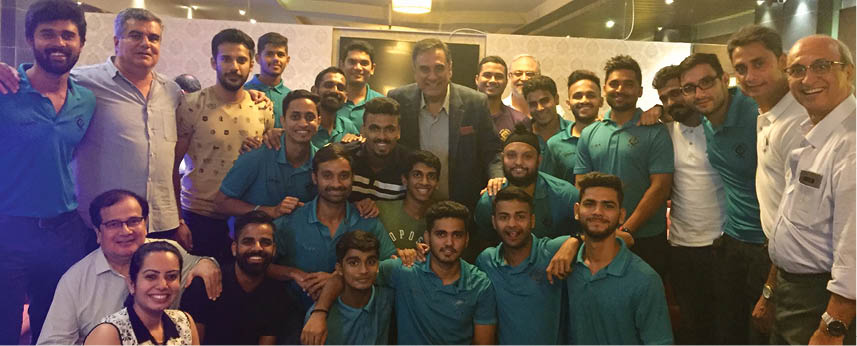 Khodadad warmly welcomed all to the event and introduced the eminent personalities on the dais – Special Speaker for the evening – Boman Irani – actor extraordinaire, photographer and singer; Firoze Katrak – Vice President of PG; Aspan Cooper – Chairman, Spenta Group of Companies; and Farshid Cooper, MD, Spenta Group of Companies. Other dignitaries like Makarand Waingankar, Nadim Memon and Ashish Sanghvi also graced the occasion.
Boman Irani took centre stage and revealed his life story of how he moved up the ladder from being a waiter, to selling wafers, becoming a sports photographer, singer, theatre actor and ultimately the most loved Bollywood celebrity! His personal experiences and anecdotes left everyone amazed and inspired. "Give everyone a fair chance and don't judge a person, in fact try and understand his/her circumstance. At the same time parents should not put pressure on their kids to perform or excel," he said.
He further added, "Once people become famous, their stride and walk changes. Therefore, no matter how successful one gets in life, one should know their roots. There are no shortcuts in life and you've got to start from below ground level. Take pride and excitement even in the smallest of things. Set yourself smaller goals and then go that extra mile to achieve them!" He urged the cricketers to be original and unique as miracles happen when one takes control of one's life. He emphasised how ethics is the most important aspect one needs while training. "You just have to believe in yourself and you will do it. Whatever one does, you have to put your whole heart, soul, blood and sweat into it.  Put the same effort wherever you play… at Lords or any other ground! Move out of your comfort zone and go the extra mile to chase your dream." He concluded with, "No matter where you have reached in life, your passion and excitement should remain the same throughout."
Boman Irani later felicitated the PG team for winning the Salar Jung Cricket Tournament. Speaking to Parsi Times, Khodadad said, "Listening to Boman's personal story was so motivating. One could pick up many things that will help in reaching one's individual goal. Move out of your comfort zone, run that extra mile, be humble and show gratitude is what Boman teaches you. He is such a great soul and whatever he spoke came from his heart."
"Parsee Gymkhana has always promoted young talent and this year too we will do the same as we believe in becoming the major supply chain for producing and promoting players for Mumbai teams. We take pride in winning as a Club but we also try to maintain the balance of pushing good young players up the ladder. I hope to continue doing well in the upcoming season and win more Championships for PG," shared PG Coach, Vinayak Mane.
Kudos to Khodadad, PG President Mehli Golvala, Managing Committee and Cricket Committee members, Coach Vinayak Mane and team sponsor, Aspan Cooper for ensuring a super successful season and here's wishing the entire PG team all the very best for the coming season!
Latest posts by Binaisha M. Surti
(see all)