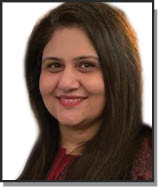 Where Credit And Support Is Due…
Dear Readers,
Even as we enter our New Year on a note of positivity and hope, BPP's latest announcement helps restore and cement our faith in the Community's august, apex body. A couple of days ago, BPP shared a Press Release announcing that all seven Trustees have unanimously agreed upon appointing a sixteen-member Consultative Committee, comprising some of our Community's most dedicated, trusted and respected luminaries, who would, with their varied and rich expertise, help resolve "long-standing issues and challenges concerning the  community's assets and community's welfare," and would also "provide a sounding board to the Trustees." A 'Core Group' of six from the Consultative Committee will hold meetings more frequently to deliberate on issues.
The BPP's internal disagreements going public in the past, had left the Community feeling apprehensive about their leadership and its own wellbeing. But this wise and progressive move by the BPP, in the interest and welfare of the Community, is sure to reap numerous benefits, as our sixteen stalwarts bring their A-game to the table, to ensure a Win-Win for the Community and the BPP. As quick as we are to accord question and blame to the BPP when things go South, let us now give this Board the credit and the support that is fairly due, as they unitedly prove their single-minded dedication towards the Community's progress.
As always, there will be a few naysayers who might try to put down this admirable endeavor, believing that these efforts are misplaced. And yet again, social media platforms will be misused to create confusion and doubt in the minds of community members. But if we hold on to common sense and good intentions, I'm quite certain that this brilliant effort will deliver upon all of its promises, in time. It is not only fair, but it is even our responsibility at this point to stand by our leaders, as they reinforce their governance, fortified by a group of our very best visionaries, all known to have brought great pride and relief onto our Community, with their multifarious proficiencies and extensive contributions.
Have a good weekend!
– Anahita
Latest posts by Anahita Subedar
(see all)