Another Happy B'day With Dr. Mickey Mehta!
He's known for his superhuman ability to do outstanding justice (simultaneously at that) to all of his innumerable avatars… Global Health Guru, Life Coach to Celebrities, Holistic Visionary, Corporate Coach to some of India's business giants, celebrated Yogi, super successful Entrepreneur, Best-selling Author, a devout Zarthosti… Phew! The list is endless! So yes, while it goes without saying it is virtually impossible keeping up with Dr. Mickey Mehta's avatars, passions and enthusiasms alike, here's yet another factor that just can't seem to catch up with him – his own age!!
When one watches his latest video, there's no doubt he could pass off as a 35-year-old! Which is why, when this age-defying wonder shares with us that he turns a glorious 58 years, on the 29th of August, 2019, it takes more than a few seconds to absorb that fact! Having completed a successful and thriving 38 years in the Wellness Industry, and respected as its unopposed leader, Mickey exudes the physicality of a 28-year-old, the physiology of a 38-year-old and the timeless wisdom beyond an 88-year-old! Should we presume that our very own epitome of 'Mickeymization' is in the august company of Tony Robbins… en route a la Sadhguru?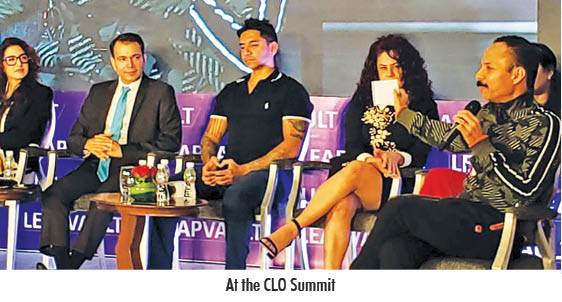 So, what's the latest with the Wellness Maestro? After his debut as an author with 'Shoonyam Quotient' which went on to become a bestseller and is now slated for translation into five languages, the Hindi version of which will be launched on his birthday, Mickey continues to give back to mankind and the community via yet another potential blockbuster – 'LOSE WEIGHT, GAIN SHAPE' – a bible of getting to your minimum weight with optimum shape. A blessing for all fitness enthusiasts, it blends ancient wisdom with modern science to give you a better understanding of the process of transformation, and is packed with an interesting mantra of following a '28-day Transformation Plan' that includes recreational workouts (YO WORKOUTS), food science with cosmic nutrition, and simple meditation experiences to hit the ultimate goal of a healthy state of living.
And here's more of what's happening with the most happening person himself! In the last few months, Dr. Mickey was in LA, invited to speak at the WZCC Youth Congress, where he enlightened packed audiences on fitness. His connect with the youth was instant and seamless as he helped them imbibe the basic tenets of Zoroastrianism – on how the compassionate 'Word', creative 'Thought' and productive 'Deed' translates into success and evolution. He taught them how to pray to maximize vibrations leading into field of manifestation. Not surprisingly, he was one of the most popular speakers and inundated with selfie-requests from our Zoro-millennials who just couldn't get enough!
Mickey also led and conducted a panel at the CLO (Chief Learning Officers) Summit – the next-gen, brain-augmenting technology – titled 'The Future Revolution Of Wellness', comprising the who's who of the Indian wellness industry – Anjali Mukherjee, Pooja Makhija, Luke Coutinho, Shonali Sabarwal, Varda Nadiadwala and the French ballerina, Cindy. It was an elite gathering with an audience of over 500 CLOs from India Inc Bluechip organizations. And just a few weeks ago, he kickstarted a National Self Defense Movement for women – 'Kick with Mick', in partnership with the global sports giant, Decathlon.
And what's yet to come?
Starting with his Birthday on 29th August, Mickey launches the promos of his new show, with global celebrity chef, Sanjeev Kapoor – 'Dr. Mickey Mehta's Mindful Eating'.
In early September, he delivers India's answer to the GM diet, in a program called Dr. Mickey Mehta's Vedic Diet Plan' (on Tata Sky, Amazon, Sony Liv, Videocon DTH, Zee Dish, etc) – a 28-day program, ensuring '0-craving, 0-starving, 100% fulfillment' based on Vedic pillars of Purify, Regulate and Fortify; with exercises which can be done without equipment, at your own time, requiring just elbow room! Sounds magical? As Mickey says, the laws of nature and the laws of physics are no short of miracles and magic – humbly not taking the credit for unveiling the magic!
In October, Penguin Publishers are excited to globally launch the audio version of 'Shoonyam Quotient' – his debut book. And in keeping with the ever-increasing demand for his beneficial words of wisdom, he is currently working on the release of his third book, 'Focus To Lotus', to be launched in November, which empowers you to choreograph your own change.
In mid-October, you will see the Wellness visionary taking on the Bollywood fraternity on Tata Sky with a new program – 'Guru Ka Gyaan' or 'MickGyaan', where he will provide expert analysis, insights and gyaan to the stars.
It's simply endless! For those of you like us, who wonder who and what the phenomenon 'Mickey Mehta' really is, under all those multifarious avatars… here's the answer from the horse's mouth, "I house an eternal hunger for love, to give and to share. I'm most happy to give, and happier to forgive." And despite his encyclopedic knowledge on issues of wellness and spirituality, he humbly says, "I'm starved of knowledge and wisdom because I have an undying hunger for knowledge." And his Mission/Vision? "No human should ever have to die of disease or suffering."
 "Get rid of intoxication – get high on good food, good workout, sleep, laughter, humour and of course, you know what else!" His naughty puns start crawling out, much like a true bawa! "That's why people call me 'Holy-Stick' (Holistic)," he chuckles! And what did he do for the Parsi New Year? "I saw all three nataks and topped up the Koyla quotient! I went for the Parsi Food Festival Gallops for lunch – I love catching up family. I also love 'andagiri' – just standing with the colony people and having fun. You know, you can take the Parsi out of an 'anda', but you can never take the 'anda' out of the Parsi!" he quips.
As for what he wants from you – Dr. Mickey wishes you take the pledge to make wellness your 'Religion Number 1' and challenge yourself to evolve into supreme Fitness and Wellness. In fact, if you could give a reason as to why you should 'Let Wellness Be The Religion No.1', you could win his latest book, 'LOSE WEIGHT, GAIN SHAPE'.
And now for the parting Birthday present from Dr. Mickey Mehta! Readers are invited to ask all queries related to wellness – emotional, mental, physical, spiritual, relationship disorders – especially people who are terminally ill. Write in to us at editor@parsi-times.com and we will revert with the answers from the Wellness Maestro himself!
Here's wishing Dr. Mickey Mehta a Happy Magical Birthday! May he continue showering the blessing on Wellness on one and all!
Latest posts by PT Reporter
(see all)