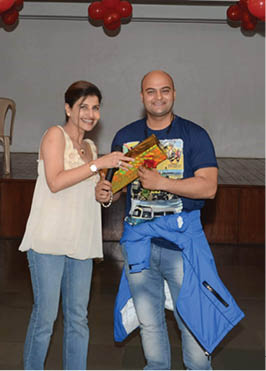 Last year, the Community's premier service-oriented organization, the Zoroastrian Trust Funds of India (ZTFI), launched 'Soulmates' – an initiative aimed at assisting our single bawas and bawis to find their companions for life. 'Soulmates' provides the crucial platform for our Community's youngsters to meet and mingle, and hopefully bump into their potential life-partners and get happily hitched! On 27th July, 2019, at 5:00 pm, Soulmates held yet another fun and interesting event, at the Mancherji Joshi Hall in Dadar, ably organized by ZTFI's Founder Trustee, the charismatic Yasmin Mistry and her brilliant team of do-gooders, alongside Trustee, Arnavaz Jal Mistry.
The day proved to be yet another highly successful chapter for Soulmates, with nearly 40 dashing
and hopeful singles turning up, despite a lot more registering for the event, but the heavy rains played spoilsport and a number of participants were unfortunately unable to make it.  It was a fun evening right from the word go! As always, the spirited Yasmin Mistry took the lead with a warm welcome, heading into an interactive introduction of all, thus helping to establish a sense of familiarity. To further set things in motion, engaging debates were held which further induced a sense of sensitivity and amusement, with relevant topics like 'Is Marriage is good institution?'; 'How much does 'Moolah' matter?' and 'Benefits of Elderly Affection'. Games like 'Musical Arms' and 'Secret Notes' set things in motion as participants warmed up towards each other and had fun! An interactive Question and Answer session proved interesting as the 'Rose Girl and Rose Boy' (winner being the one with the maximum roses), added greatly to the fun quotient!
The event concluded with dance and refreshments, with contestants expressing gratitude for the thoughtful concept and effort put in for the event. While Sanaea Ukaiji said, "I had a wonderful time! Thanks to the entire ZTFI team for all the efforts put in for us!", Meherdad Billimoria stated, "A lot of time and effort must have gone into getting the evening planned and executed. Thank you all for taking the time out for this – it's much appreciated!" ZTFI thanks the Trustees of Mancherji Joshi Hall for providing the premises gratis for the event.
Photo courtesy:  Zal Cassinath
Latest posts by PT Reporter
(see all)