Established in 1991, the World Zoroastrian Organization Trust (WZOT), along with its sister concerns – WZO Trust for Women and Children (1993) and WZO Trust Funds (1995) – has been providing exemplary services to support, uplift and empower the underprivileged sections of our Zoroastrian community, as well as taking up causes crucial to the survival and nurturing of our religious and cultural fabric. The Trusts were formed to combat the unfortunate levels of poverty existing amongst Zoroastrians, particularly those residing in rural South Gujarat by providing them livelihood, restoring their dignity and promising hope for a secure future. In addition to financial and material aid, beneficiary families receive the all-important emotional support, guidance and mentoring, to help them get back on their feet, towards becoming successful, self-sustaining units themselves, who in turn, give back to society.
Community Causes
Under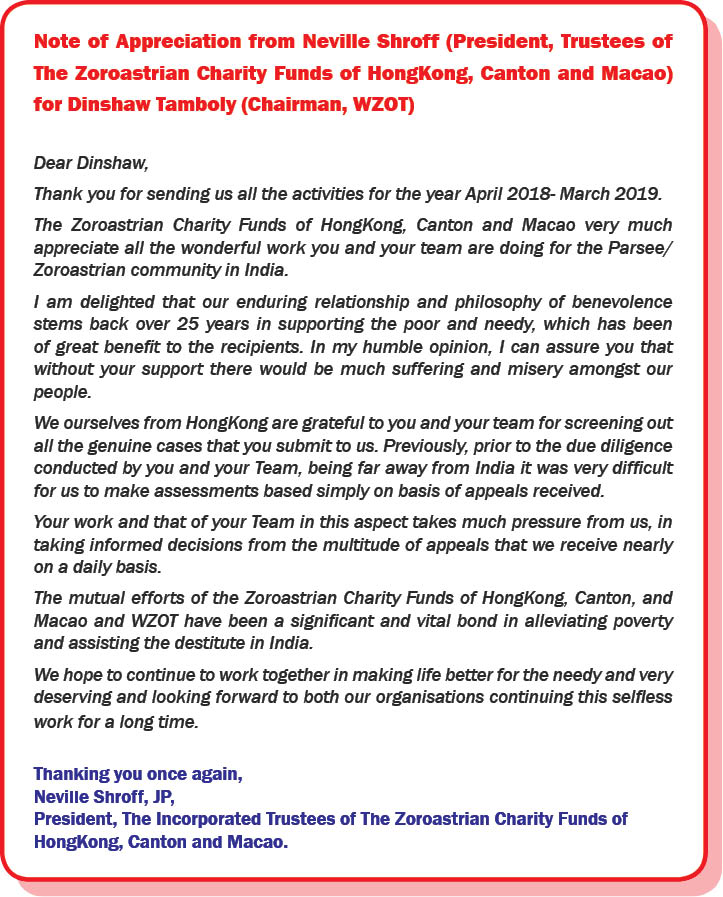 the able leadership of our community's visionary, Chairman, Dinshaw Tamboly, and a team of equally dedicated Trustees – Bachi Tamboly, Farokh Kasad, Farzana Mojgani, Aspi Ambapardiwala, Cyrus Vandriwala and Rohinton Contractor – the three Trusts collective support and provide relief to numerous projects and causes including:
Farmers Rehabilitation Project: Successfully rehabilitated 498 families of poor Zarthosti farmers across 202 villages, having expended Rs. 67,464,808/-.
 Rural Housing Project: Converted huts of 290 families into solid, brick-and-mortar cottages, each est
imated at Rs.500,000/-
 Support to Mobeds: Running an arrangement, in association with Athornan Mandal, that encourages and supports young, full-time Mobeds (currently 70). Co-founded 'Empowering Mobeds Group' (2017) that furthers the social respectability and image of our Mobeds. Facilitating the Global Working Group (GWG)'s funds for Mobeds.
 Self-Employment Project/Microcredit Program: Disbursed Rs. 20,86,11,543/- as interest-free, financial support (maximum per beneficiary: Rs. 500,000/-, to be repaid in 40 equal monthly installments) to 1,156 Zoroastrians across 123 rural/urban locations, towards being self-employed in their preferred professions. Professional mentoring offered which has helped many Zoroastrians establish businesses/vocations including Motor garages, Commercial Vehicles and Service Stations; Catering; Building and Construction; Repair Centers; Play Groups; Saris/Gara Embroidery; Pharmacies and Distributorships.
 Medical Relief: Receiving around 400 requests yearly for medical aid towards hospitalizations and reimbursement of expenses incurred on illnesses, the Trusts disburse funds close to Rs. 35,000,000/- annually. Trustees of Zoroastrian Charity Funds of Hong Kong, Canton and Macao – Pervin and Jal Shroff and FEZANA most generous donors
 Educational Aid / Youth Activities: With nearly 150 yearly appeals, in FY 2018-2019, over 198 youth have been financially supported in their pursuit for higher studies (Disbursement: Rs.14,385,962/-). Additionally, Zoroastrian children are also provided extracurricular learning including Sports, Crafts, Personality Development, Yoga; as also Summer Camps, Athletic Day Camps and Fitness
 Poverty Relief: Yearly, 350 families in economic distress, receive financial support. Financial aid is also provided quarterly (Rs. 12,000/-) to 480 seniors, the physically challenged and the infirm to live with dignity. Additionally, 200 individuals are supported on a lump sum basis.
Navsari – Senior Citizen Centres: Two interconnected Senior Citizen Centres have been established with excellent facilities for the Community's elderly to spend their twilight years in a warm, vibrant, happy atmosphere. The two Centres, run to full capacity having a total of 55 residents, and offer Yoga Classes, Bowen Therapy and Physiotherapy when required; with periodical doctor visits to check on the residents, and a tie up with the leading D N Mehta Sarvajanik Hospital where a special 'WZO Trust Ward' is available for residents. While some residents are able to pay the paltry monthly fee of Rs. 5000/-, those unable to afford the same, stay gratis. The Centers are excellently managed by a dedicated team of an Administrator, Resident Manager, two Assistant Managers and 18 support staff.

Economy Housing At Navsari: Some residents gift their old houses in dilapidated conditions which are reconstructed into apartment buildings that are let out at very economical rents. 16 such buildings have been reconstructed, with the 17th underway.
Food Grain Distribution: Provided to 250 families of economically challenged Zoroastrians residing in rural areas in abject poverty, in the form of consumables and home utility items (Disbursement: Rs. Rs.17,50,000/-).
Sanjan Sanatorium: A popular retreat in verdant surroundings that provides clean, comfortable and economically priced boarding and lodgi
ng facilities, the Bai Maneckbai P B Jeejeebhoy Sanatorium at Sanjan is open to all Zoroastrians. It's one of the few community facilities that is completely green, solar powered with water harvesting facilities.
Jiyo Parsi Partnership: We have partnered with Jiyo Parsi, an initiative by Ministry of Minority Affairs, GOI, that extends financial support for treatment of infertility. In the South Gujarat region, arrangements have been made with D N Mehta Sarvajanik Hospital (popularly known as Parsi Hospital) to provide cashless facilities to those availing the scheme.
Procedure For Application:
Those seeking assistance need to submit a completed application outlining their circumstances and needs. After a detailed assessment and verifications, the committee submits its recommendations to the Trustees, who finalize the appropriate assistance for the applicants. If required, funds  are raised to meet the needs of approved applicants.
How Can You Help?
Would you like to participate and contribute towards any of the above causes taken up by the WZO Trust Funds which rebuild lives, families and communities and bring hope to the lesser privileged? You could Sponsor a Child's Future or Education; Transform Living Conditions; Initiate Food Grain Distribution Drives or Help individuals realize their humble dream of self-sustenance. Donate to any of the projects, as an individual or as a group.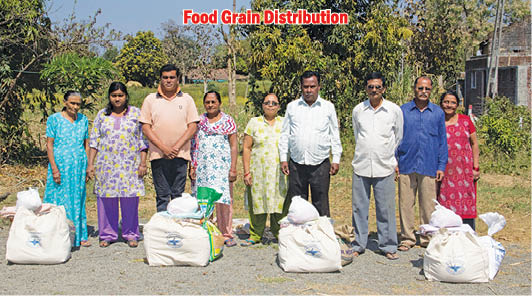 Latest posts by PT Reporter
(see all)