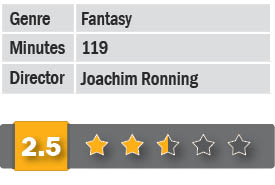 "Once… uh, twice upon a time …", is the line uttered in the opening frames, perhaps referring to the fact that this is supposed to be a sequel five years down the line. Maleficent is Fairy Godmother (Angelina Jolie – her third film in five years) to Aurora, Queen of the Moors (Elle Fanning), who rules over a kingdom of fairies, pixies and a few tree-shaped creatures. When Aurora is engaged to be married to Philip (Harris Dickinson), son of Ingrith, Queen of Ulstead (Michelle Pfeiffer), Maleficent reluctantly agrees to go to the palace. Ingrith's disdain is matched by her husband, King John's (Robert Lindsay) benevolent nature. What transpires is the stuff of treachery, revenge and drama, as the fairy folk of Moors are pitted against the humans of Ulstead.
Though a sequel, it's a standalone film which can be comprehended by the viewer. The story is written by Linda Woolverton, and is a sort of modern day Sleeping Beauty. Disney is known for its visually spectacular frames and in this respect, Maleficent 2 doesn't disappoint; Henry Braham's cinematography adding to the allure.
But the film suffers from an overlong ending, the final 20 minutes of mayhem taking away from the film's first two acts. Angelina Jolie's act is subdued; Fanning and Pfeiffer act well while Dickinson disappoints. Overall, a film strictly for kids.

Latest posts by Hoshang K. Katrak
(see all)