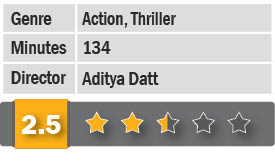 After we see three brainwashed Muslim youth arrested by the police, two of whom had converted to Islam, the scene quickly shifts to Gurugram in Haryana, where in an akhada, a depraved pehelwan attempts to outrage the modesty of a young schoolgirl by raising her skirt. Enter Commando Karan Singh Dogra (Vidyut Jammwal) who flattens the pehelwan, but not before the skirt is raised several inches (a scene which should have been evidently deleted by the censors). The akhada's other members meet the same fate.
Karan, who we are informed is India's best Intelligence agent, is promptly called to Delhi as news filters in of a plot more sinister than 9/11, to target five Indian cities, being hatched from London. The perpetrator, who hides his identity in the VHS cassettes distributed among the Muslim youth, is revealed to the viewer as Buraq Ansari (Gulshan Deviah), divorced from his wife but holding custody of his young son. Accompanied by encounter specialist Bhavana Reddy (Adah Sharma), Karan flies out to London where a cat-and-mouse game plays out. British-born Indian agent, Mallika Sood (Angira Dhar), whose loyalty seems divided between the two countries, is the intermediary between Indian and British Intelligence (BI).
Jammwal, in his third outing in the eponymous Commando franchise, shows off his main assets — a gym-toned body and his martial arts skills. The two actresses take turns in helping Karan deal with his adversaries. While Jammwal's screen presence is limited to his action scenes, Deviah begins well with a sinister demeanour, but soon falls prey to some cliched dialogues and over-the-top acting. Screenplay and dialogues by Darius Yarmil and Junaid Wasi respectively – both debutants – are found wanting for the most part. The cinematography by Mark Hamilton manages to  keep pace with the fast-paced action and bike and car chases, particularly the one where Karan takes on two Oriental martial arts experts.  The script attempts to constantly keep the viewer in sync with the story with the words 'Safe house', 'Unidentified location' or 'somewhere in London', appearing every now and then on screen. Action fans won't be disappointed – story be damned!

Latest posts by Hoshang K. Katrak
(see all)