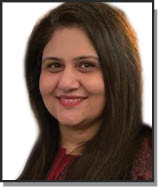 It's About Good Leadership!
Dear Readers,
What are the first thoughts that hit you when you hear the word, 'leadership'? To most individuals, it's about charisma, inspiration and strength… it's the art of creating a vision, and then motivating others to work in unison towards delivering it. Good leadership is the key to success across all professional or personal goals – be it as parents, partners, educators, siblings, employers, politicians, etc.
A well-mannered child reflects the values and culture imbibed from parental leadership… just as a successful, productive firm boasts of sound policies under a driven, professional leadership… just as a nation thrives under an incorruptible political leadership.
But from the perspective of a community as minuscule and close-knit as ours, leadership assumes another level of cruciality. Our community leaders, therefore, take on an extremely significant role, as they envision and represent the community's best interests, reinforce its identity, protect its rights and fight for its welfare, against all odds.
Sometimes, one encounters community organisations with wanting leadership at the helms; leaders unable to justify their positions, unable to deliver the desired and expected leadership qualities behooving such institutions, taking away from the greatness of organisations and the pride of its personnel.
Good community leaders are empathetic, possess the ability to inspire, have strong communication skills and take pride in their community; they're effective problem solvers. They may not always be the perfectly harmonious team but their commitment to the community is second to none – as is the case with our very own BPP Board of Trustees, who recently pulled off a near impossible feat, much to advantage of the community (Pg. 4).
For all community leaders, the respect and appreciation of its members is one of the key enablers of executing their roles. Let's not hold back where credit is due!
Have a good weekend!
– Anahita