Kolkata-based Mehru Khurshed Tangree is the ideal example of women empowerment – showcasing courage, dedication, commitment, positive approach, patience and tremendous enthusiasm, and leading from the front in the noble fields of education and guiding. Unafraid to share her honest opinions and speak her mind, Mehru is indeed one of a kind! She was the very first Guide Captain of the Parsee Guide Company (Kolkata). A cherished mother, she always taught her children and students to pursue their passions, work hard and chase their dreams. —-year-old, self-made Mehru is the epitome of success – who continues winning accolades for her fabulous achievements which adds to the pride of our community! Parsi Times Reporter Binaisha M. Surti engages in a heart-felt, exclusive chat with Mehru Tangree in Kolkata, where she shares her journey in Guiding and lots more… 
.
Born and raised in Secunderabad, Mehru Tangree moved to Kolkata later in life. Her love for children saw her choose teaching as a profession in Loreto Bowbazar School, where taught for over 25 years! When the Parsee Guide Company (Kolkata) was formed in 1968, she was its first Guide Captain, completing the 'Preliminary and Advanced Training Course for Guide Captains' and achieving the Himalayan Wood Badge too. Adding to the momentum of the Guide Movement, Mehru assumed State Official status as part of West Bengal (WB) State Training Team, successfully completing the Leader Trainer Guide Course. She became District Commissioner Guide of the First Calcutta District Association and Assistant State Commissioner of Bharat Scouts and Guides (WB), and has since been instrumental in training young Guides and Guiders.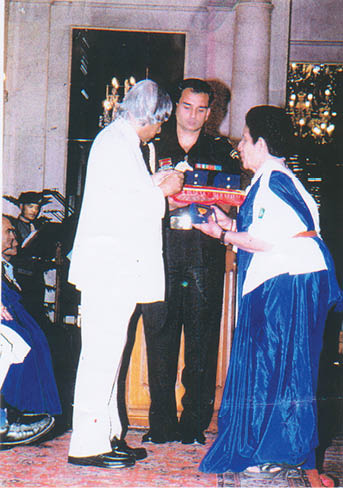 Under Mehru's tutelage, the Parsee Girl Guides won the prestigious Merchand Khanna Shield in Kolkata, which comprises various guiding tests and girls showcasing their talent in arts and crafts. Some of her achievements include being presented 'The Silver Star' by the Late President, Abdul Kalam (2007); the Lifetime Achievement Award in Social Services during the 17th Bharat Nirman Awards in (2010); Award for Outstanding Dedication and Commitment towards the Parsi Community of Kolkata specially in the field of Scouts and Guides, by the Trustees of Late Er. D B Mehta's Zoroastrian Anjuman (2010); and, the first Calcutta District Association recognised her dedicated services as the District Commissioner and Guides, and awarded her 'The Most Exceptional Service as a Trainer'.
More recently, she received the Lifetime Achievement Award from Bharat Scouts and Guides, Kolkata presented by the Governor of West Bengal, Keshari Nath Tripathi, in 2019. Calcutta Parsee Club honoured Mehru Tangree on receiving this Lifetime Award at the Olpadvala Hall.
Speaking about how she got into Guiding, Mehru shares, "I started off as a Bulbul when I lived in Secunderabad. When I was eleven years, I took to guiding. I come from a large family and was the only one involved in the Girl Guides. Guiding helps develop self-knowledge and the need to explore, discover the world beyond the classroom.  It helps in learning various skill sets and to become a well-rounded person. Such rounded growth helps in achieving success and reaching one's goal."
"Plenty of crucial aspects are learnt when a young girl gets into Guiding – the most important being about 'togetherness'. There's also First aid, cooking in difficult conditions during camps where you have to light the fire with wood as there are no stoves outdoors. I still remember my very first camp in Ganganagar – we'd have campfires at night, sing and dance! We'd wake up by six in the morning and the day would only end past 10 at night, post which there was sentry duty where the Guides would be on guard for an hour, after which the next group of girls were woken up to replace them and this duty carried on till six, the next morning," exclaims Mehru. "The guides were made to rough it out and emerge as strong adults. We would sleep on the floor and cook our own meals – eating simple rice, dal and vegetables; and we would travel by second class compartments via train."
Recalling all the fun at camp, she reminisces, "Youngsters would put toothpaste and boot polish on all campers faces while they were asleep. I clearly remember during one of the camps in Hyderabad, late into the evening during the grand campfire, suddenly out of nowhere a big black bull with huge horns charged at all of us and ran away. It was like a stampede where everyone ran here and there. At that time, it caused severe panic but later we all had a good laugh about the whole incident."
Meeting former President, the much loved, Late Abdul Kalam, who presented her the prestigious Silver Star Award at Rashtrapati Bhavan in Delhi, has been the most memorable moment of her life. "It was indeed a very great feeling and honour to receive the award and meet him. He shook hands with me and insisted that I stay for lunch at the Rashtrapati Bhavan. He was extremely down to earth and humble and mingled well with the awardees. He spoke to me at length about his many Parsi friends."
Mehru Tangree is a huge inspiration to every girl and a gem of our Community. It is my privilege and honour to be born as her granddaughter. The values she inculcated in her children are now passed down to us, gen-next. Speaking exclusively to Parsi Times, her daughter, Phiroza Surti, shares, "She is my biggest support system and a super-duper mother. Under her I became a President Guide and later assisted her in guide meetings. She always gave and never expected anything in return." Her son, Jimmy Tangree, adds, "I would accompany my mother on camps since I was a toddler! It takes tremendous effort and hard work to be a guide or scout. I would observe every little thing done during camps. Her energy, go-getting attitude towards life continues even today. She is my idol and a big influence in my life." Daughter-in-law, Yasmin Tangree concludes, "She's been a wonderful teacher, guider and mother-in-law. I remember accompanying her on one of her camps in Ganganagar and it was a wonderful experience. She was the life of the camp."
Mehru signs off with words of wisdom, (or should we say guidance):
"Good better best,
Never let it rest,
Let your good be better
And your better, best!"
Latest posts by Binaisha M. Surti
(see all)