Parsee Gymkhana (PG) held its fourth All Zoroastrian Men and Women Arm-Wrestling Competition on November 17th, 2019. A much sought after annual feature on the Zoroastrian Sports calendar, the Wrestling competition saw enthusiastic participants from Mumbai, Pune, Surat, Navsari and Ahmedabad. Equipped with a custom-made podium table, the weighing in and drawing of groups and fixtures of bouts were conducted by five officials from the Maharashtra State Arm Wrestling Federation, where 6 divisions for men and two for women were drawn.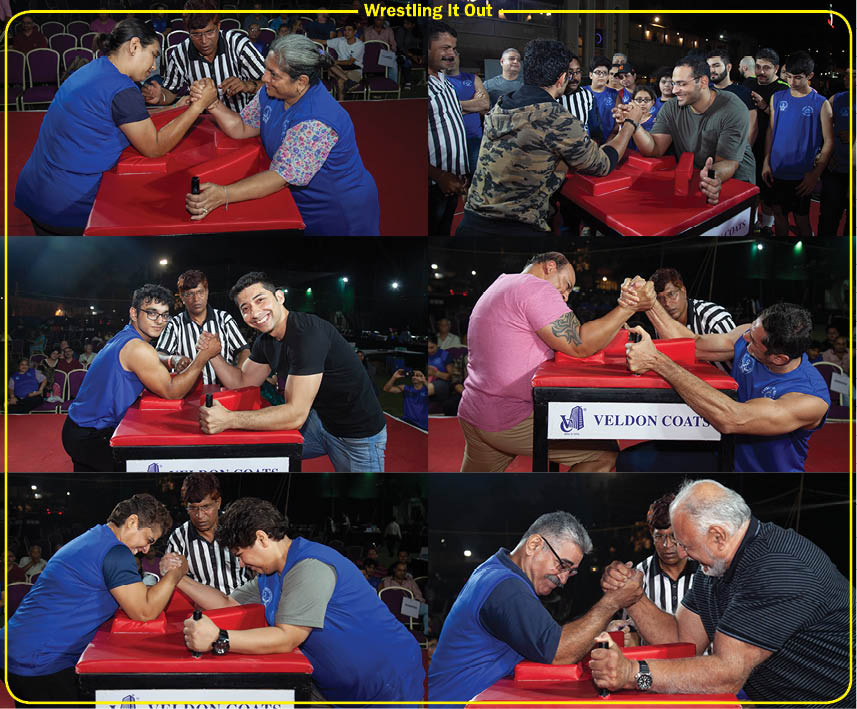 Chief Guest of the evening was Vispy Jimmy Kharadi, accompanied by his charming wife, Farzana. Vispy is a seven times Guinness World Record Holder in Martial Arts feats. The Guest of Honour was 69-year-old Marzban Patel (popularly known as 'Bawa') – Mumbai's foremost youth hockey coach, and the recent recipient of the prestigious Dronacharya Award by President Ramnath Kovind at Rashtrapati Bhavan; as also Lifetime Achievement Award from the Sports Association of Mumbai presented by Sachin Tendulkar.
The medals and prizes were awarded by these two accomplished men – Vispy Kharadi and Marzban Patel, to the elated winners, to a thundering applause by the over 300 strong crowd.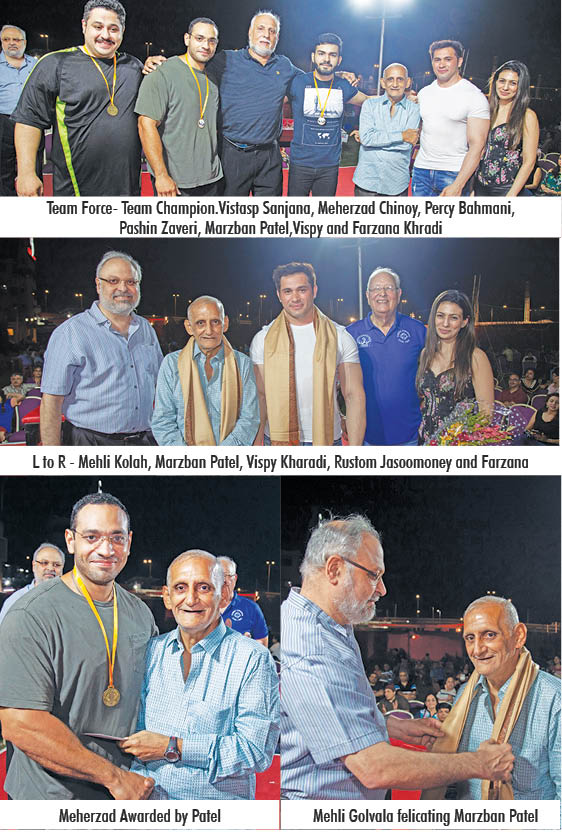 Speaking on the occasion, Vispy stressed on the importance of parents permitting and encouraging children to follow their dreams and pursue their passion, while inculcating the values of discipline and hard work. Marzban Patel echoed similar sentiments while stressing how sports instilled a competitive yet disciplined outlook in young children, who must be encouraged to play and participate in sports. He expressed pleasure at being appreciated for the first time by his own community. They were felicitated by Mehli Golvala, President, Parsee Gymkhana.
Parsee Gymkhana expressed sincere gratitude and appreciation to their magnanimous sponsors and donors – Er. and Mrs. H.P. Antia Trust, WZO Trust Funds, Zoroastrian Co-op Bank Ltd., Veldon Coats, Dunnes Institute, Raymond Textiles, Peekay Wines, Khodu Irani (Wibbs), Minoo Khan and V. Chaphekar – for their support.
The successful event was conducted and judged under the expert supervision of the officials of the Maharashtra Arm Wrestling Association (MAWA) and ably hosted by Hutoxi Doodhwala. It was organized by Rustom Jasoomoney, Minoo Khan, Hamavan Shroff, Behram Irani, Hoshang Katrak and the Managing Committee members of PG.
TEAM CHAMPIONS: TEAM FORCE [Vistasp Sanjana; Meherzad Chinoy; Percy Bhamani; Pashin Zaveri]
Latest posts by PT Reporter
(see all)