'PT Bright Spark' is Parsi Times' endeavour to promote and encourage our youth in their enterprises and efforts towards achieving greatness, by sharing the inspirational achievements and journeys of their peers who are well on their way to becoming the Youth Icons of our community! PT catches up with one such dynamic Bright Spark – Binaisha M. Surti.
The bubbly, fun-loving and sporty Binaisha Surti is deeply associated and passionate about Cricket, as she hails from a cricketing family being the grand-niece of former Indian Test Cricketer, Late Rusi Surti. She has won Championship Trophies in and medals athletics and basketball, for her school and college, and is a State level Bronze medallist at Kho-Kho.
A Journalist, Anchor and Cricket Commentator by profession, she has shared her expertise with the nation' leading media including our very own Parsi Times, Hindustan Times, Mid-day; The Afternoon; CricFit, Redbull and the TV Channel, NDTV, covering prestigious events including the FIFA World Cup, ICC Cricket World Cups, IPL and The Ashes. She has interviewed renowned cricketers, commentators, athletes and Bollywood celebrities. She has also done a number of promotional shoots for international producers.
Her dream was to become India's youngest Women Cricket Commentator. Under her uncle, Rusi Surti's guidance and encouragement to be courageous and chase her dreams, Binaisha's persistency and hard work has today earned her the title of being the youngest and only Parsi woman in the commentary circuit today!
PT: Tell us more about yourself and your passion for Cricket.
Binaisha: My love and passion for cricket goes as far back as I can remember! While every other girl played with dolls, my first toys were a bat and ball! I'm from Bai Avabai Framji Petit Girls High School – I was a complete tomboy and very naughty indeed – breaking my teacher's spectacles on my first day at play school! I ran my first race during sports day at the age of three, and there's been no looking back since! I've also learnt horse riding professionally. I graduated in History and Mass Media from RD National College, where I've anchored numerous inter-collegiate shows as well. My parents Mehernosh and Phiroza, and my brother Farzan, are my biggest support system. They have always encouraged me to go out and chase my dreams.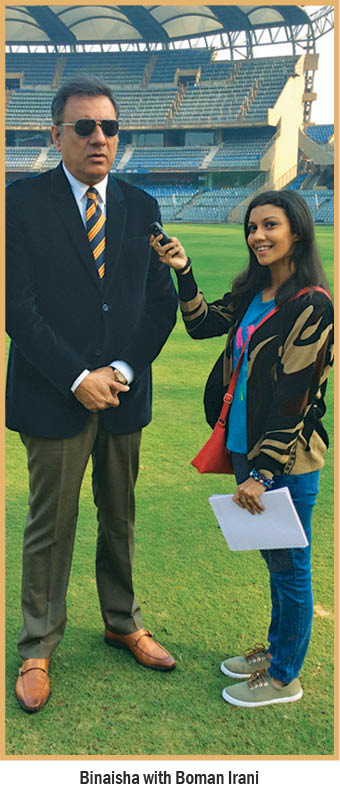 PT: How was it to have recently covered cricket at the Kia Oval in London and in Sussex
Binaisha: It was an amazing experience. Being at the Oval and in Sussex was an absolute dream come true. Team Parsee Gymkhana and Khodadad Yazdegardi were absolutely spectacular when it came to performing and executing game plans. Being a part of this magnificent team and winning the 1886 trophy that created history after 133 years was one of the most special feelings ever. It was an honour to have stood on the ground, spent so much time in the dressing room, sitting on the very same seats that top international cricketers occupy, walking through the Bradman doors at Oval where the great Don Bradman himself walked through in his final Test for Australia in 1948, having spent time in the long rooms and finally holding that iconic trophy… it was sublime!
PT: What's planned for the near future?
Binaisha: I live life one day at a time, and I believe in working hard and giving more than my hundred per cent to every assignment. Eventually, I wish to commentary at the highest level and I'm hopeful that with hard work, support from all you dear readers, followers, friends and family I will be able to achieve even that milestone in life.
Who's your idol?
Binaisha: I've always admired MS Dhoni with all my heart – his conduct, on and off the field speaks volumes. He's the perfect leader and team player! He's one of India's greatest Indian captains and cricketers. I staunchly follow his advice, "Never be too happy with your performance, if you are too happy, then you will stop trying."
PT: What are your beliefs? What keeps you motivated?
Binaisha: I believe success and failure are temporary; it is ultimately your will to continue that keeps you going. There will be ups and downs in life – one has to go through the downs to truly value the top spot. You have to believe in yourself because no one else can do it for you. At the end of day, it is my parents and all you lovely readers who appreciate my work, which in turn keeps me motivated to generate good content and work harder.
PT: As a youth icon, what would you like to share with your peers?
Binaisha: Always do what your heart says and chase your dreams. Be thankful for what you have and always work hard. Strive to be better than you were the day before and remember, the expert in any field, was once a beginner.
Latest posts by PT Reporter
(see all)