On the occasion of the Iranshah Udvada Utsav 2019, the legendary Parsi generosity has bloomed in Masina Hospital. Parsis have been at the forefront of every sector of development in Mumbai, and Healthcare is no exception. Despite our community being blessed with some of the most brilliant doctors today, community-run institutions in healthcare have been on the decline for various reasons.
In Mumbai, Masina Hospital, located in Byculla, has started bucking this trend and is firmly on the path of revival and progress, under the management of a Parsi Trust headed by Mr. Shapoor Mistry, Chairman of Shapoorji Pallonji Group of Companies, and consisting of Dr. Burjor Antia Of Mulla & Mulla, Mr. Homi Katgara of Jeena & Co. (Managing Trustee), and Mr. Jimmy Parakh. The hospital receives major contributions – financial and otherwise, from its Board of Trustees.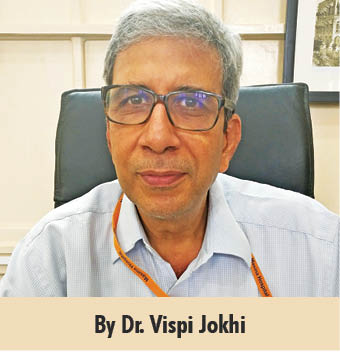 The last three years have witnessed a significantly increased trend of getting donations and contributions from Parsi donors, who seem to have rallied around the hospital to conquer new milestones in its journey of relentless, positive growth. In 2016, the ball was set rolling by individual donors – the following are some of our major donors…
Armaity Namver Irani contributed handsomely towards renovating the ground floor of the revived Nursing Home Building, by donating a high-end Cataract surgery equipment; renovation of the Dialysis Department and Physiotherapy Departments; The Banoo Daroga and Mehta family have donated towards renovating the twin-sharing room facility of the second floor of the Nursing Home Building. The Zoroastrian Trust Fund of Hong Kong and Macau Trust, headed by Mr. Neville Shroff, made major contributions for a series of projects including renovating the third floor of the Nursing Home building; a New Parsi Ward; modern kitchen and dining facility; and a modular Operation Theater Complex.
The A H Wadia Trust made  generous contributions towards fire safety equipment and purchase of USG equipment; The N M Wadia trust and Contractor Charities make yearly contributions towards equipment purchases. Scylla Vatcha contributes significant funds annually for welfare and treatment of Parsi patients. Munificent donations from Late Korshed Sethna and Late Shirinbai have helped upgrade our Burns ICU and our Dialysis Unit. The WZO Trust Funds, headed by Dinshaw Tamboly, has silently helped numerous patients over the years with their immeasurable contributions.
The F K Sholapurwala Foundation, Nasha Jassawalla Trust and Nitash Damania have been helping Parsi patients on a need basis. Masina Hospital is grateful for contributions received through various Rotary Clubs as well.
I would have failed in my duty if I did not acknowledge the past contributions from the house of Godrej Industry who gave Masina Hospital its Centenary Hall, Physiotherapy Department and many more contributions. Over the last few years, the Healthcare division of Godrej Interio provided equipment at special discounted rates. Our Trustees, Shapoor Mistry and Homi Katgara, donated generously for construction of General Wards.
The Noshirwan Ul Mulk Irani family gave the Hospital its ICU and Operation Theater. The Hirji Nagarwala Foundation contributed towards an HDU unit (converted to a Dialysis unit) and Foyer construction in the main building. The Kharas family showed visionary zeal creating a Burns Care Unit in memory of their brother, Eric Kharas, and have recently also donated toward an ambulance and the Skin Bank named after Ms. Bhikamai Kharas.
On 8th January, 2020, Masina Hospital will hold a Jashan to mark an auspicious start of the new AC Modern Parsi Ward, which will provide comfortable facility for Parsi patients at General Ward rates.
It is indeed laudable that the community has participated generously in the development of this hospital and contributes to its upkeep and development. The management team works hard and has undergone an audit for entry level NABH quality standards and will receive the certification for the same very soon, capping yet another eventful and busy year!
Latest posts by PT Reporter
(see all)