Here's To Prosperity In 2020!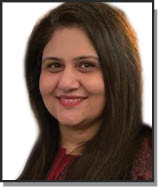 Dear Readers,
Welcome to 2020 – your brand-new year, sparkling with hope and anticipation! January always ushers in great expectations alongside a sense of new beginnings, fresh ideas and initiatives. Everyone resolves to make a difference in their lives in the new orbit – all recharged and good to go!
Many of us are relieved and even open to buying into the optimism of 2020, given that the last year was challenging for the common Indian – with the economy crash, rising prices of essentials, an unproductive and financially tight market, communal insecurity caused by vile political agendas leading to much public discord and disruptions. But it also had its good moments for – one just usually tends hold on stronger to the negatives. And maybe, that is the one aspect we need to put down in our 'New Year List' to change. In 2020, arm yourself with a fresh resolve to do away with negative habits that impede your progress, or even negative people, who cramp your joy. As the famous saying by Einstein goes, "Only fools try the same thing over and over again, and expect a different result!"
Coming on the heels of the fabulous success of the Iranshah Udvada Utsav 2019, which exhibited exemplary levels of unity and camaraderie for our Zoroastrian community in India and the world over, with Parsi Times as the Exclusive Media Partner, I see 2020 as bringing great tidings of positivity, happiness and balance to our lives, our community and our nation.
Let's do more than just wish each other and hope for a good year… Let's work together to ensure a New Year filled with happiness, peace, love and prosperity in body, mind, soul and business!
Have a fab first weekend of 2020!
– Anahita
Latest posts by PT Reporter
(see all)