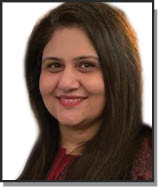 Dear Readers,
As India commemorates her 71st Republic Day on 26th January, 2020, there will be much zeal and festivity across India, in honour of the day when the Constitution of India came into effect, in 1950. But it feels different this year, in keeping with the political shenanigans which have developed over the past months.
Perhaps, I voice the feelings of a number of my fellow citizens when I say that this Republic Day leaves a bitter-sweet taste upon the palate of our sense of democracy, when the Constitution itself seems to have been flouted. I'm certain, the Father of the Indian Constitution – Dr. B R Ambedkar, had a very different vision for India when he drafted it.
And this is where religion and politics share an unfortunate commonality – both originated with the aim of doing good for the people, but things got lost (or purposefully misplaced) in translation when the torch was passed over to the predecessors… and the rest, as we say – and live out – is our own peoples' and our history's cross to bear.
I hope, more than any other, Republic Day 2020 will serve as a strong reminder about the struggles, martyrdoms and sacrifices that our courageous forefathers were subject to, just so that you and I and every Indian could live as independent, empowered citizens of the world's largest democracy.
Happy Republic Day!
– Anahita
Latest posts by Anahita Subedar
(see all)