Over 3,000 Community Members Attend Over 3 Days!
The much-awaited, third edition of the Iranshah Udvada Utsav or IUU 2019, held from the 27th to 29th December, 2019 in Udvada (Gujarat), turned out to be its best edition yet, with over 3,000 community members from all over the globe coming together to participate in the world's largest Zoroastrian platform. IUU 2019 commemorated our culture and ethos in an environment that nurtured unity, bonding and camaraderie, across three days of festivities which explored and celebrated the essence of Parsipanu.

Envisioned by Hon'ble Prime Minister, Shri Narendra Modi, IUU is the culmination of his keen desire to project Udvada as a place of harmony, religious tolerance and opportunities, brought to fruition via great planning and the collaborative efforts of the 'Foundation for Development of Udvada' and 'Udvada Samast Anjuman', under the able leadership of founders  – Vada Dasturji of Iranshah Udvada, Khurshed Dastoor; and FDU (Foundation for Development of Udvada) Trustee and WZOT (World Zoroastrian Organization Trust Funds) Chairman – Dinshaw Tamboly. With the grace of Ahura Mazda and the blessings of Pak Iranshah, the Foundation for Development of Udvada, supported by Gujarat Tourism (Govt. of Gujarat); and Udvada Samast Anjuman, presented the third edition of Iranshah Udvada Utsav, sponsored by Dr. Cyrus Poonawalla – Chairman, Serum Institute of India.

IUU 2019 lived up to its promise of being even bigger and better than its previous editions, with Parsi Times – the Number 1 News Weekly of the Zoroastrian Community – as its Exclusive Media Partner since its inception. PT's Special Reporter, Binaisha Surti, presents a detailed account of IUU 2019, alongside Team Parsi Times, led by Editor-in-Chief, Anahita Subedar with Hufrize Shroff, Soharab Jesia and Diana Commisarriat.
The three-day extravaganza saw a huge turnout of people not only from India but from all over the world having a gala time – including celebrities and luminaries from our community, leading businessmen, BPP Trustees including Kersi Randeria, Noshir Dadrawala, Xerxes Dastur and Viraf Mehta. The young and old of our community were seen celebrating 'Parsipanu' and enjoying the portrayal of numerous talents and umpteen skill sets through monajats, dances, theatrical plays, display of photographs, digital display of our history and ancient historical  manuscripts, music, cultural fashion show, sports winter fest, heritage walks, yoga, cookery workshops, treasure hunt, and more!
IUU 2019 – Day 1:
The first day started auspiciously amidst much excitement with opening prayers held at the Iranshah Atash Behram for a Hama Anjuman Maachi and Jashan at 3:40 pm. The IUU Winter Fest – Sport Matches also began at the Winter Fest Grounds, in Udvada village, which felt like it had come alive amidst the great exuberance of positivity and liveliness!
The gorgeous Nauheed Cyrusi and handsome Viraf Patell played the ever so charming hosts for the first evening. Nauheed expressed her sense of pride and happiness in the air with the IUU yet again bringing the entire community together to celebrate our heritage and culture. The 'Namaste Iranshah' video was screened, paying homage to Pak Iranshah, depicting its establishment almost 1300 years ago on Indian soil. Sincere thanks was given to Jimmy Mistry for his support.
The vivacious Mahrukh Chichgar took over as host for the next segment, inviting dignitaries on the stage – for the lamp-lighting – including Administrator of Dadra Nagar Haveli, Daman and Diu – Praful Patel; Vada Dasturji of Iranshah, Udvada – Khurshed Dastoor; High Priest of Mumbai's Seth HB Wadia Atash Behram – Dasturji Dr. Firoze Kotwal; Chairman of WZO and Trustee of Federation for Development of Udvada – Dinshaw Tamboly; Founder, Chairman and MD of Madison World and Madison  Communications – Sam Balsara; XYZ Founder – Hoshaang Gotla and Havovi Dastoor. Other guests on stage included MP Dr. K.C. Patel, MLA Kanubhai Desai, President Athletics Federation of India and Council Member-International Association of Athletics Federation – Adille Sumariwalla and Holistic Health Expert – Mickey Mehta.

In his welcome address, Dasturji Khurshed Dastoor expressed sincere thanks to Prime Minister Narendra Modi's vision which culminated into the IUU. He was delighted to see Zarthostis from India, America, Iran, Canada, New Zealand, England and Australia attending the IUU. "Coming together is the beginning, keeping together is progress and staying together is success," he said. The dignitaries on stage were then felicitated with a memento, flowers and a shawl. Dasturji Dr. Firoze Kotwal, the face of Zoroastrian religious scholarship in the international academic and scholastic community, with over 12 scholarly publications, 35 research papers to his credit and 26 entries in the Encyclopaedia Iranica, said, "Let us all be united in strength and righteousness. We must never forget the Hindu Raja Jadhav Rana who allowed us Parsis to stay in India. We as a community shall be friends with all of India."
The IUU 2019 souvenir was launched by the dignitaries on the stage. Next on stage came Er. Dr. Ramiyar Karanjia, along with illustrator Katie Bagli, followed by the release of their book, 'Marvels in the Life of Prophet Zarathushtra' by the dignitaries. Er. Dr. Karajia spoke of the universal acceptance of Zarathushtra Spitaman as the first prophet to reveal religion to the world. He concluded by reading an extract from his book.
A round of felicitations followed honouring Scherezade (Sherry) Shroff – India's leading fashion and lifestyle YouTubers; Mickey Mehta – corporate Life Coach and Fitness Guru; Adille Sumariwalla – India's leading athlete having represented India at the Asian Games, the 1980 Moscow Olympics, etc. Next Praful Patel was felicitated. He shared his fondness for the community and was delighted to be present for the IUU. This was followed by felicitations of MLA Kanubhai Desai and MP KC Patel.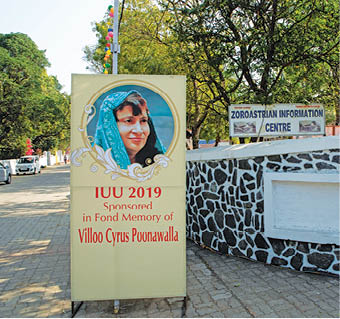 Next, Havovi Karanjia performed melodious monajats, with Hufrish Bamji on the keyboard. The MUYA-SOAS presentation was done by Kerman Daruwalla and Ruzbeh Hodiwalla, showcasing Zoroastrian Studies at SOAS, University of London and the Multimedia Yasna (MUYA). Multimedia Yasna-combines both the orals and written traditions, it studies the ritual as a living performance in the written manuscripts. The Manuscript Digitization and Cataloguing by SOAS team were done at Kayoji Mirza Library. Several small plays were showcased by Yazdi Karanjia and Mahrukh Chichgar titled, 'Gujarat Ni Arsi Amhe Parsi,' who were later felicitated along with Dimple Deputy and her dance troop.
IUU Anchor and actor, Viraf Patell, told Parsi Times, "Being part of the IUU 2019 was exciting. I've been involved with IUU since its inception. It was great to see so many Parsis gather at one place. To be recognized for my work in the community is a great feeling of pride."
Next, FEZANA's President, Homi Gandhi and Vice President, Arzan Sam Wadia were felicitated. Day one concluded with a fab band performance by 'Garden Groove', comprising our very own talented JAM Master – Hormuz Ragina. Finally, scrumptious Parsi dinner was catered by Surat's Nozer Daruwala and Freny Daruwala.
---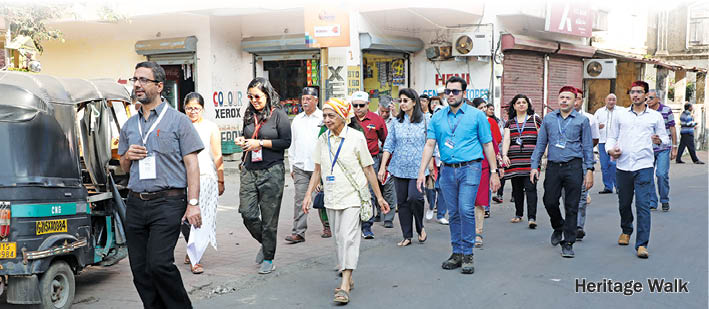 IUU 2019 – Day 2:
The second day, 28th December, 2019, had loads of fun events planned, kicking off the morning session with fun, fitness and yoga with Mickey Mehta at the Winterfest Ground. Heritage Walks were conducted by architect Jamshid Bhiwandiwala, followed by a Treasure Hunt by Hoshaang Gotla, Founder, XYZ Foundation. The MUYA SOAS 4D Experience was conducted at the Zoroastrian Centre and later, the community also learnt about the ancient manuscripts at the Mirza Library and were able to see them. A Cookery workshop was conducted by Hilla and Shezad Marolia. A photo exhibition of Shantanu Das depicting Parsis and our wonderful heritage and culture was presented by Parvez Damania and Ratan Luth. Photographs by Sooni Taraporewala were exhibited in the lane leading to the Iranshah Atashbehram.
The hosts for the evening were the dazzling and dynamic Hormuz Ragina and Danesh Khambatta. Udvada school students performed dances underlining the message, 'Be the protector of our Environment. Be that change you want to see.' In his address on Day 2, Vada Dasturji Khurshed Dastoor welcomed everyone and spoke how our forefathers were great visionaries set the precedent by establishing hospitals, schools, Agiaries and Atashbehrams. "Let the community, village, state and country grow and be successful. It is time to change our thinking by working together, praying together and staying together," he said.
Arzan Wadia introduced the Iranshah Initiative, which was conceptualised by youth leader, Tinaz Kharbari along with others. A short film was screened on the initiative. Hoshaang Gotla read out a special message from PM Narendra Modi conveying his best wishes to the Parsi community and wishing a successful IUU 2019. Havovi Dastoor felicitated Er. Nadir Modi, Advocate, Chairman, Athornan Mandal. Vada Dasturji then welcomed Dinshaw Tamboly, Sam Balsara and Homai Engineer on stage. The esteemed dignitaries launched the 'Parsi Times IUU Special' Issue, thanking Parsi Times for being their exclusive Media partner since the inception of the IUU.
This was followed by a book launch of 'My Golden Book on Zoroastrianism', authored by Dubai-based Meher Bhesania, alongside a short film highlighting glimpses of the book. A number of felicitations followed, honouring Parsi achievers across eclectic fields, including Keki Kapadia – Project Director, Defence Research and Development Laboratory, Hyderabad; Perin Bagli – award winning Educationist and Principal of Activity High School, Mumbai; Dolly Desai – award winning Educationist and current Director of Ninat Engineering and Medical school; Entrepreneur Sunnu Kasad – the catering queen of Navsari; Sportsman Jehaan Kotwal, CEO of JFK Transporters and Youth Director of the World Zarathushti Chamber of Commerce; Jehan Daruvala – award winning young Indian Racing Driver secured 3rd place in the FIA Formula 3 Championship – the first ever Indian to achieve this in Formula Racing; and Malcolm Bhathena – Superintendent of GST.
A fabulous fashion show by ace designer, Ashdeen Lilaowalla, followed, displaying colourful fabrics with intricate detailed gara work. Ashdeen was felicitated. Edul Davar, Global Chair of the World Zoroastrian Chamber of Commerce, next made a presentation on the activities, mission and goals of WZCC, and was felicitated after. Sooni Taraporewalla was also felicitated.
Undoubtedly, the most outstanding highlight of the IUU 2019 was the play, 'Amar Jyoti Zarathushtra' – an outstanding production by Mithoo Jesia and the Muncherji Edulji Joshi Memorial Trust, depicting the story of the stages in the life of Ahura Mazda via statues that come to life. The voice over for Ahrumazda was by apro Boman Irani while the narration was done by Mithoo Jesia herself. The acting, costumes, makeup and production were spot on. The grand production had 50 artists from ages of 6 to 60 participating. The performance which received great praise and a standing ovation. Mithoo Jesia was felicitated and special thanks given to Aarish Daruwalla of Mazda Events for the excellent accompanying music score.
Speaking to Parsi Times, Aarish said "Mazda Events has been a part of IUU since inception. I thank Vada Dasturji Saheb and the IUU committee for the opportunity to handle the entire stage technical operations for the IUU audio and video production, sound system, stage lighting, online video set up photography and LED Screen. Mithoo Jesai gave us complete freedom in terms of graphics, background score and lighting for the show – which was our major contribution."
Viraf Sarkari and Team WIZCRAFT were felicitated next. The eve ended with dances choregraphed by Burzin Engineer, band performance by Merlyn D'souza and her group 'All Star Band' spearheaded by singer Shazneen Arethna; and finally, dinner.
---
IUU 2019 – Day 3:
The final day was hosted by Maharukh Chichgar, and began with Monajats. Hon'ble CM of Gujarat, Vijay Rupani, presided as the Chief Guest for the finale. Other dignitaries for the valedictory function included Ramanbhai Patkar, Dr KC Patel, Vada Dasturji Khurshed Dastoor, MLA Kanubhai Patel, Managing Director of Ava Mineral Water- Behram Mehta, Dinshaw Tamboly, Havovi Dastoor and Jehangir Panthaki who represented his uncle, Dr. Cyrus Poonawalla – the main sponsor for IUU 2019.
Dasturji Khurshed Dastoor praised and thanked CM Vijay Rupani for always being supportive towards our community. He was felicitated by Vada Dasturji with a shawl, flowers and memento followed by which the Sarpanch of Udvada, Reshmaben Patel also welcomed him with flowers. Jehangir Patel and Behram Mehta were also felicitated. Fali Nariman, Senior Advocate of the Supreme Court with over 60 years of expertise was awarded for his great contribution. He thanked all through an AV which was made as he could not be present. Dinshaw Tamboly and wife, Bachi, were also thanked for their continuous support and contribution.
CM Vijay Rupani said it was an honour for him to be present at IUU 2019 and thanked Vada Dasturji for the invitation. He praised Parsis for their good work, righteousness, sweetness, unity and charitable work. He concluded by saying that his government will always be there for all Zoroastrians.  The finale concluded with the vote of thanks given by Hoshaang Gotla after which everyone enjoyed Parsee Gambhar.
Through the three days, plenty of stalls were put up at the exhibition area, of which the star attraction were the Grandfather Clocks imported from Germany by Kieninger, owned by 91-year-old Jal Katpitia from Surat, who was present at the stall, enlightening one and all about their many outstanding features. Other stalls offered Parsee artefacts, clothes and other items.
All in all, the IUU was extremely well organized with great attendance, good security, volunteers and St. Johns Ambulance on standby if needed. Every participant went back home with everlasting fond memories of a successful Iranshah Udvada Utsav 2019! Speaking to Parsi Times, Dasturji Khurshed said, "I'm truly pleased that we were able to hold another greatly successful IUU in 2019. What delighted me most was that it was very well attended by the youth of our Community – with over 350 youngsters partaking of Udvada's heritage, and our cultural and religious essence, in a fun and cordial atmosphere. It was pure joy to watch Zarthostis from all over the world converge in Udvada alongside friends and relatives from different towns and villages – that is real Parsipanu! Staying, praying and eating together and having fun together!
I'm ever grateful to Dr. Cyrus Poonawalla for his faith in us and for his highly valued support in IUU. I'm also thankful to CM Rupani for gracing IUU 2019. I thank our Exclusive Media Partner – Parsi Times who have been with us since the start, and provided us with the publicity for this event. I also thank all our well-wishers and supporters including Team Wizcraft, Team IUU, the local gram Panchayat and its members, Hormazd Ragina, Danesh Khambatta and his team, Jayesh Kacha and his team, Freddie Mistry and his team, the Scout Groups led by Parvez Irani and Freddie Khapoliwala and Caterer Nozer Daruwalla from Surat."
---
 Photo courtesy: Aarish Daruwalla – Mazda Events.
Latest posts by Binaisha M. Surti
(see all)