With 2018-19 marking a menacing increase in the number of robberies and break-ins taking place across various Parsi/Irani households, and various other targeted houses and institutions, in our holy village of Udvada, the residents of Udvada Gaam can now heave a sigh of relief as the gang of robbers committing these thefts, have been finally nabbed by the untiring efforts of the Pardi Police, in conjunction with the Local Crime Branch of Valsad, Vapi and Kolak, and the timely help of conscientious and service-minded citizens like social activist, Shahin Mehershahi – Manager of the N M Wadia Parsi Dharamshala, Udvada.
On 22nd December, 2019, the four culprits – Kannu Parmar (the main burglar who executed all the break-ins, aged 30); Manilal Charpota (32); Rakhma Charpota (26); Kailash Damor (22) – all hailing from Rajastan, were caught by the police during their night-patrolling, after receiving a tip-off about their whereabouts. Managed perfectly by Pardi Police Station's Head Inspector Shaktisingh Jhala and Inspector Jaideepsingh Rajput, the robbers were caught hiding in Kolak crematorium, in an Alto car without a number-plate, parked along the banks of Kolak river. The police retrieved weapons including swords, knives, ropes and over 70 taps, 6 mobile phones and some cash – all taken in custody.
After being caught, all four were kept in 14 days custody in Pardi, before being produced in Pardi Court on 8th January, 2020, where they were found guilty, having admitted to their crimes, and have now been taken into remand currently. A chargesheet will now be filed and produced in the court, post which they will be convicted and sent to Navsari jail. The robbers nabbed earlier in Rajasthan too, have been sent to the same jail. Together, in 2019, they have forged over eleven robberies in Valsad and Surat, nine in Rajasthan, seven in Udvada and two in Kolak.
After doing a vigilant recce for over a year, it was revealed that the main accused, Kannu Parmar, and his accomplices would enter Udvada through the shore area and leave similarly, via sea, post the robberies. Their accomplice – Ghorsingh, alias Mamu Mistry – from Rajasthan, was the one who would tip them off after conducting his own recce as regards which place should be burgled, when and how.
These robberies were possible because the laborers were employed without getting their due diligence in terms of police verifications done. An earnest request has been put out by the Pardi police that a through vetting and police verification be done before laborers are employed – as this will help greatly in pre-empting robberies.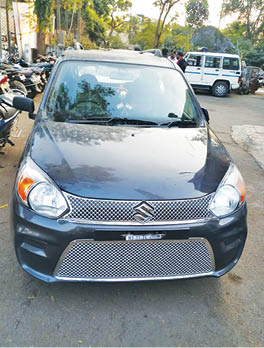 Currently in Udvada, there are three main groups which safeguard the village – the Home Guards; the Sagar Rakshak Dal (SRD) patrolling the shoreline; and the Gaam Rakshak Dal (GRD) patrolling the village. This is all done in conjunction with the excellent supervision of head of Pardi Taluka, Inspector Jhala and Rajput, for Udvada and Kolak areas.
Speaking to Parsi Times, Shahin Mehershahi who resides in Udvada and has been instrumental in helping the police and the villagers, said, "Hats off to the bravehearts of Pardi police station – Inspectors Jhala and Rajput. I thank them for their constant support and faith in me. I am doing this as a part of my protocol as the Shiv Sena VP of South Gujarat. I like serving people and it brings me happiness serving my gaam. My calling lies in serving mankind and pets – it gives me a state of bliss and this brings me closer to God. Whenever I attempt to do good, for me, it's like a state of reciting my Avesta. May God bless everyone with love, light and laughter always!"
Latest posts by PT Reporter
(see all)